The Ark & Dublin Theatre Festival Present Theatre For Children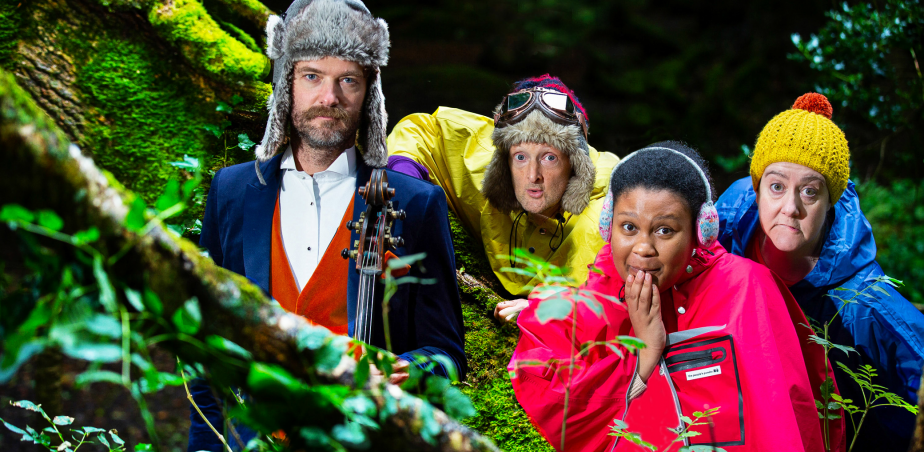 The Ark & Dublin Theatre Festival
The Ark and Dublin Theatre Festival are very excited to be back curating a full programme for children, young people and schools with three fantastic shows ready to share with you all as part of this year's festival.
Grand Soft Day
Dates: 28 September – 2 October | For ages 2-6
Branar and New International Encounter present
Commissioned by The Ark, Grand Soft Day is a predominantly non-verbal piece that combines physical storytelling, live music and colourful wellies performed by Greg Hall, Helen Gregg, Jonathan Gunning and Linda Scaramella.
Chalk About
Dates: School & Public Performances 8-10 October | For ages 8+
Curious Seed present
Chalk About is a playful, funny and moving look at how we see ourselves and others, featuring dance, chalk, chat and one perfect scene containing everything you could wish for! Turning the stage into a gigantic chalkboard, it explores the nature of identity and asks some BIG questions: What makes us who we are? Is it where we are from? How we talk? Our pasts or our futures? Or is it just the way we dance?
I Wish I Was A Mountain
Dates: School & Public Performances 14-16 Oct | For ages 7+
The Egg and Travelling Light Theatre Company present
On the day of the famous annual fair, the town of Faldum receives an unexpected visit. A wanderer offers to grant a wish to anyone who wants one. Before long, the city is transformed. Mansions stand where mud huts once squatted, and beggars ride around in horse drawn carriages. And one man wishes to be turned into a mountain.
Written and performed by former Glastonbury Poetry Slam Champion Toby Thompson, I Wish I Was a Mountain uses rhyme, live music, and just a smattering of metaphysical philosophy to boldly reimagine Herman Hesse's classic fairytale.
Schools bookings can be made using The Arks schools booking form or by calling 01 6707788.
For further information and bookings go to ark.ie/season/dublin-theatre-festival-2022. 
Published
30/8/2022
Artforms
School Level
Region
---