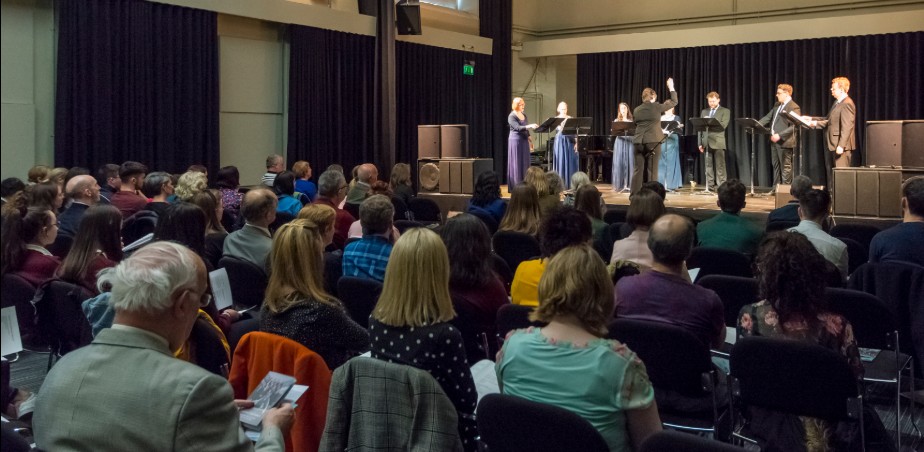 At the heart of Chamber Choir Ireland is the audience and we are striving to create many more ways in which the audience can engage, experience, and appreciate the expanse of choral music, performances and events that we can offer.
Axis: Sing, Composers in the Classroom, Next Generation Singers, Choral Sketches, Choral Lecture Series and An Island Sings are some of our current learning and participation initiatives but Chamber Choir Ireland is currently developing its Learning and Participation plan for 2019 – 2021.
Composers in the Classroom
The Composers in the Classroom project sees a selection of leading composers from Ireland, who are represented by Contemporary Music Centre, travel to ten schools around the island of Ireland to coach students in the creative process of composing for an SATB (Soprano, Alto, Tenor, Bass) choir. The composer's visits are supplemented by a visit from a singer from Chamber Choir Ireland so as to give a performer's perspective. All student compositions are then recorded by Chamber Choir Ireland and a selection of works from participating students are performed by Chamber Choir Ireland in a gala performance as part of the New Music Dublin Festival.
This project is jointly delivered by Chamber Choir Ireland and the Contemporary Music Centre with the support of the Arts Council of Ireland and The National Lottery through the Arts Council of Northern Ireland.
Next Generation Singers - Third Level
The Chamber Choir Ireland Next Generation training programme is tailored to create access for third level students to bridge the gap between the student and professional choral world working with our own world class singers and conductors.
If you have proposals for learning and participation work or are interested in finding out more about what we do in this area, please get in contact with us.
Contact Details
---
Contact Name
Majella Hollywood,
Chief Executive
---
Address
Chamber Choir Ireland,
Earlsfort Terrace,
Dublin 2
---
Telephone
+353 (0)1 554 5210
---
Email
---
Website
---
News posts - One result
Opportunities

Chamber Choir Ireland Deadline: 5pm, 24 June, 2021 This July, a group of aspiring composers age 15-18 will have the opportunity…
---