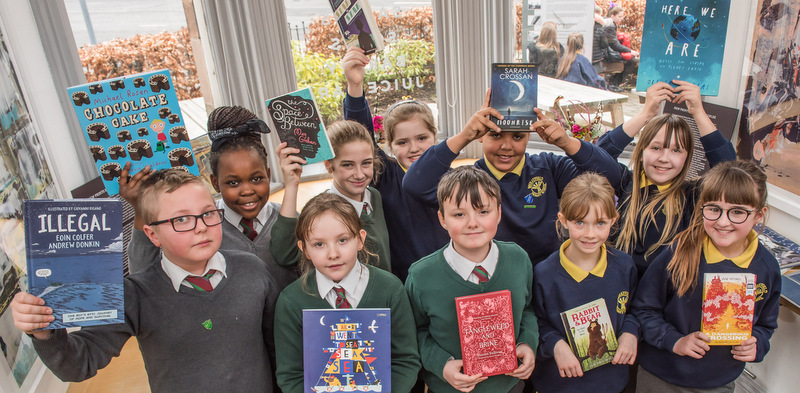 Vision   
Our vision is an Ireland in which books are central to every child's life and where meaningful engagement with books is supported by passionate and informed adults in families, schools, libraries and communities all across the island.
Mission
We strive to make books central to every child's life on the island of Ireland through developing audiences for children's books, supporting and celebrating excellent authors and illustrators and working in partnership with people and organisations who influence children's reading.
As part of our strategic aim of developing audiences and advocating for access to children's books island-wide, Children's Books Ireland is committed to embedding knowledge of and passion for children's books within the education sector. Through our long-running shadowing scheme, we encourage primary and secondary school groups to read the shortlisted titles for the CBI Book of the Year Awards and engage with them in creative, unusual ways using our specially produced resource pack. These groups develop critical skills as they debate their favourite books and score them, mirroring the adult judging panel, to decide the winner of the Children's Choice Award.
Children's Books Ireland runs a number of book-gifting projects into primary and secondary schools. Where possible, an artist in residence or a number of artist visits are included as part of the package offered to the school, as well as time with a CBI staff member to work on building a culture of reading in the school.
In partnership with KPMG, we deliver the BOLD GIRLS school outreach programme, a four-week classroom-based initiative which draws on Children's Books Ireland's BOLD GIRLS reading guide to bring conversation about gender equality into the classroom through children's literature.
Children's Books Ireland also administer the Laureate na nÓg project. Laureate na nÓg is an initiative of the Arts Council and is supported by the Arts Council of Northern Ireland, the Department of Children and Youth Affairs and Poetry Ireland. The honour was established by the Arts Council to engage young people with high quality literature and to underline the importance of children's literature in our cultural and imaginative lives. The Laureate has always incorporated schools in their work. At the beginning of each Laureate's term there is an open call for partnerships and proposals.
Contact Details
---
Contact Name
Ciara Houlihan,
Administrator & Office Manager
---
Address
Children's Books Ireland/ Leabhair Pháistí Eireann
17 North Great George's St
Dublin 1
---
Telephone No.
oo353 (0)1 8727475
---
Email
info@childrensbooksireland.ie
---
Website
---
News posts - 2 results
Events

Children's Books Ireland Tuesday 24th January, 10am. Children's Books Ireland will host their first virtual artists' coffee morning of 2023…

Opportunities

Children's Book Ireland Children's Book Ireland in partnership with An Post invites you to…
---