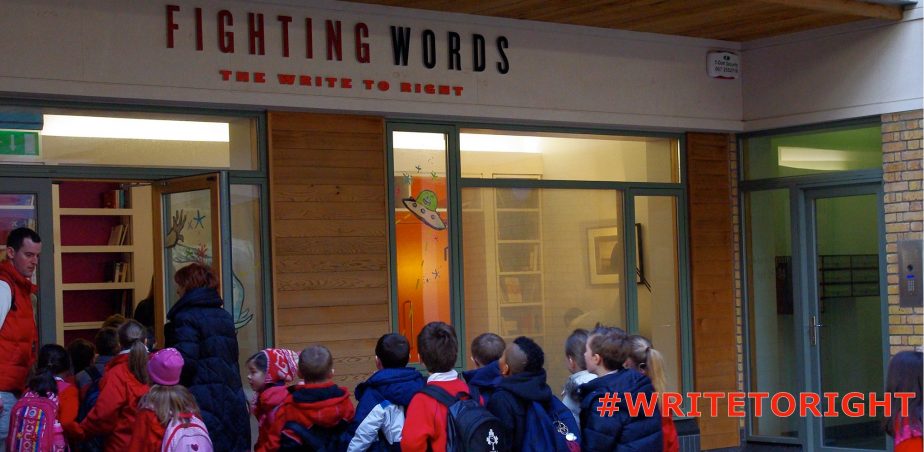 Fighting Words unleashes the creative potential of young people by providing free tutoring and mentoring in creative writing and related arts. Our aim is to help children and young people, and adults who did not have this opportunity as children, to discover and harness the power of their own imaginations and creative writing skills.  At its core, Fighting Words is also about something much broader and more inclusive. It is about using the creative practice of writing and storytelling to strengthen our children and teenagers – from a wide range of backgrounds – to be resilient, creative and successful shapers of their own lives.
Fighting Words hosts workshops for primary school kids, secondary school kids and adults with special needs. We host a wide range of special projects and programmes for children and teenagers at weekends, midterm breaks and summer holidays. These can be focused on graphic fiction, scriptwriting/film-making, songwriting, playwriting, journalism, media, radio drama, memoir…. School workshops run for 2 hours, and a typical class of 25/30 students would have a team of ten volunteer tutors, allowing 1-3 support. As much of the creative material as possible is published, either digitally or in hardcopy.
Fighting Words has a formal partnership with the Institute of Education at Dublin City University, working with trainee teachers to help to identify greater opportunities for creative practices within the formal education system.
Contact Details
---
Contact Name
Dr Orla Lehane, Education Director
---
Address
Fighting Words, Behan Square, 12-16 Russell Street, Dublin 1, D01 WD53
---
Telephone No.
01 894 4576
---
Email
---
Website
---
News posts - 2 results
Opportunities

Fighting Words Fighting Words in partnership with DCU Institute of Education, has launched Creativity and Creative Writing in…

Opportunities

Fighting Words Deadline: 5pm, 22 December 2021  Fighting Words invite submissions from post-primary students for its annual Fighting…
---