Mayo County Council Arts Service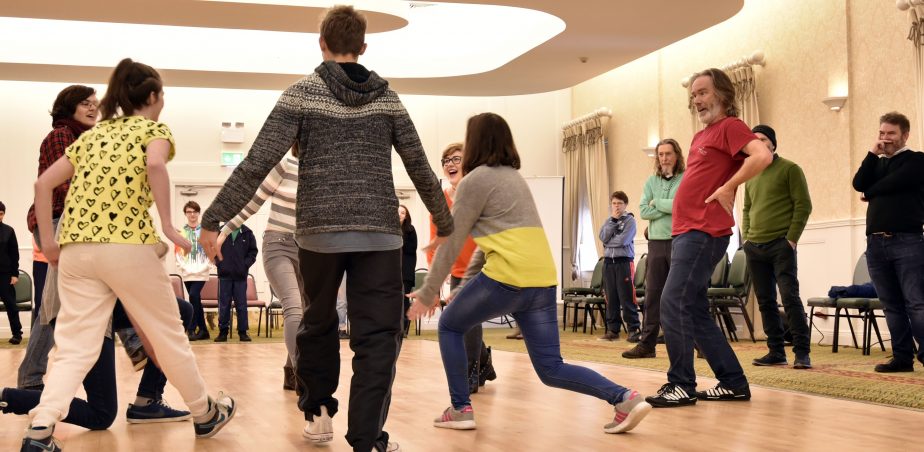 Mayo County Council Arts Service works with youth agencies, educational organisations and venues to increase access to and engagement with and for young people.
Mayo Arts service programmes an annual Excel Youth Arts Programme, provides a vibrant Youth Theatre, are a founding partner of Music Generation Mayo and have a schools exhibition programme. As part of the Mayo County Council Strategic Arts Plan 2018 - 2022 consultation, an online survey specifically for young people was developed and circulated. This garnered a positive response and generated new actions in the Arts Plan.
Mayo Youth Theatre
Mayo Youth Theatre (MYT) is an initiative of Mayo County Council, set up in 1999. It is based in Ballina and provides opportunities for young people to engage in theatre making activity, covering all aspects of the genre.
MYT involves continued development of quality youth theatre in partnership with Youth Theatre Ireland and Ballina Arts Centre. Masterclasses are provided with external expert facilitators and Youth Theatre Ireland. MYT participants are encouraged and facilitated to see professional productions and have also availed of Youth Theatre Ireland Go See YT funding and participants have been part of the annual National Youth Festival and have secured places on the National Youth Theatre Ensemble and Young Critics Programme.
Excel Youth Arts Programme
Mayo Arts Service Excel Youth Arts Programme is an annual county-wide programme of events for young people aged 13 -19 years. Excel provides an opportunity for young people to explore their creativity, gain skills in various art forms and encounter practicing artists.
Schools Exhibition
The existing Schools' Exhibition Programme allows a school to borrow a number of paintings from the Mayo County Council Collection for a school term. There are two exhibitions available, both of which have been collated especially for use in primary schools and a teachers and students pack is also available. This Schools exhibition will be revised to include a broader spectrum of art work and practices, as committed to in the new Arts Plan.
Music Generation Mayo
Music Generation Mayo, of which Mayo Arts Service is a founding partner, provides performance music education opportunities for children and young people in Mayo. The establishment of a Music Instrument Bank was one of the core strategic aims of the partnership in its original music development plan for Mayo. The inclusion of this resource was directly influenced by a consultation with young people who specifically cited lack of access to instruments as being a key challenge in furthering their musical development. Music Generation Mayo provides wide-ranging opportunities for children and young people to develop as music performers through increased access to subsidised general and specialist tuition. The programme also supports the development of music related activities e.g. sound recording, stage management, documentation and promotion of events.
Creative Schools
Mayo Arts Service is a member of the Creative Ireland Culture Team in Mayo County Council and committed to engaging with and supporting the work of Creative Associates and schools participating in the Creative Schools Initiative.
Mayo Artsquad
Established in 1997 with FÁS support, Mayo County Council's Artsquad has continued to provide excellent training in community arts skills for fifteen participants annually. The participants on Artsquad come from a wide variety of backgrounds and work with groups including schools and youth groups from all communities, providing workshops, training and street theatre. Mayo Artsquad also works extensively with festivals throughout the county.
Other opportunities
Other opportunities for this target audience present themselves through residencies, public art schemes etc., and all are utilised when appropriate. For example, the Writer in Residence Programme often includes a writer working with a school/youth group/ young people to develop work collaboratively.
Contact Details
---
Contact Name
Aoife O'Toole/Orlagh Heverin, Assistant Arts Officers
---
Address
Arts Office,
Mayo County Council,
Áras an Chontae,
Castlebar,
Co. Mayo
F23 WF90
---
Telephone No.
+353 (0)94 9064376 / (0)94 90 64367
---
Email
---
Website
www.mayococo.ie/en/Services/ArtsOffice
---
News posts - One result
Opportunities

Mayo County Council Arts Service & Kids' Own Publishing Primary school resource A Splash of Blue is a Schools Exhibition and…
---