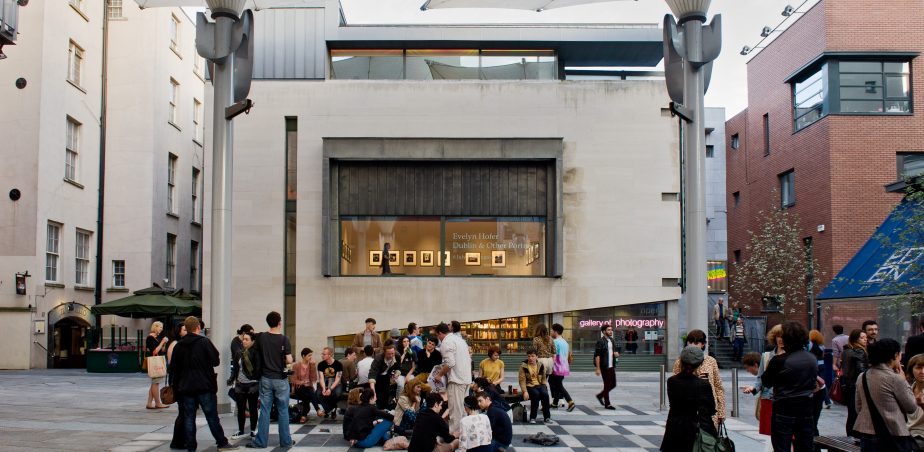 THE NATIONAL CENTRE FOR CONTEMPORARY PHOTOGRAPHY IN IRELAND
The Education Programme encourages individuals and groups to engage
with photography through a broad range of activities.
Photo Museum Ireland is the leading voice for photography in Ireland. Established as 'The Gallery of Photography' in 1978 by John Osman, the organisation has grown to become one of Ireland's most loved arts organisations.
Our programme of free exhibitions showcases the best of contemporary Irish and international photography.
Our programmes of talks, tours and workshops encourage active engagement and promote critical discussion of issues at the heart of photography.
We provide sustained support for artists across the span of their careers and development programmes to bring their work to audiences nationally and internationally.
Our Artists' Production facilities provide essential practical supports for artists. We provide the only open access darkroom and digital production facilities for artists in Dublin. We also provide specialist training, printing and production services.
Our Vision is to enrich the lives of people by increasing the enjoyment of work by photographic artists - reflecting all of Irish
life. Our Mission is supporting artists to present excellent art to foster a dynamic photographic culture that actively engages wide & diverse audiences.
We are focused on providing long-term sustained supports to Irish photographers across the span of their careers. We do this by providing: Artists commissions, support for exhibition production, curatorial advice and advocacy, artist's residency programmes, subsidised serviced B&W and digital production facilities, support for book publishing, touring exhibitions, networking and representation of photographers' work nationally and internationally; nominations for the leading international prizes and upskilling and training.
Free public talks and events encourage critical debate and develop an appreciation for photography in a lively and accessible way. We are developing new online platforms to deepen and diversify opportunities for wider audiences to engage with photography.
Contact Details
---
Contact Name
Darragh Shanahan
---
Address
Photo Museum Ireland
Meeting House Square
Temple Bar
Dublin
D02 X406
---
Telephone No.
+353 (0)1 671 4654
---
Email
---
Website
---
---