Opportunity for Artists: 'You, Fin and the Play Between' Playwriting Programme for Young Audiences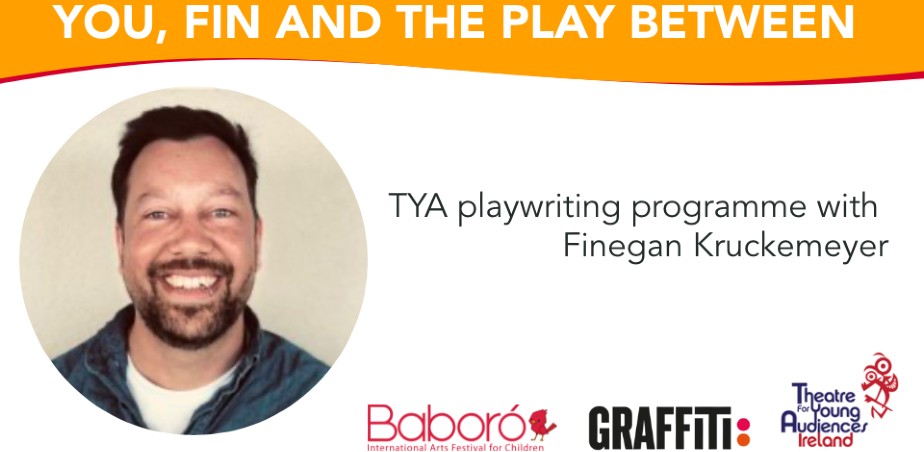 Baboró International Arts Festival, Graffiti Theatre and TYA Ireland
Deadline: Monday 8 February 2021
Callout for a 6-month playwriting programme led by Finegan Kruckemeyer for established and emerging playwrights based in Ireland who are interested in writing for young audiences.
Baboró International Arts Festival for Children, Graffiti Theatre and TYA Ireland are excited to collaborate with International TYA Playwright Finegan Kruckemeyer to host a new playwriting programme for writers and theatre makers in Ireland who are interested in writing plays for young audiences.
At a time when the world and its distances are both larger and smaller than ever before, a collaboration will occur, spanning half a globe, and half a year, and driven by that most exciting of provocations – to forge something from nothing.
Beginning with a blank page, eight Irish authors will respond to writing aids and impositions both as they explore theatre for young audiences – what makes a TYA play, and what TYA play they wish to make.
But more important than the audience, shall be the idea. And in writing work solemn and silly, foreign and known, as vast as an ocean and as small as a boat which may rock upon it, eight individual voices shall be celebrated, and their plays play out to their ends.
Who is this for?
This opportunity is open to both established and emerging playwrights, residing in Ireland, interested in writing plays for young audiences. Applications are encouraged from artists with a disability, those from minority ethnic communities and those who feel their voices are not commonly represented. There are eight places available on the programme.
Irish language writers are welcome to participate in this project through the medium of Irish.  Support and translation will be provided to facilitate a bilingual writing journey with Fin. Samples of writing in Irish can be included in the application.
Cuirimid fáilte roimh scríbhneoirí le Gaeilge páirt a ghlacadh sa togra seo as Gaeilge. Cuirfear tacaíocht agus aistriúcháin ar fáil chun an turas scríbhneoireachta dátheangach le Fin a éascú. Is féidir samplaí Gaeilge a bheith mar chuid den iarratas.
Deadline for Applications is Monday 8 February 2021
For further information and application details go to https://www.baboro.ie/news-events/you-fin-and-the-play-between
---