Portal Spring Regional Day 2022 – Roundup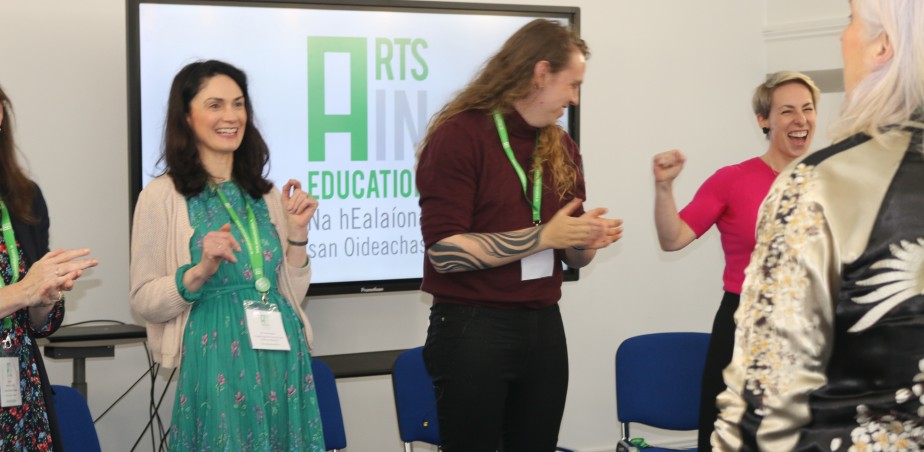 Earlier this month, teachers, artists and arts in eduction professionals gathered together – in-person and on-online – at the beautiful surroundings of the Kildare Education Support Centre. This was an opportunity to share experience, gather new ideas and network with colleagues. This event, the sixth of our annual Portal Regional Days, showcased arts in education and creative practice in the Mid-East. This year's gathering was particularly special as it was the first in-person event in two years and provided a wonderful opportunity to catchup with members of the community, some of whom had only met virtually.
The morning of sharing practice began with visual artist Penelope Monaghan in conversation with Deirdre Rogers, Visual Arts Learning & Engagement Coordinator at the Solstice Arts Centre who shared their experience and learnings from the BLAST project with Stackallen National School, Co. Meath. As part of the presentation, Deirdre brought the audience on a Visual Thinking Strategy (VTS) journey of the painting 'Three Space Unfolding' by Lesley-Ann O'Connell, sharing a taste of how she uses VTS techniques in exhibition visits with schools.
"That's so true, for me art and creative activities if you want to call it a subject is the only subject that can teach every other subject", Deirdre Rogers
The morning continued with a thought-provoking panel discussion chaired by teacher and Teacher–Artist Partnership (TAP) Lead Facilitator Jennifer Buggie with speakers Michelle Furlong, Portal Committee member and Creative Schools Manager with the Arts Council of Ireland; Dr Triona Stokes from the Froebel Department of Primary and Early Childhood Education, Maynooth University and Mark Ball, Theatre-maker and Artistic Director of Super Paua. The panel explored the question 'How do we ensure the voice of the child is heard?'. They shared insights into how, in their own practices, they consider the child's voice and other practical ways to open opportunities for the child's voice in the classroom or during a creative engagement.
Do we other children by calling them children? That old concept of not being fully a person in terms of traditional forms of education. But I really do think by using those terms 'young people', young people who are fully themselves… as Caitríona Ní Chullota used to say always, they are fully themselves in every moment of their existence. – Jennifer Buggie 
In the afternoon, attendees where invited to take part in practical creative workshops. Photographer Brian Cregan shared some practical tools and tips on using smartphone's and tablet's for photography with in-person attendees. They explored how smartphones and tablets can be a key tool in documenting creative engagement.
Online, artist Helen Flanaghan invited participants to explore their own connections to land, place and nature and to consider – what we stand to lose in the context of the climate crisis in the creative workshop titled 'What is left and what left to lose?'. Through discussion, participants were invited on a journey of co-creation creating a piece collaborative writing which was then burnt in a fire pit at the end of the session.
"Lets try it and lets fail beautifully together", Mark Ball, Artistic Director Super Paua
Thank you to everyone who joined us on the day. For those who missed the mornings discussions the live stream is available to watch back on the Portal's Vimeo Channel here.
---