Forbairt Ghairmiúil Leanúnach sa samhradh do Mhúinteoirí: Cur chuige bunaithe ar na Amharc-ealaíona sa Seomra Ranga le The Ark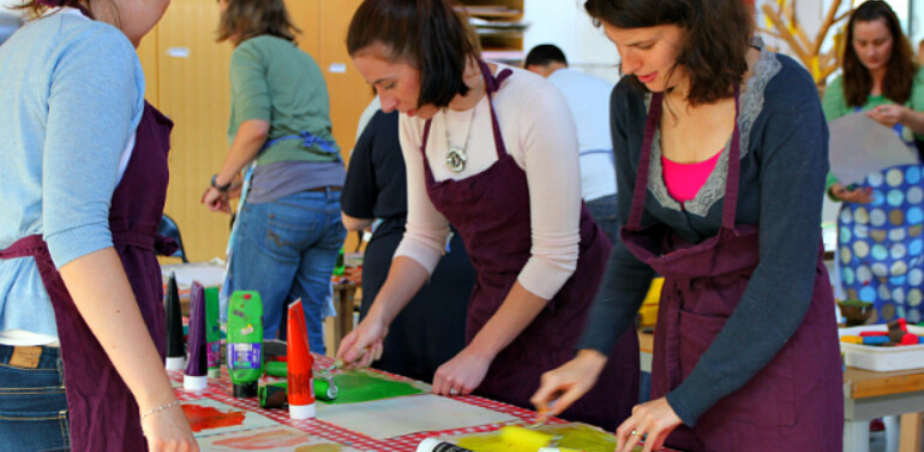 The Ark
Dáta: 14-18 Lúnasa 2023
Bí leis an ealaíontóir Jole Bortoli ag The Ark don chúrsa cruthaitheach teagmhálach a bhfuil an-éileamh air, ina ndírítear ar chur chuige na n-amharc-ealaíon maidir le hinsint, litearthacht agus ábhair eile a iniúchadh.
Is é aidhm an chúrsa a chur ar chumas rannpháirtithe an scoilbhliain nua a thosú le bosca uirlisí feabhsaithe scileanna agus eolais, chun curaclam amharc-ealaíon a sheachadadh go héifeachtach sa seomra ranga. Beidh rannpháirtithe i mbun an chúrsa ar bhonn 'teagmhálach', rud a fhágann go mbeidh siad ag foghlaim trí rudaí a dhéanamh. Agus tú ag obair i bhfoirne agus i d'aonar, clúdóidh tú réimse gnéithe curaclaim lena n-áirítear líníocht, péinteáil, priontáil, tógáil 3T, fabraic agus snáithín.
Cuirfear béim mhór ar scileanna agus ar mhuinín a fheabhsú. Pléifidh an grúpa chomh maith an bealach a bhféadfar amharcealaín a úsáid chun dul i mbun gnéithe den churaclam Béarla, OSPS, Staire agus Matamaitice, chomh maith le cuir chuige amharclitearthachta a chur chun cinn. Cuirfear cleachtaí féinluachála scoile san áireamh mar pháirt lárnach den chúrsa. Tabharfar am freisin le haghaidh machnamh agus foghlaim aonair agus plé grúpa.
Beidh tóir ag múinteoirí ar gach leibhéal taithí ar an gcúrsa seo agus beidh sé á éascú ag an saineolaí amharc-ealaíon agus oideachais, agus bunaitheoir Art to Heart, Jole Bortoli. Seo deis ar fhorbairt leanúnach ghairmiúil ar chóir a thapú!
TICÉID
€100/€90 (do Bhaill ArkEd)
FAD AMA
Cúrsa cúig lá - ní mór do mhúinteoirí a ghabháil orthu féin a bheith i láthair na cúig lá go léir.
Is cúrsa samhraidh cúig lá de chuid na Roinne Oideachais é seo ceadaithe le haghaidh saoire phearsanta bhreise do mhúinteoirí.
Oiriúnach do gach leibhéal taithí.
Cuir do thicéid in áirithe anseo: https://ark.ticketsolve.com/ticketbooth/shows
---