Creativity & Change: A Unique Accredited Course in Creative Change-Making at CIT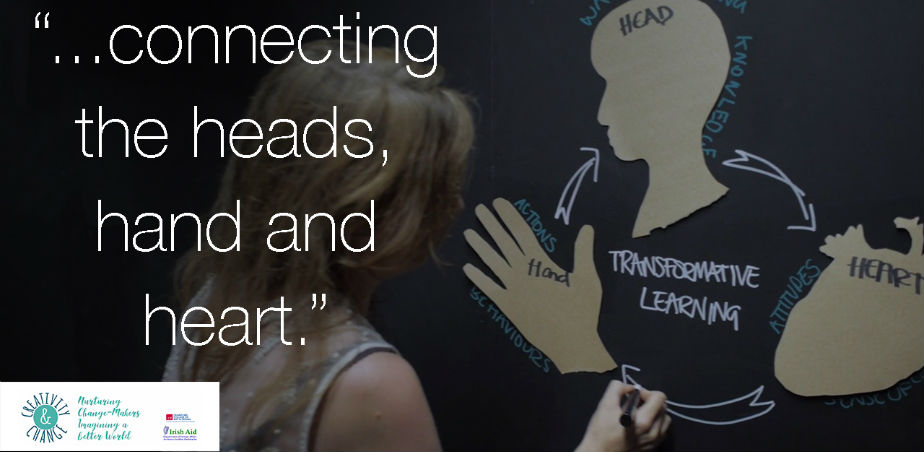 The Creativity and Change programme & CIT Crawford College of Art
Application Deadline: 15th September 2018
The Creativity & Change programme targets change-makers, educators, activists, artists, community workers, adult education tutors, youth workers, volunteers and anyone who is interested how creative engagement can nurture global citizenship and empathic action around local and global justice themes.

This part-time accredited course takes place over 8 weekends from September to May.
Course Modules
Module one 'Thematic Creative Engagement' considers the role of creativity in learning and its contribution to enabling engagement with knowledge, attitudes, values and behaviours of global citizens. It engages learners with a range of models and concepts of learning related to Development Education and Education for Global citizenship. Learners will engage with a range of global justice themes and topics related to local and global interconnectedness. They will also engage with a wide range of creative tools and methods. The module will require a deep critical personal engagement and self-reflection, developing personal perspective as a global citizen and connecting with values and themes. The learners will critically engage with the learning environment of the programme and their personal approach and style as learners in view of applying this learning to their practice.
Module 2 'Application to Practice' builds on on the experiential learning process of the 'Thematic Creative Engagement' module. Learners will consider the application of their learning in professional practice. They will apply their learning in design and delivery of live projects that provide learning experiences for others and be given space for personal and peer reflection on their practice.
Course fee is €680. This course is supported by Irish Aid's Development Education funds and is therefore offered at this subsidised rate.
This is a Level 9 CIT Special Purpose Award 
For more information go to creativityandchange.ie/accredited-award/
To apply go to www.cit.ie/course/CRACRCH9
Published
8/8/2018
School Level
---