SING ME TO THE SEA – the 'at-home' version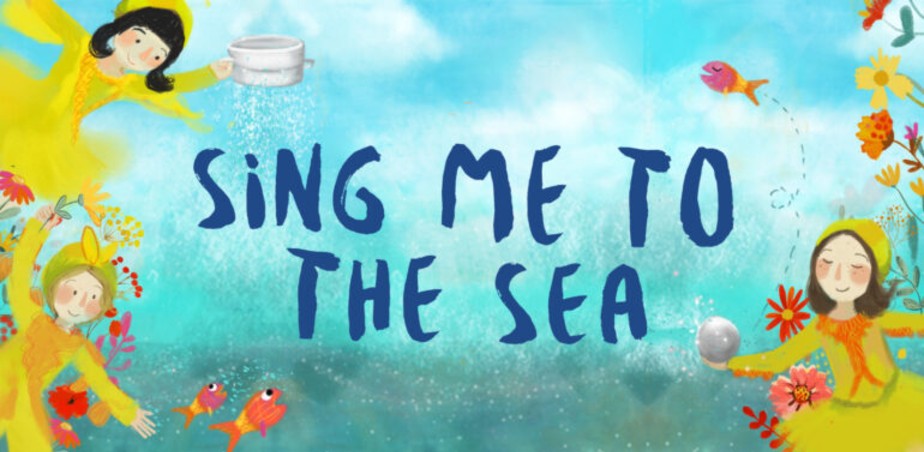 Mermaid Arts Centre, The Civic & Riverbank Arts Centre
August 2020
Due to tour to hydropools this July and September, this magical watery adventure is now scheduled to tour in August in collaboration with Mermaid Arts Centre, The Civic and Riverbank Arts Centre. Rather than cancel the tour, Anna Newell Theatre Adventures and the partner venues were determined to bring high quality live art experiences to this very particular audience and so the 'dry land' 'at-home' version was invented. The "at-home" version is specifically for children/young people with PMLD.
Taking the responsiveness of the show to a whole new level, this re-imagined 'dry land' version will be performed in the gardens/drives/outside the windows of homes of families of children with complex needs. Still full of ethereal live harmony singing and gorgeous costumes (created by award-winning composer David Goodall and renowned costume designer Susan Scott), reflective silver balls, rainbow fish and water moving through colanders like waterfalls will all happen at an appropriate distance from our audience members, with their accompanying adults mirroring the action to add the up-close sensory element.
A process of a virtual pre-visit will take place to ensure that each different private 'at-home' adventure is magical, calm and, of course, safe.
Anna Newell is a Bray-based theatremaker who has been making theatre adventures for many different audiences since 1989. She was the first Irish-based theatremaker to create theatre designed especially for children and young people with PMLD and her work for Early Years audiences has been seen on 6 continents and off-Broadway.
Contact your nearest partner venue for booking details – click on the relevant link below:
SING ME TO THE SEA is co-produced by The Civic, Tallaght and funded by the venues, Wicklow County Council and Sunbeam Trust with additional funding from Arts Council of Ireland
Published
30/7/2020
Artforms
Region
---