Limerick's Bualadh Bos Children's Festival Programme Announced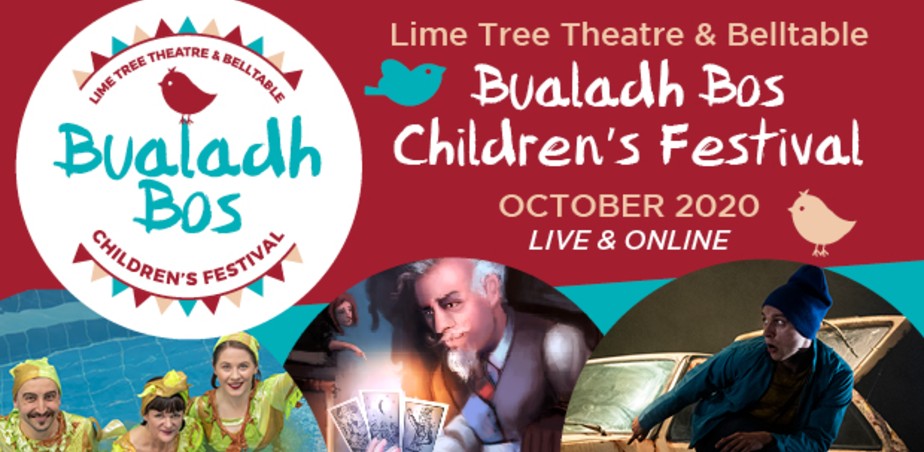 Lime Tree Theatre | Belltable
Dates: October 2020
Limerick's Lime Tree Theatre | Belltable team are proud to present a superb programme of events for their annual Bualadh Bos Children's Festival this October.
Every child deserves access to the performing arts. As always, the aim of the festival is to ensure we continue to inspire children and their families by the safest and most creative means possible.
To achieve this in 2020, the programme has both live and online shows, creative workshops and even a family mystery trail around the Georgian quarter of the city. Plenty for all our small citizens to interact with.
Our schools programme is completely online, this will ensure schools in Limerick and the mid-west region can access our festival programme without travel costs as a barrier.
Louise Donlon, Director of Lime Tree Theatre|Belltable said "We are so glad to be able to announce this year's Bualadh Bos festival as there were times during the past 5 months when our hopes for it seemed to be dashed.
"We have put a lot of thought into how we can continue and have been so heartened to see that performers and audiences alike are so keen to take part. The wonders of digital technology allow us to present our school's programme online.
"Indeed, the advantage of online programming means that every school in Limerick can access the wonderful work being created – there are no barriers to all the children in the city and county enjoying the best that is on offer.
We gratefully acknowledge the support of the Arts Council, Limerick City & County Council and the JP McManus Foundation, without whose help and support none of this would have been possible."
Our festival highlights include Michael Ford and Bairbre Ni Chaoimh's beautiful show The Wilde Garden Adventure, the opening show of the festival on Sunday Oct 4th in Belltable. The show is based on two famous Oscar Wilde books The Happy Prince and The Selfish Giant.
We are thrilled Emma Martin's Birdboy will tour to the Lime Tree Theatre on Wednesday Oct 7th. This engaging family show premiered earlier this month in the Dublin Fringe Festival to fantastic reviews. We feel so lucky that they tour to Limerick first and then go to 4 other venues in the country.
Cahoots NI have spent the summer converted units in a Belfast shopping centre into various magical rooms for a real live virtual experience with their new show The University of Wonder and Imagination.
Music Generation Limerick presents a new programme of interactive livestreams for schools featuring award-winning Limerick actor Myles Breen, the amazing rapper Denise Chaila, trad star Zoe Conway, guitarist and singer Sean O'Meara and classical violinist with the ICO Diane Daly.
Also, Branar Téatar have an online puppet workshop, Children's Books Ireland go online with their book clinics for all book worms,  Jean McGlynn gets creative with Halloween ideas, there is something for every child this year, now all we need is you to ensure they can join us and have some fun!
A full programme of festival events with dates/times/age groups etc are available at – www.limetreetheatre.ie/show-category/bualadhbos/
Published
30/9/2020
Artforms
Region
---