Limerick's Bualadh Bos Children's Festival 2021 Programme Announced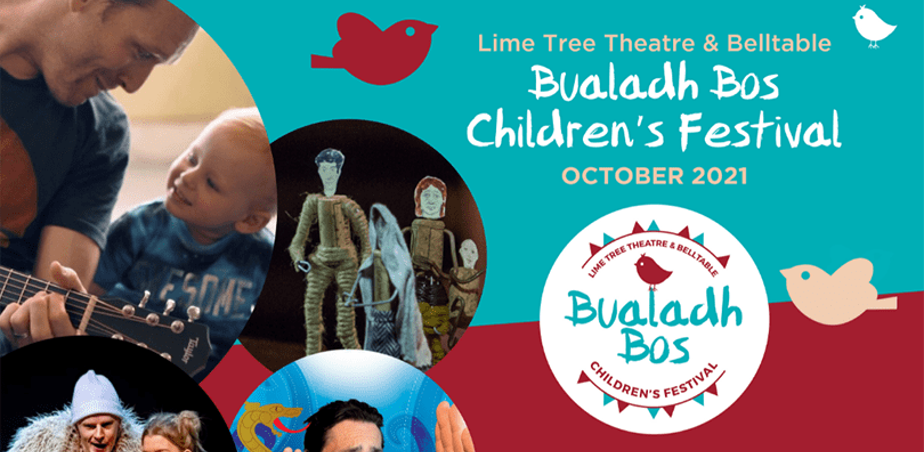 Bualadh Bos Children's Festival
Dates: 3 – 16 October 2021
Limerick's only arts festival dedicated to children, all on your doorstep!
Lime Tree Theatre, Belltable are delighted to announce the return of their annual Bualadh Bos Children's Festival this October. From the 3rd to the 16th of October an exciting programme of live and online events will be presented for families and schools.
The team hope the festival will bring some joy after a very difficult year for children and families. The programme offers a wide variety of events for all age groups, from our smallest citizens right through to our older primary school children.
One of the highlights this year is the Family Day at Belltable on Saturday 9th October to encourage family audiences back into the venue in a safe manner. Best-selling children's author Dave Rudden will kick off the day with a 40 minute talk, it will no doubt fire up the creative juices of every child attending. Families can also pick up a Modernist Trail map by OpenHouse Limerick and explore the city with fresh eyes for an hour or two. The Bualadh Bos Human Library "drop-in" event will take place in the Belltable Hub throughout the afternoon. Children of all age groups are invited to come with questions about music, dance, writing and illustrations for four professional artists working in these areas every day. Cartoon Saloon's screening of Wolfwalkers will complete a fantastic family day out. The Belltable Café will feed and water everyone with an appetizing family-friendly menu throughout the day so everyone can stay in the building for the full immersive arts experience.
Outside of the Family Day the festival presents a gorgeous theatre show by Barnstorm Theatre Company Alice and the Wolf, Riverbank Arts Centre presents A Very Old Man with Enormous Wings for families.
For schools they present Glór's The Wild Atlantic Tales in Belltable and also host streamed events into schools with Music Generation's Messin' In The Musical Metaverse, White: The Film and Potato Needs a Bath. One streamed family show to watch out for is Hansel and Gretel complete with songs from Frozen and The Greatest Showman by Verdant Productions. This show is great fun and can be enjoyed from the comfort of your own couch. For the real smallies there is a beautiful show by Anna Newell called I AM BABA and the Bualadh Bos On Tour programme presents a show by Manchán Mangan called Arán agus Im for 5th & 6th class pupils. There is guaranteed something for everyone.
Despite ongoing challenges due to the pandemic the festival team has rallied to present the best possible programme this October. They hope families and schools in Limerick city and county will engage and join in the fun. In order for children to engage all we need is you. The team encourage all grown-ups to have a look at the programme here and book in advance due to limited capacities for many events.
For the full programme of festival events with dates/times/age groups etc go to atwww.limerick.ie/discover/living/limerick-news/lime-tree-theatre-and-belltables-bualadh-bos-childrens-festival-2021
Published
22/9/2021
Artforms
Region
---