National Arts in Education Portal Day 2021 – A virtual conference like no other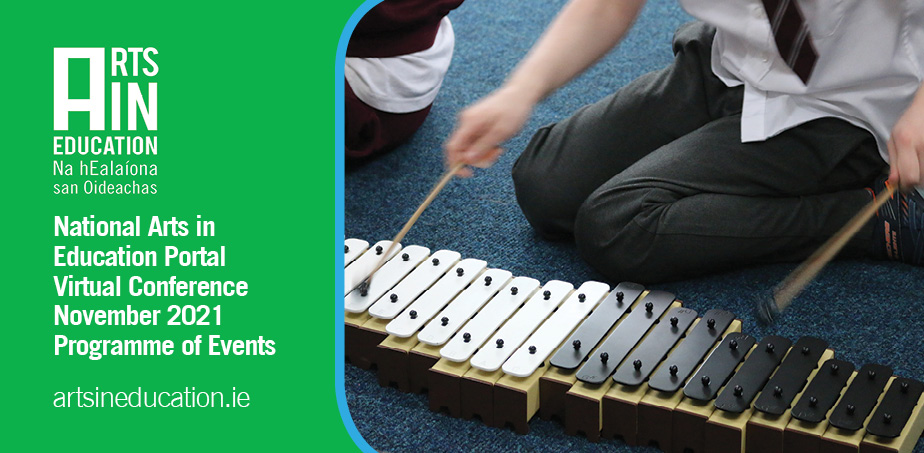 The 6th annual National Arts in Education Portal Day 2021 is a virtual conference from 15 – 21 November.  The National Arts in Education Portal Virtual Conference will welcome hundreds of professionals from across the arts, education, arts in education and creative sector, who will attend various online events to share, learn, talk, network, get inspired and interrogate best practice in the field.
The event represents an important landmark in the calendar for educationalists and arts and creativity in education sector professionals with a shared interest in quality and access to best practice arts provision for children and young people. This year the National Arts in Education Portal Day has once again moved online to ensure accessibly for all audience members as per government guidelines.
The Arts in Education Portal – an initiative of the Arts in Education Charter, a cross-governmental policy launched in early 2013 – is the key national digital resource of arts in education and creative practice in Ireland. This annual event is an extension of the Arts in Education Portal with specially commissioned activities and events that are funded by the Department of Education and supported by the Creative Ireland Programme. This is also part of a wider programme of national initiatives that have been developed as a result of the Arts in Education Charter and form part of the Creative Ireland, Creative Youth Pillar I programme, which was launched by Taoiseach, Leo Varadkar T.D. in December 2017.
This year's conference programme features an opening keynote address titled 'How and Why Dance, Music and Storytelling Might Well Support Critical Cognitive Development in Children and Youth' from guest speaker Professor Adele Diamond, Canada Research Chair Professor of Developmental Cognitive Neuroscience at The University of British Columbia, Vancouver. Professor Diamond will share insights into the importance of the arts and creativity for children's cognitive development.
A series of 'in conversation' sessions with artists, teachers and practitioners from across the sector will bring discussion and critical thinking to a range of topics. We're delighted to welcome the following speakers: Aoibhie McCarthy, Artistic Director of Sample-Studios; artist Kate McElroy; Jürgen Simpson, Director of the Digital Media and Arts Research Centre (DMARC) at the University of Limerick; IMMA's SPICE Project Researcher, Adam Stoneman; primary school teacher Eibhlin Campbell; teacher and Teacher-Artist Partnership (TAP) lead facilitator Jennifer Buggie; drama facilitator Eirini Marna from the Hellenic Theatre/Drama & Education Network, Greece; and Manja Eland, Head of Education at Kopa in the Netherlands.
The programme also features discussions with the 2021 Portal Documentation Award recipients. The Dock Composer in Residence, George Higgs, teacher Noelle Igoe, artist Tunde Toth and teacher Alyson Hourigan will share insights from their experience on the projects 'Songs of Ourselves' and 'Place'.
There will be a broad range of Creative Workshops delivered by artists and creators, Ana Colomer, Fiona Linnane, Daithí Ó Murchú, Sarah Fitzgibbon and Joanna Parkes.  These workshops aim  to support artists and teachers to explore new ideas, approaches and techniques to support their own professional development through creative practice. The virtual conference will culminate in a closing event with curator, artist, writer and educator Jennie Guy, who will share her reflections on the week's events and discussions.
The 2021 National Arts in Education Portal Virtual Conference has been organised by the Arts in Education Portal Editorial Committee, who oversee the content management of the Portal on an ongoing basis, in collaboration with the current editors, Kids' Own Publishing Partnership.
Please note: ISL Interpretation and live captioning will be available for all publicly broadcast events on zoom only booking in advance is required.  artsineducationportal.eventbrite.com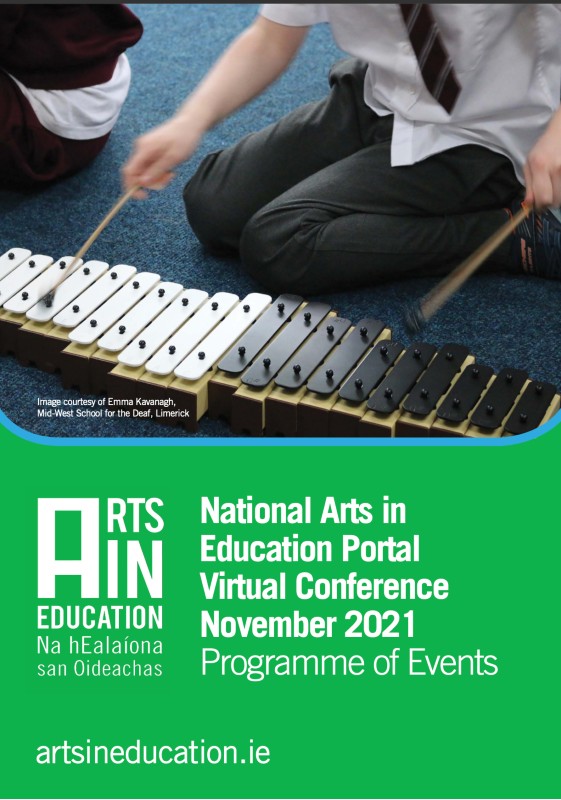 ---