Roundup: A selection of funding opportunities for artists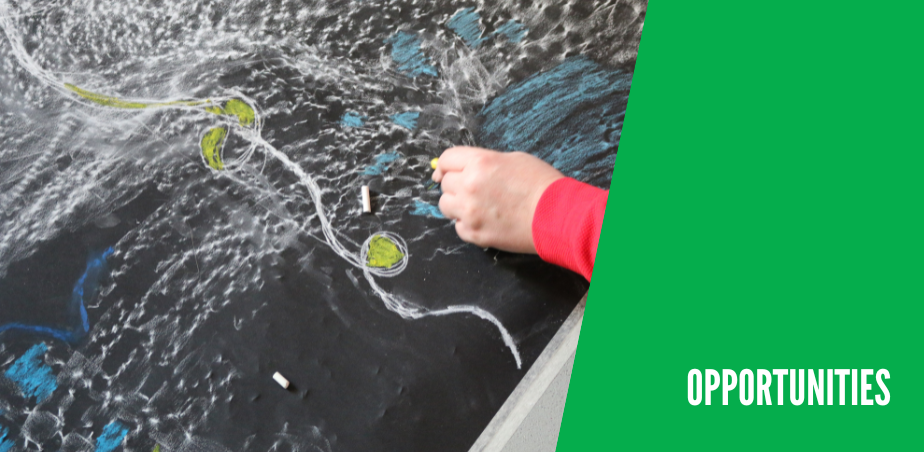 A selection of some national and local funding opportunities for professional artists working in arts and creativity in education with open deadlines in February and March 2023.
Arts Council of Ireland
Applications are currently open for funding from the Arts Council of Ireland, including Agility Awards and Bursary Awards in a number of art forms.
The Young People, Children and Education Bursary Award supports the professional development of artists by enabling them to spend time developing their practice. The award is specifically focussed on helping artists to improve their capacity to develop or present high-quality arts experiences with or for children and young people. It is open to individual artists and practitioners working in a creative capacity in any artform, including arts facilitators, curators or programmers.
Deadline: 5:30pm, 9 February 2023
More info: https://www.artscouncil.ie/Funds/Young-People,-Children,-and-Education-Bursary-Award/
The Agility Award aims to support individual professional freelance artists and arts workers at any stage in their careers to  develop their practice, their work, or their skills.
Deadline: 5.30pm, 9th February 2023
More info: https://www.artscouncil.ie/Funds/Agility-Award-2023/

Fingal County Council
Fingal County Council is delighted to announce the 2023 Artists' Support Scheme. This strand of funding allows professional artists to avail of up to €5,000 of an award towards travel and professional development opportunities, a residency, or towards the development of work.
Deadline: 4pm, February 24, 2023
More info: http://fingalarts.ie/news/fingal-artists-support-scheme-2023

Galway Arts Office
Galway County Arts Office invites applications from individual artists to develop their arts practice and artistic career under their Artist Support Scheme. The scheme is open to professional artists residing in County Galway at all stages of their career, working in any artform and context.
Deadline: 4pm, February 13, 2023
More info: https://www.galway.ie/en/services/arts/funding/bursary/
Laoise Arts Office
Laois County Council has announced details of grants and opportunities to support the development and presentation of creative and artistic projects in the county in 2023. Through the Artists in Schools Scheme 2023, grants are available for artists' residencies in schools, to include all art forms. This scheme gives primary and post primary schools the opportunity to select and work with professional artists and explore new arts media.
Deadline: 5pm, 17th February 2023
More info: https://laois.ie/departments/arts/grants-schemes/artists-in-schools-scheme/

Limerick City and County Council
Limerick City and County Council offers grant funding to amateur, community or voluntary groups, or organisations, and individual arts practitioners, which in the opinion of the authority, will stimulate public interest in the arts, promote the knowledge, appreciation and practice of the arts or assist in improving the standards of the arts.
Deadline: 4pm, 22 February 2023
More info: https://www.limerick.ie/council/services/community-and-leisure/culture-and-arts/funding-schemes-and-bursaries/limerick-0

Mayo Arts Office
The Mayo Artist Bursary Award is now open for applications. The Artist Bursary Award aims to support the work of professional artists, working in any artform, at all stages of their career, currently resident in Mayo.
Deadline: 5pm, March 16th, 2023
More info: https://www.mayo.ie/arts/funding/mayoartistbursary

Wicklow Arts Office
This year Wicklow County Council Arts Office are currently accepting applications under their Artist Award Scheme 2023. The scheme assists professional artists in the development of artistic practice by enabling them to explore meaningful ways to make work, test out innovative thinking and grow new ideas. The award supports professional practising artists to develop or realise a particular body of work or to undertake professional development.
Deadline: 4pm, February 27, 2023
More info: https://www.wicklow.ie/Living/Services/Arts-Heritage-Archives/Arts/Funding-Support-Opportunities/Arts-Act-Funding
All information is correct at the time of publishing.
---