2023 Portal Spring Regional Day – Programme Announced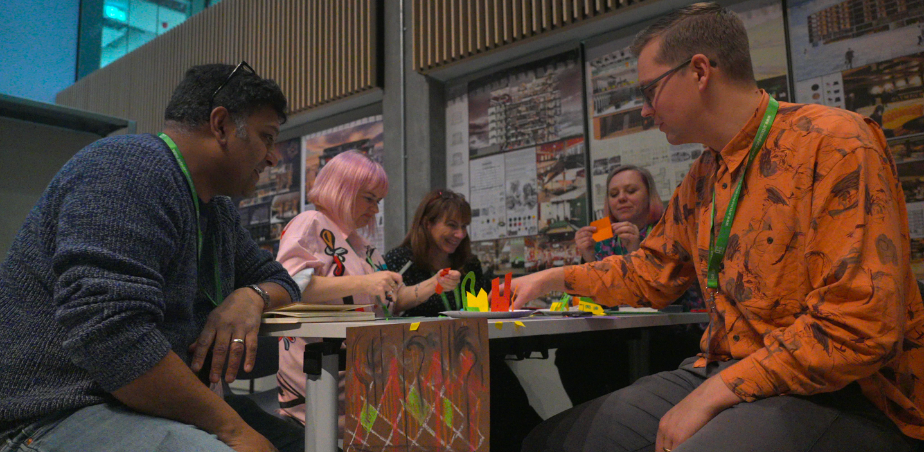 Arts in Education Portal 
Date: Saturday, 6th May 2023
The Portal Team is delighted to announce the full programme for the Arts in Education Portal Spring Regional Day which takes place on Saturday 6th May in Cork City at MTU Crawford College of Art & Design in partnership with the Department of Arts in Health & Education and Department of Fine Art & Applied Art. We are also delighted to present, in collaboration with Sample-Studios in Cork, an exhibition of work from artists in the field of arts in education based in the South-West region. An exhibition viewing will be held at the Lord Mayor's Pavilion to wrap up the day's programme from 3:30pm; delegates are welcome to attend then or to visit the exhibition which will run until 27th May.
We invite teachers, artists, arts managers and anyone with an interest in arts in education in Cork, Kerry, Limerick and Tipperary to join us for these free events.
The programme for the day includes a series of presentations in the morning; artist Jane Hayes will discuss the challenges and opportunities that go with balancing a studio practice with collaborative arts projects, and her mission to make both child-centred. Following this discussion, composer Fiona Linnane will explore the activities which she has found to be the most effective in engaging students during her residencies through presentation, discussion and creative exercises.  
In the afternoon join West Cork based visual artist artist Julie O'Hea for a creative workshop in ink making and hapa-zome pigment printing, this session promises to be messy, fun and informative.

How to Book
Tickets for the 2023 Portal Spring Regional Day are free but pre booking is essential as capacity is limited.
Book your place at https://www.eventbrite.ie/e/arts-in-education-portal-regional-day-south-west-tickets-600696769207
Online Viewing:
For those who can't join us in person on the day, the morning talks and presentations will be available to watch back online following the conference. Registration for viewing is available through the link here: https://forms.gle/MF4NLWcRWq8t15nk8.
Please note: ISL Interpretation will be available at the venue and on the video recordings.

Schedule
10:00am — Registration & coffee at MTU CCAD, Sharman Crawford Street
10.15am — Welcome Address
10:30am — The Portal: a brief introduction by Edel Doherty, Kids' Own Publishing Partnership (Portal Content Managers) 
10:45am — Presentation 'The Voice of the Child in Creative Decision-Making – The Early Years Context' with Jane Hayes. Join early years artist Jane Hayes for an informal discussion about her socially engaged visual arts practice and her work with and for very young children.
11:30am — Presentation 'Tutti – Exploring pathways to inclusivity for music composition in the classroom' with Fiona Linnane. Composer Fiona Linnane will share her learnings, as an artist delivering schools residencies exploring music and sound, around what she has found to be the most inclusive approaches to music composition in the classroom.
12:15pm — Lunch & networking
1:15pm — Walk to MTU CCAD, Grand Parade
1:30pm – 3:00pm — Creative Workshop 'Pigments from Nature' with artist Julie O'Hea at MTU CCAD, Grand Parade. Visual artist Julie O'Hea will give a demonstration in ink making and hapa-zome pigment printing in a messy, fun and informative creative session.
– – – – – – – – – 
3:30pm — Exhibition viewing and reception at Lord Mayor's Pavilion
5:00pm — wrap up
Collaborative Arts in Education exhibition with Sample-Studios at the Lord Mayor's Pavilion
27th April – 27th May
Exhibition opening hours:
Tuesday – Saturday, 11am – 4pm
For further information on the Regional Day email events@artsineducation.ie.
Published
13/4/2023
School Level
---