Uillinn: Brightlines – Children's exhibition of work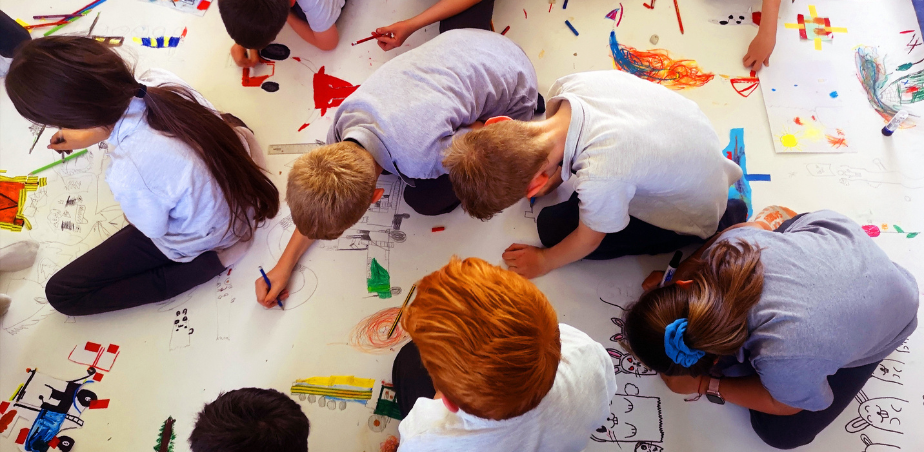 Uillinn: West Cork Arts Centre
DATE: 3rd June – 1st July 2023
Four primary schools from across West Cork came together to participate in Bright Lines – Uillinn's Spring education programme for primary schools. Bright Lines invited students to stretch how they see and interpret the world around them and weave together new stories.
The programme consisted of a tour and workshop at Uillinn with Public Engagement Artist Kate McElroy viewing the work of Sérgio Leitao 'The Fallout' which was then followed by visits in the students' classrooms to develop their own collaborative collages exploring creativity and storytelling. Bright Lines invited students to be creative with their responses blending items from their everyday life with their imagination. 
Altogether 100 students from 1st – 6th class worked on Bright lines. An exhibition of their work is currently on view until 1st July 2023.
Uillinn wish to thank students from Dromore NS, Scoil Mhuire NS, Schull, Scoil na mbuachaillí, Clonakilty and Gaelscoil Dr. Uí Shúilleabháin, Skibbereen for their excellent creative work and the teachers for taking part in the programme.
On Saturday 10 June between 10 AM – 1PM, children and young people are invited to take part in a drop in art activity at the centre where they too can add their artistic contributions to Bright Lines. This collaborative drawing art activity is part of the celebration of Crinniú na nÓg – A day of free creativity for children and young people.
To read more please visit: https://www.westcorkartscentre.com/schools-archive
Published
8/6/2023
Artforms
School Level
Region
Tags
---