Blog 3 – Coláiste Muire (Ennis) and Scoil Mhuire (Ennistymon), Co. Clare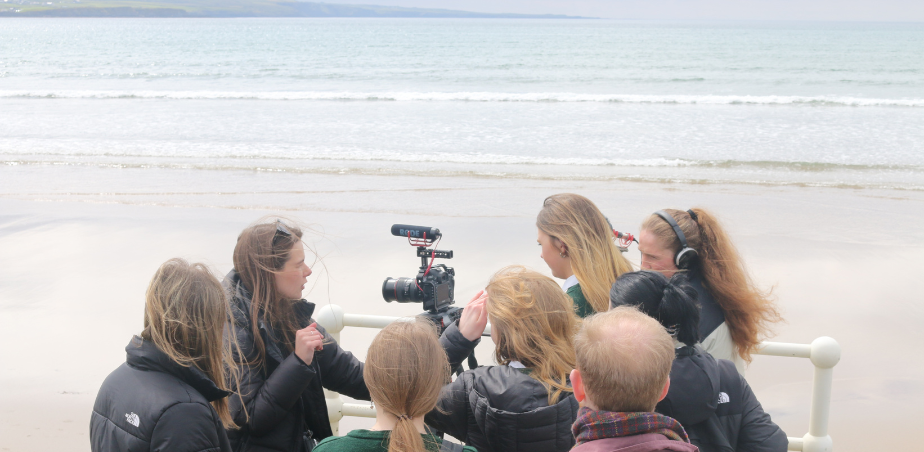 The following blog posts have been written by art teachers Aidan Power and Mary Fahy along with their 5th Year class students in Coláiste Muire (Ennis) and Scoil Mhuire (Ennistymon), Co. Clare. They share their experiences of collaborating with artists Mitch Conlon and James Moran on the project Keystone, commissioned by Clare County Council to celebrate and mark 20 years of artist in schools programming by Clare Arts Office. The curatorial framework Art School, directed and curated by Jennie Guy, were invited to deliver the project, along with co-curator Fiona Gannon. This project is one of the recipients of the 2023 Portal Documentation Award, read the announcement here.
The new Leaving Certificate Art specification focuses on art as social commentary, political and social art and artists in the community, for this reason, the 5th Year students from the respective schools were selected to participate in the project.
---
Mary Fahy is an award winning teaching artist working in Clare since 2003. Her work explores presence and absence, memory, grief, love and loss. Mary graduated LSAD with a BA Fine Art Painting, (1st) 2000 and H Dip Art Education (1st) 2003, when she won both the Irish Times Award and the Larkin Memorial Award for art teaching.
Teacher as Observer  
Our artists, Mitch Conlon and James Moran, lead with a loose, conversational archiving style, asking students to explore their local hang-out spots, local stories or folklore. They listened for nuggets of information as students described where young people hang out locally: the Cliffs in Lahinch… the Sulphur baths in Lisdoonvarna, the Lake in Inagh, or some more virtual meeting spaces. The artists focused on places where students could hang out and be alone with their friends, to just be.    
My favourite quote in the early weeks of the project was when I asked students for real feedback on the process so far: they answered with a slightly bewildered 'I don't think they even know what the project is about!' It summed it up. The gap between the prescriptive, fact-based academic tradition, the 'just tell me what to learn',  'answer-in-the-back-of-the-book' learning model that is the points based Leaving Cert, and what Keystone proposed: a nebulous, prompting, listening, chatting, exchanging of stories, a watching for crossovers, for sparks of connection to form. A waiting with slight discomfort and frustration for the ideas to take shape. The creative process in action. This collaborative, democratic outcome is not a mode of working that sits easily within the exam system. Discomfort. Impatience. Underwhelm? It took a while… A low-level dread of maybe being made to 'do drama and be on film' pervaded until students realised that they needn't be in front of the camera at all. That there were roles they could elect to play in the process. A gently guided 'it's ok to feel slight discomfort' approach!  
The artists showed footage of the 1980's underground punk scene in Belfast. An anarchic idea for these digital natives: a place where you could go and be anonymous and express yourself with abandon.  
It saddened me that the students haven't known a world before the omnipresent smart phone, listening, snapping, recording their every move. Before Google Maps, eircodes, data analytical tracking, the rise of AI and Chat GPT. (I thank God regularly for the 90's!!) 
How do you hang out, away from surveillance. How do you disconnect and connect to each other, or to nature? The irony of making a documentary art piece about this was not lost on us. 
For me, one student's phone footage of their pristine white runners carefully negotiating a puddle summed up the duality poignantly.    
Our art class has a wonderful diversity of cultures with Irish, Spanish, Italian, Polish and Ukrainian students. Google Translate was a welcome support for the visiting artists! When students began sharing and comparing their respective Christmas and New Year's traditions and customs it sparked a particularly joyous exchange. Similarities were noted. Things began to click.  
Momentum gathered via shared words, snippets of sound recordings, video, photos of clifftop sunsets, waves,  the roar of a match crowd, the crunch of pebbles. Abandoned spaces.. 
Students had a blast with Mitch and James playing sound wars!
The next task: how to communicate isolation, togetherness, a mood, a feeling, an idea? 'Film studies' became real. Figuring out their individual role in all this. Listening. Making decisions. Voicing their opinions. Respectful communication. Shared outcomes. Compromise.   
Life lessons. Soft skills. Play. Discomfort. Purpose. Trusting the process, and surprise at and -hopefully- pride in their finished product.
Published
31/7/2023
School Level
Region
---