Get Ready for the 2023 National Arts in Education Portal Day!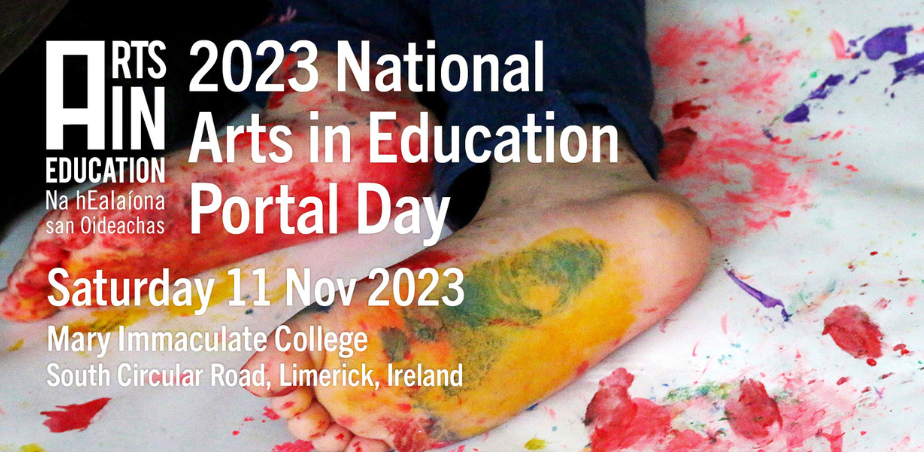 Ticket Booking Opens on 12th October!
Ticket booking for the Arts in Education 2023 National Portal Day will open on 12th October.
This year's conference is taking place at Mary Immaculate College, Limerick on Saturday, 11 November 2023 in partnership with the Department of Arts Education & Physical Education. The event aims to bring together members of the arts in education and creative practice community from all across Ireland, to share, learn, talk, network, get inspired and continue interrogating best practice in the field.
The Programme will see a mix of presentations, smaller discussion-led sessions and creative workshops each addressing the special focus of 'Seldom Heard Voices' reflecting diversity and inclusion across school communities.
As previously announced The Portal Team is delighted to welcome guest speaker, artist/researcher Dr Jill Goodwin, who will deliver the conference keynote address. Using personal examples from her experience in schools, her research and her art practice, Jill will consider the spaces – both physical and psychological – we provide and inhabit. Can we make space to dream, to listen, to be?
Sneak Peek at the 2023 National Arts in Education Portal Day Programme
Presentation & Discussion: Seen and Heard – Refracting responses of children to a school-based theatre workshop and arising implications for the Arts and Education sectors
Lecturer in Drama Education Dr Tríona Stokes and Creative Producer/Curator Hannah Mullan will reflect on the findings from an engaged research project featuring a consultation with key stakeholders, including children, about the extent to which they felt seen and heard in a pre-production school-based theatre workshop by Monkeyshine. They will invite audience consideration and discussion for artists, teachers and teacher-artist collaboration and partnership.
Creative Workshop: Reflective Data Visualisation – Using art-based reflections to encourage participants to promote an individual as well as a collective understanding of social injustices.
Visual Art Education lecturer Anne Marie Morrin from Mary Immaculate College will present an original methodology called  'The Data Reflective Wall'. The focus of this workshop is (in)equality and will place the participants' own understanding of inequality and social justice at the forefront of the learning experience, building a sense of empathy and collective responsibility into a teaching and learning experience.
Ticket bookings open at 12 noon, Thursday 12th October 2023. Tickets are free but pre booking is essential as capacity is limited.
For further enquiries please contact events@artsineducation.ie.
---