!!!! Teacher's CPD: Dance in Primary Schools with Ballet Ireland
Ballet Ireland
Dates: 3rd – 7th July 2023
Ballet Ireland invite primary school teachers, educational professionals and artists to sign up for their CPD course: Ballet Ireland Teachers Week: Dance In Primary Schools.  The course is approved by the Department of Education with 3 EPV days entitlement.
It takes place at DCU St. Patrick's Campus, Drumcondra, in association with the School of Arts Education and Movement, DCU, 3rd-7th July 2023. The course provides participants with a secure understanding of how to teach dance, using simple, clear methods, easy steps and straightforward dance vocabulary.
Teachers are introduced to the fundamental aspects of dance education, including:
class structure
an understanding of anatomy in relation to dance
how music is used, composed, and selected for dance
how dance relates to drama and narrative
expression
The course presents an interdisciplinary approach to teaching dance, and explores the potential for integrated curricular learning. Each day comprises a gentle Pilates-based warm-up, demonstration/lecture workshops and timetabled periods of peer and self-assessment, discussion, and reflection.
The programme employs specialists in several complementary areas, providing workshops in dance, anatomy, music and mime. Participants are supported with comprehensive course notes and access to online video resources and dedicated musical content.
Optional follow up days are held during mid-term breaks in autumn and spring (at DanceHouse, Dublin) and ongoing support is available through closed social media groups.
The week will be led by Stephen Brennan, Education Officer at Ballet Ireland, supported by Hayley Cunningham, former Ballet Ireland dancer, Stott Pilates instructor, qualified ballet teacher and a member of the Ballet Ireland educational team.
Focused workshops will be led by Nolwenn Collett, composer and musician trained at the Paris Conservatoire, and specialist in dance accompaniment, and Deirdre McKenna, a Musculoskeletal & Dance Physiotherapist specialising in sports and dance training and injury prevention.
Cost of the course: €125
For more information and to register for the course please visit: https://www.balletireland.ie/join-in/teachers-week/
!!!! Teachers' Summer CPD Course with Ballet Ireland
Ballet Ireland
Dates: 4 – 8 July 
In Association with the School of Arts, Education & Movement, DCU
The Ballet Ireland CPD course for Primary School Teachers and Education Professionals provides participants with a secure understanding of how to teach dance, using simple, clear methods, easy steps and straightforward dance vocabularies.
Teachers are introduced to the fundamental aspects of dance education, including:
Class structure
An understanding of anatomy in relation to dance
How music is used, composed, and selected for dance
How dance relates to drama and narrative expression
The course is based on workshop programmes which have been in operation since 2005, developed in collaboration with ten national schools in the greater Dublin area. All material covered in the summer course is suitable for primary school children of all ages, and for children with diverse abilities and experiences.
The Ballet Ireland educational approach for primary school teachers offers an interdisciplinary approach to teaching dance, music, and drama, and emphasises the potential for integrating curricular learning through dance.
The initial course is a week in length; each day comprises 2 two-hour workshops and an additional session, up to an hour, for discussion and feedback with the participants, totalling 25 hours. The programme employs specialists in several complementary areas, providing workshops in dance, anatomy, music, and mime.
Participants are supported with comprehensive course notes and access to specialised musical content online. Optional follow up days are held during midterm breaks in autumn and spring (at DanceHouse, Dublin), and ongoing support is available through closed social media groups.
"It helped me to understand the benefits dance can offer a child's whole development, in terms of physical development, gross and fine motor skills, overall co-ordination, concentration and memory skills and social-emotional development. Dance can hugely benefit a child holistically and understanding this made me feel more confident that teaching dance wasn't simply a 'fun' or frivolous' treat lesson for a class, but a worthwhile endeavour"
2021 Summer Course participant
Course Details
The summer course will take place at DCU St. Patrick's Campus, Drumcondra, in association with the School for Arts Education and Movement, DCU, July 4 th -8 th 2022.
The week will be led by Stephen Brennan, Education Officer at Ballet Ireland, supported by Hayley Cunningham, former Ballet Ireland dancer, Stott Pilates instructor, qualified ballet teacher and a member of the Ballet Ireland educational team.
Focused workshops will be led by Nolwenn Collett, composer and musician trained at the Paris Conservatoire, and specialist in dance accompaniment, and Deirdre McKenna, a Musculoskeletal & Dance Physiotherapist specialising in sports and dance training and injury prevention.
Cost of the course: €125.00
There are a limited number of places.
For more information and to booking, please contact:
Stephen Brennan stephen@balletireland.ie
!!!! Opportunity for Teachers & Artists: Online Creative Professional Development with Dance Artist Lisa Cliffe
Class Dance!
Dates: 24 & 31 May, 7 & 14 June
Gain skills and confidence in putting dance ideas into practice with the children you work with. Join this new series of online workshops hosted by dance artist and teacher, Lisa Cliffe.
'Class Dance' is an online creative professional development programme for primary teachers and practitioners of all forms of dance working with children from ages 6 to 12. Together, participants will explore and share ways of engaging children creatively in dance. Perhaps you have an idea you would like to develop or you are looking for new inspiration? The four sessions are your opportunity to move, gain skills, celebrate creativity through dance and connect with your peers across the country. Working in small groups, participants will discover new approaches and build confidence in planning and delivering creative tasks and dance sessions.
The series is devised and facilitated by experienced dance artist and qualified primary school teacher Lisa Cliffe. Participants need to commit to all four online sessions, 7pm to 8:45pm on Tuesdays: 24th & 31st May, and 7th & 14th June. The closing date for registration of interest is May 19. Please note that places are limited. The research and development of this series of workshops has been funded through the Arts Council of Ireland.
Fee: €60
Register your Interest here – https://forms.gle/9xgLu6ervGS8ZvQx5
Read more about Lisa – www.danceireland.ie/members/directory/lisa-cahill
!!!! Bloom Bloom! Interactive Early Years Dance Workshop
The Ark
Date: 14 May 2022
Celebrate the beauty of Spring through this interactive dance workshop with The Ark's John Coolahan Early Years Artist in Residence Monica Muñoz.
Meet Blossom, she is delighted that finally spring has arrived. Join her in a sensory movement adventure around a spring day: Hopping, skipping around flowers, leaping and jumping over rivers, meeting caterpillars and butterflies and touching the most perfect sky!
This delightful interactive dance workshop invites little ones and their grown-ups to enjoy imagining and moving together. So if you're a parent, grandparent, uncle, aunty, godparent or carer, come along with a 2 to 4 year old and join in the fun.
Reminder: Please wear comfortable clothes
Date: 14 May 2022
For further information and to book go to ark.ie/events/view/bloom-bloom-interactive-early-years-dance-workshop
!!!! Workshop for Professionals with Dance Artist Takeshi Matsumoto
The Ark & Dublin Dance Festival
Date: 24 May
Explore how to use your creativity and inspire young audiences with dance artist Takeshi Matsumoto. The Ark and Dublin Dance Festival present a dance workshop for professionals interested in working with young audiences.
Join Takeshi Matsumoto for a workshop exploring a multi-disciplinary practice in working with and making performances for children and young audiences.
Combining contemporary dance, somatics, meditation and dance movement therapy practice, participants are invited to reconnect with their own senses, creativity and playfulness through dancing, drawing, reflecting and sharing.
This workshop is suitable for professional dancers and dance students interested in creating work for young audiences.
Tickets
This event is free but ticketed. Please register to attend via ark.ie/events/view/workshop-for-professionals-with-dance-artist-takeshi-matsumoto
Dates & Times
3.30pm-5pm, 24 May
For further information and booking go to ark.ie/events/view/workshop-for-professionals-with-dance-artist-takeshi-matsumoto
!!!! Dance performance for schools: Fall and Float
Roscommon Arts Centre
Date: 10am & 12pm, 30 March 2022
Roscommon Arts Centre is delighted to present 'Fall and Float', a dance performance for everyone aged 4+. This highly visual show celebrates childhood, adventure, festivity, fantasy, imagination and friendship. Balloons are used by the dancers to evoke important moments of childhood and spark memories and emotions.
Two talented dancers Martijn Joling and Amy Pender, Mónica Muñoz's playful choreography and a joyful soundscape by Denis Clohessy, combine to make 'Fall and Float' a delight for the senses and an ideal introduction to dance performance for a primary school audience. Funded by the Arts Council of Ireland with the support of Creative Ireland and Baboro Pathways to Production.
Date: 10am & 12pm, 30 March 2022
Tickets cost €5. For more information, contact box office on 09066 25824 or visit roscommonartscentre.ie/event/fall-and-float-school-shows/
!!!! Invitation: Art Movements Live Online Performance with The Glucksman
The Glucksman & First Fortnight Festival 
Date: 15 January 2022
Join artist Inma Pavon and University College Cork students for a live participatory performance as part of the First Fortnight Festival.
Art Movements is a newly commissioned performance by Inma Pavon that will premiere as part of the First Fortnight Festival. The performance will invite an online audience to participate wherever they may be. If you are sitting in your office, at the kitchen table or in your bedroom, you too can join the artists and students from University College Cork in this unique event. A set of instructions, information on the project and further details on the event will be emailed to all participants.
In Autumn 2021, the Glucksman art museum in UCC invited university students to participate in a project that would result in the commissioning of a new artwork for the University Art Collection. The project saw students work with artist Inma Pavon over a series of workshops designed to explore mental health. Together they creatively examined aspects of wellbeing, recovery, awareness, and the challenges facing people today. The workshops included discussions, talks, field trips and practical movement and creative sessions enabling different conversations to emerge. These conversations and the content of the workshops have influenced the artist to create a performance titled Art Movements which will be premiered as part of the First Fortnight Festival in 2022.
The performance will be accompanied by the creation of a set of photographs and film documentation which will be accessioned into the university art collection before being disseminated widely to facilitate further discussions amongst the university community, and wider national and international audiences.
Time: Online 2pm – 2:30pm
To register for this event go to www.eventbrite.ie/e/art-movements-tickets-222617844967
!!!! The Beautiful Beasts @ Home with The Ark
The Ark
Dates: Running until 21 August 2020
This summer, enjoy a range of delightful online events and experiences in visual art, drama and dance, inspired by creatures big and small, meek and mighty! Through new online workshops, video tutorials, at-home activities and inspiring experiences, children will be encouraged to look closely, listen, imagine and make!
A selection of events are listed below:
Flap, Glide and Soar like a Bird: Online Visual Art Workshop
Date: 17 July, 11am & 2pm
Ages 5 – 12
Under Water Moves: Online Early Years Dance Workshops
Date: 17 July, 10:15am & 11:45am
Ages 2 – 4
Animal Transformations: Online Visual Art Workshops
Dates: 31 July & 7 August, 11am & 2pm
Ages: 5 – 12
Forest of Fun: Online Early Years Dance Workshops
Date: 7 August, 10:15am & 11:45am
Ages 2 – 4
Beautiful Beasts: Early Years Visual Art Adventures
Date: Running until 12 August 2020
Ages: 2 – 4
For further information and booking go to ark.ie/season/beautiful-beasts-at-home
!!!! Blog 4 – Kate Wilson, Artist & Lead Facilitator on the TAP Design Team
Online collaborations, TAP's new online course and 'busting the myth of the solo artist'
I have been very lucky over the past weeks to have the company of two exceptional dancers, joining me virtually as part of my ongoing research, looping embodied movement and drawing practices. I have been surprised at the level of connection that is felt in these sessions despite the lack of real physical presence and the dodgy internet connections!
Taking time with discussions and reflections along with the moving, writing and drawing are essential parts of the research and perhaps it is this multiplicity of audio and visual modes that has helped to bridge the virtual gap.
Having this research alongside the Magnetise Project, 'A call for Home' has been mutually beneficial, with many cross overs emerging. The shift in dynamic from group to one to one has also brought important insights for my virtual platform collaborative practice.
Now that the last of the 360 cameral equipment for the project has finally arrived it is great to be at the stage of exploring this new potential for our collected video works and live interactions.
The last couple of weeks have also been busy ones for the TAP (Teacher Artist Partnership) design team. In particular, for the two members who took the helm and within a very short timeframe have created a fantastic online version of the TAP CPD summer course. Next week we will run the course in its online format for the first time. We are looking forward to the live aspects and forums, and to interacting and assisting participants on their journey through the modules. As part of the course I will host a live dance session mid week and was delighted have the opportunity recently to create a short video with one of my long term collaborators, artist Isolde Carmody. The video is a reflection on arts and diversity and will be featured in the course. Embracing diversity in arts and education, understanding the inherent collaborative nature of practice, and in Isolde's words 'busting the myth of the solo artist', all feel as vital as ever to keep to the fore, in todays wider sociopolitical context.
Art is Life by Kate Wilson and Isolde Carmody
!!!! Blog 3 – Kate Wilson, Artist & Lead Facilitator on the TAP Design Team
Finding rhythm in life and work and remembering John McGahern
Whilst the Magnetise project is blossoming online with added excitement about our first order for VR equipment this week and a new online project with RYCP just beginning, I am taking the opportunity granted by a slower pace to reflect on some of the fundamental shifts in my own life and practice.
I find it hard to think of a colleague who has not in recent years expressed a wish for more time, and perhaps particularly those of us that are both artists and parents.
Lately busy has looked very different for many of us. For me there has been no driving kids to school and later on to classes. No traveling to schools near or far for residencies, or to arts centres or arts offices for meetings. No trips to London for MA modules, and no trips to Glasgow to look at accommodation and courses with my eldest daughter. And whilst time seemed to expand in the first couple of weeks, recently it's quickly filled with domestic and family time. Lunch has become an event rather than a sometimes forgotten extra. Baking bread all part of the reduced shopping trips and growing vegetables has presented itself as essential. Dealing with the new shifts and at times struggling to find the time I want for my practice it's still a case of exploring where the balance lies.
These last weeks, I have a sense of returning to a forgotten rhythm. A working life here in the north west in the late 90's, before family and before the Celtic Tiger. The rhythm and pattern of my days relating more to the season and weather than schools and institutions. Living and working simply, and taking inspiration from the land in a way that felt not unlike the surrounding local farmers, back before the boom.
I was commissioned by the council to paint John McGahern at that time. A beautiful and generous man, who gave up the best part of a week to sit in the small cow shed that was my studio, each day insisting on taking me out to lunch. In a documentary I watched sometime later he talked about how since returning to Leitrim his days were divided between writing and farming. Four hours writing in the morning was enough and then his time was with the land and the animals. In a sense an artist never really stops working and when I think of Mcgahern's afternoons I think about how his work lived and breathed this land. I think about time to process and his afternoons being a focus and a contemplation. A focus I was finding at that time having left the big city for a rural existence. Perhaps now there is again opportunity to reconnect with the rhythm and pace of this beautiful land and from here come closer to our own patterns in life and work and the importance of balancing activity with contemplation whilst knowing it's not necessarily about returning and but a reimagining of a way we've long known.
The Magnetise Project is currently highlighted on The Creative Ireland Programme website.
www.creativeireland.gov.ie/en/news/magnetise/
!!!! CoisCéim Digital Dances – Online Activities
CoisCéim Dance Theatre
CoisCéim is heading inside for the coming months and they've got some lively new moves to share with you.  From performance and participation projects to curated online classes let's dance to keep our spirits up, stay in shape and reflect on the positive change our strange new world may bring.
Highlights for children and young people include:
Sofa Cinema Series: 
Kicking off next week (2 April) and featuring exclusive online private screenings from the CoisCéim archives starting with…
The Wolf and Peter | Live at the Sydney Opera House
2 April | 10am & 4pm
David Bolger's award-winning work for children and their families was filmed in Sydney and streamed live to 21 schools in New South Wales in July 2017.
To view the full sofa cinema schedule go to coisceim.com/digitaldances/
BROADREACH | CREATIVE STEPS  
28 April – 02 May 4pm & 9pm
A selection of short films from the BROADREACH archive of Creative Steps Youth Dance Theatre and a preview of LANDSCAPE, the latest Creative Steps Project led by Laura Macken.
Online Workshops for Children aged 6 – 10:
CoisCéim are developing a short online series of interactive dance workshops for children aged 6-10 based on DANCE YOUR OWN DANCE that runs in parallel with David Bolger's Francis Footwork – for more information please contact philippa@coisceim.com.
For further information and to view the full schedule of digital activities go to coisceim.com/digitaldances/
!!!! Blog 2 – Kate Wilson, Artist & Lead Facilitator on the TAP Design Team
A Call for Home
Magnetise 2020 and collaborative practice in lockdown
In these unnerving times of isolation, connecting through collaborative projects will be an important life line for many artists. And although at times worries may override our ability to work at our best, the possibility to be together, to keep working, inspiring each other and reflecting together may well turn out to be even more important than pasta and toilet roll!
I have spent some time in the last few days considering the possibilities and challenges in this new climate for some of my ongoing projects. As an artist who has continued to embrace the sensorily rich materiality of charcoal and fabric and paint, has veered a little shy of technology and whose performance practice often involves contact dance forms, I find myself looking squarely at the important role online technology will now take going forward. An example is the Magnetise Project. This project, which was selected for both local and national awards last year, has to date centred around week long residencies and workshop periods where the internationally based artists and local community groups have collaborated in a combination of professional development and community based practice. We are delighted to have secured the funding to continue the work this year and build on the existing relationships and themes. The project investigates the potential of renewed attention to gravity, through somatic movement, sound and drawing practices as a means deepening our connections to landscape.
At the end of 2019 we began developing the next phase, 'Magnetise, a call for home'. This title, (increasingly poignant in the current climate), reflects an interest to explore the connections not just between ourselves and landscape but relationships between land and identity, and the idea of being at 'at home'; in our body, our community and environment. The six dance artists collaborate with participants from two of the community groups this year, (three adult performers who are wheelchair users and three youth dancers) towards the creation of a joint performance. For now all work will happen remotely and a final performance space may take the form of a split screen video rather than theatre. We will explore the potential of zoom for discussion and workshop facilitation and the website for sharing and reflecting. We will also explore the use of VR sets and cameras for live streamed and filmed work, combining layering and real time interaction.
For now keeping connected in meaningful and creative ways feels as important as ever, as does deepening connections with home and land. Magnetise, like other projects, will, I hope offer a frame to keep a group together and to keep collaboratively making. To read more about Magnetise visit www.undercurrentdancefilmtheatre.com/magnetise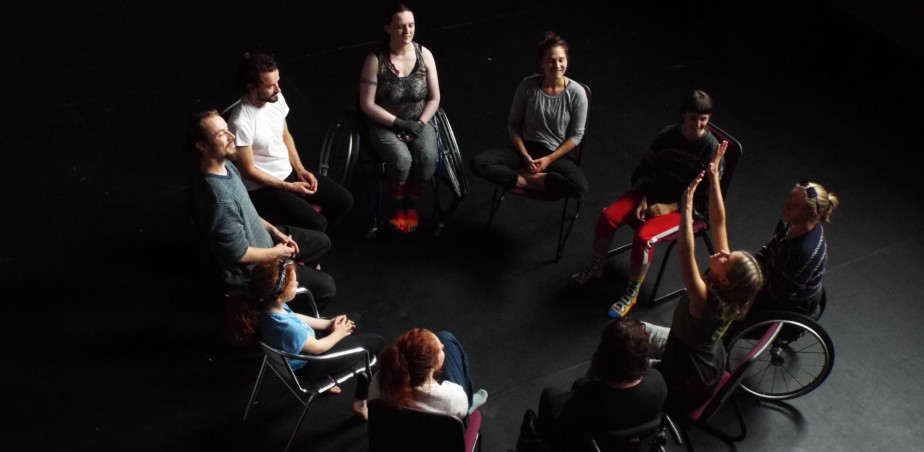 !!!! kabinet k MOVEMENT & DANCE WORKSHOP with Baboró
Baboró International Arts Festival for Children
Dates: 12 & 13 June 2020
Baboró, kabinet k and Galway 2020 European Capital of Culture present a workshop for professionals with an interest in making performances with and for children and young people.
This is a unique opportunity for directors, dancers, choreographers and performance artists seeking to develop their practice in this area.
This two day workshop, on 12 & 13 June, will be facilitated by Joke Laureyns and Kwint Manshoven, Co-Directors of kabinet k. Kabinet k is a Belgian dance company which creates work with and for children. The company has toured all over the world with their performances and workshops for professionals and for children.
The artistic language of kabinet k has a playful, energetic, yet subtle power. Joke and Kwint will share an insight into their dance vocabulary which is demonstrated in their world-renowned production of 'Horses' (view the production trailer here). This practical movement workshop is a playful encounter between the choreographers and the participants, revealing some aspects of how they work with different generations on stage and how a work like Horses was created. It's about dance in its purest and most essential form: the articulation of a moving body.
kabinet k will challenge the participants to go deeper into their image of childhood and question and develop their own practice.
This workshop will suit professional dancers, choreographers, directors, theatre makers and dance/performance teachers with an interest in producing or participating in theatre made for and with young audiences.
Workshop Dates: June 12 & 13, 2020.
Application Deadline: 5pm, Friday, April 3
For more information and to apply go to www.baboro.ie/artists/kabinet-k-movement-dance-workshop
!!!! Blog 1 – Kate Wilson, Artist & Lead Facilitator on the TAP Design Team
Diversity and Every Duck is Different
In October last year I was invited to attend the Europe in Perspective conference in Dortmund with Dr Katie Sweeny and the TAP (Teacher Artist Partnership) design team.
Teacher-Artist Partnership CPD focuses on enabling teachers and artists to jointly develop their understanding, expertise and creativity in 'arts in education' work with children and young people. The initiative was developed under the Arts in Education Charter and has run since 2015 and is now delivered each year first week of July in Education Centers under the Creative Ireland Programme. To date in excess of 1,000 teachers and Artists have been trained under TAP CPD in Ireland. There is now a big interest at EU and international level on Teacher-Artist partnership as a model for enhancing Arts education in Schools.
The conference in Dortmund, 'Every Duck is Different, Challenging our perspectives on Europe and Culture' was the final conference/ training in the Transnational Training on Diversity and Cultural Learning.
(For more information and great resources visit their site! europe-in-perspective.eu. )
This conference was developed to explore how diversity can be addressed by arts and education practitioners. The two days were packed with thought provoking group activities and presentations from speakers including Dr Ipek Demir and Szilvia Németh. Two young activist groups, Europe Fiction and Polotics of Hope, had been invited to close the conference. The fresh perspective, intelligence and passion of their interventions added an incredible further dimension.
I've been thinking about how I address diversity in my own practice. Cultural diversity is increasingly part of the rich fabric of our communities and schools, and it is important to keep checking in with established frameworks and methods, being conscious of the need to be flexible in this context. Diversity is about recognising that 'every duck is different'. That we support each other to grow through recognition of the strength of our individuality, and our ability to think critically and independently. To fully enjoy difference, finding interest and inspiration in this so that we can move towards a world where not just cultural, but also intellectual and physical difference is truly supported and celebrated.
It was great to bring some of the learning and inspiration from the conference to the TAP lead facilitators up skilling day in February. Many of the lead partners have a new residency this year which is a fantastic opportunity to keep bringing the theory in to practice.
An exciting development for TAP since the conference is the creation of international dimension to TAP, (ITAP). Building on relationships with new partners from the conference, we are in the process of developing a European programme of shared practice and exchange.
!!!! Creative Dance in the Classroom CPD at The Ark
The Ark 
Date: 16 November 2019 
The Ark are delighted to invite Primary School educators to join dance educator Emma O'Kane for this enjoyable CPD course that to deepen and expand the understanding of Dance within the P.E. curriculum with an emphasis on creativity. In a relaxed and playful atmosphere teachers will be provided with the necessary tools to deliver dance activity with confidence for all ages and classes. The course will demystify dance for teachers and focus on the exploration, creation and performance of dance through easy exercises and manageable approaches.
Working within an integrative approach the course will explore how dance can also support learning across the curriculum in relation to SPHE, English and other subjects.
Suitable for all levels of confidence. No experience necessary.
Date & Time: Saturday 16 November, 10.30am-1.30pm
For further details and ticket booking go to ark.ie/events/view/teachers-cpd-creative-dance
!!!! Fidget Feet presents 'Hatch' – a new production for primary schools
Fidget Feet Aerial Dance Theatre
Nationwide tour begins March 30th
Fidget Feet Aerial Dance Theatre tour their new children's show Hatch, focusing on the transformational cycles of life with a special educational resource and activity pack has been developed for the show linking to the curriculum and is available to primary schools.
Hatch tells the story of Bláithín, she loves caterpillars, moths and butterflies. She joins her Uncle Rusty on an adventure to find Pearl, the most extraordinary butterfly with the most exquisite colourful wings. Learn all about two little caterpillars and their journey to fly as moths and butterflies.
Hatch weaves Irish language, Irish dancing, music, comedy, theatre, contemporary dance and aerial dance into this wonderful story for 4 – 10 year olds.
The show tours nationwide from March 30th, tour dates and venues can be found at www.fidgetfeet.com/touring/
The show is made in association with Siamsa Tíre and Shortworks Network, Ireland and support from the Arts Council of Ireland.
!!!! Schools are invited to 'Princesses can be Pirates' Nationwide Tour
Touring Nationwide
What is considered "typical" or "normal" behaviour for girls and for boys? Highly energetic, fun and whimsical,Princesses can be Pirates, playfully questions our gender preconceptions.
Two versatile performers join forces as they journey into unknown territory, where play is everything and everywhere. In a series of hilarious scrapes and lively escapades, they swap toys and activities in their quest to defy stereotypes and break the norm.
The world holds endless possibility for us to discover who we are and who we want to be, and this duet celebrates it all. A dynamic and humorous dance performance – created for children but inspiring for all. Talks and workshops will follow the performance to engage with children and teachers.
School Performances
25th March: Riverbank Arts Centre Kildare/ School Performances 10 am and 12 pm
28th March: The Source Arts Centre Thurles/ School Performance 11 am
2nd April: Firkin Crane Cork/ School Performance 11 am
4th April: West Cork Arts Centre Skibbereen/ School Performance  11 am
9th April: The Civic Theatre Tallaght/ School Performance 10:30 am
11th April: Dunamaise Arts Centre Portlaoise / School Performance 12 pm
For further information go to www.facebook.com/Monica-Munoz-Marin-Dance-1050022975170040/?modal=admin_todo_tour
!!!! School Opportunity: Uillinn invites Schools to engage with 'Mapping the Divide'
Uillinn West Cork Arts Centre
Deadline for bookings: Friday 29th March 2019
Uillinn: West Cork Arts Centre is delighted to offer West Cork Primary Schools an opportunity to engage with our Dance Artist in Residence, Mairéad Vaughan in a short summer project – Mapping the Divide.
Mapping the Divide is a creative exploration into the effects of technology on our body, mind and environment.
Uillinn invites three primary school groups to take part in a short series of workshops at school and at Uillinn. Two will take place in the school and one at Uillinn and will creatively investigate the impact that technology, and in particular the use of mobile phones, can have on us.
Students will be invited to journey into the body and out to the landscape, to bring awareness of the direct sensory and kinaesthetic relationship we have with our environment. Using gathered materials chosen from the landscape, they will explore textures, patterns, smells, sights and sounds. Then movements will be choreographed from this investigation to create a site-specific, pop-up performance.
About Mairéad Vaughan
As an artist, I am passionate about the transformational power of dance and creativity. My teaching practice highlights the need to reconnect with body-mind, specifically through cultivating sensory awareness (sight, sound, touch, smell, taste). I teach a practice called 'Attuning' which develops all of these aspects. This practice is the result of my PhD research and highlights the need for inclusive arts education.
Project Details:
Ages:  The workshops are suitable for 5th and 6th class groups, aged 10 to 13 years. Limited to 22 children.
Venue: Your school for two workshops and Performance Space at Uillinn: West Cork Arts Centre,  Skibbereen for one workshop.
Dates / Times:  Workshops will take place on Wednesday afternoons during May / June, duration 60 to 90 minutes. Dates and times to be arranged to suit the schools involved.
Clothing: Children should wear loose clothing like tracksuit bottoms, rather than school uniform when taking part in the workshops.
Booking Details:
Fee for series of three workshops is €2 per person
Closing date for bookings is Friday 29 March 2019
To find out more or to book your class please contact Uillinn: West Cork Arts Centre on 028 22090 or email info@westcorkartscentre.com
!!!! Opportunity: PhD Opportunity with Imaginate – Valuing Young Audiences
Imaginate
Deadline: 5pm 30th November
Valuing Young Audiences: Fully Funded PhD opportunity with Imaginate 
Imaginate is seeking prospective doctoral students to work with them on an AHRC-funded PHD exploring the value for children of experiencing live theatre and dance as audience members. This is an exciting new collaboration between Imaginate and the University of Aberdeen, as part of the Scottish Graduate School of Arts and Humanities's (SGSAH) Collaborative Doctoral Awards Programme. The PhD student will be supported to engage with children, parents and teachers on three Imaginate projects: Inspiring Schools, Theatre in Schools Scotland, and the Edinburgh International Children's Festival. The research will be supervised by Professor Amy Bryzgel (Visual Culture, University of Aberdeen), Dr Jo Vergunst (Anthropology, University of Aberdeen) and Imaginate's Chief Exec Paul Fitzpatrick.
The successful applicant will work with the supervisory team to prepare a final proposal to SGSAH in February 2019, with notification in April. If successful the studentship will commence on 1 October 2019.
Imaginate warmly encourages applications from researchers with a background in the performing arts, arts-in-education or research on the value of the arts, but this is not a prerequisite.
For more details and to download the full details go to www.imaginate.org.uk/artists/opportunities/phd-opportunity-with-imaginate-fully-funded.
!!!! Opportunity for Schools: Take part in SHORELINE with CoisCéim BROADREACH
CoisCéim BROADREACH
Primary Schools in the Dún Laoghaire – Rathdown area are invited to apply to participate in SHORELINE
A Choral Song And Contemporary Dance Project For People Aged 8 to 80+
Led by CoisCéim BROADREACH Director Philippa Donnellan and renowned composer Denis Clohessy, in association with the DLR LexIcon Library and Pavilion Theatre, SHORELINE invites people from Dún Laoghaire-Rathdown to embark on an oceanic journey of discovery – to share their stories and experiences about the sea.
The project begins in September 2018 in a creative dance/song workshop project that brings together children from 1 primary school, a local choir, and people aged 50+ and culminates in 3 sea-themed performances by participants at the DLR LexIcon Library on Saturday 25 November 2018 at 2pm, 3pm, and 4pm.
What's Involved
The project begins at the end of September and includes:
1 Collaborative planning session with Project Leader Philippa Donnellan, the School Principal and selected class teachers
Led by the 2 artists | 6 weekly in-school dance/song workshops – day/time/duration tbc
2 Rehearsals with local groups at dlr LexIcon – 23/24 November
3 Performances of SHORELINE at dlr LexIcon – Saturday 24 November
1 Feedback & evaluation session
Application Requirments
Key to participation in SHORELINE is your school's active support for the arts and creative learning in education including:
Use of school hall or similar for 6-7 dance/music workshops – day/time/duration tbc
Class teacher attendance at all planning sessions, workshops and performances.
2-3 adult volunteers to accompany children – dlr LexIcon rehearsals & performances
Use of basic resources such as: percussion instruments, stationary, sound equipment etc
Selection Criteria
Selection will be made by CoisCéim BROADREACH and criteria are based on articulating a clear rationale as to why your school
would like to participate in SHORELINE – and a demonstrable ability that you are able to:
Engage and contribute to the artistic process through – facilitating collaboration between the teachers, children and guest artists – and developing a cross-curricular approach to maximize thematic exploration and participation.
Maintain effective communication and liaison with CoisCéim BROADREACH and Project Leaders at all stages of the project
Provide necessary practical/logistical/administrative support as relevant to the demands of the project in your school
For further information and application form please go to coisceim.com/shoreline-2018/ or email philippa@coisceim.com
!!!! Art Teachers Masterclass at The Glucksman
The Glucksman
Date: 10am – 1pm, Saturday 12th May 2018
Join curator Tadhg Crowley and artist Inma Pavon to look at projects that can be re-imagined in your classroom. This season's masterclass will look at learning beyond the classroom and how educators can capitalize on this when designing their own lesson plans. Inma Pavon will introduce participants to movement, dance and performance exercises that can be developed for students of all ages and abilities.
Participants will receive a certificate of attendance from the Centre of Continued Professional Development at University College Cork.
10am – 1pm, Saturday 12th May 2018
€25. Booking required. To book go to www.eventbrite.ie/e/art-teachers-masterclass-tickets
For more information go to www.glucksman.org
!!!! The Ark and Dublin Dance Festival are delighted to present 'Hocus Pocus'
The Ark & The Dublin Dance Festival 
Schools Performances Fri 18 May @ 10.15am & 12.15pm.
The Ark and Dublin Dance Festival 2018 are delighted to present 'Hocus Pocus' – a magical performance for schools.
Created by Philippe Saire (Switzerland), this magical children's show for ages 7+ explores how images conjure vivid emotions, sensations and experiences.
Taking the audience on a fantastical voyage, two brothers dive into dreamlike adventures: a contortionist's escape from a spider's web; a journey in a damaged flying machine; and underwater encounters with fabulous aquatic creatures.
The unique set design creates a playful game of appearance and disappearance. As light is painted across the stage to reveal everything it touches, the dancers' bodies seem to emerge from a black hole before being swallowed up again. These visual mysteries cast a spell, suspending our disbelief and unleashing our imagination.
Suitable for 2nd – 6th Class
For more information go to ark.ie/events/view/hocus-pocus
!!!! Paddy Red Downey and the Voice in the Dream
Tell us the story of your project – What was the impetus? What was it about? Who was involved? How did you begin?
Sleeper Creeper was a collaborative creation between Robbie Perry (musician), Annie Callaghan (artist) and Philip Doherty (playwright) and was performed in Townhall Cavan at the end of 2016 as part of their seasonal programming for children. The success of the show duly inspired Joanne Brennan (Arts in Education CMETB) to approach Robbie and Annie and adapt Sleeper Creeper for a pilot project to run in two selected primary schools, one in Cavan and one in Monaghan. The original show was quite complex in its clever use of artistic disciplines. From live and improvised music being layered throughout, the use of loop machines to projected shadow puppetry involving unique, as well as, everyday objects. All of this was performed with no dialogue and told the story of an old and lonely inventor who miraculously creates a living being from parts that he finds amongst junk. Their friendship grows from their collaborative performances and zany situations they find themselves in.
Rather than try to create the same performance for young students, Robbie and Annie chose an entirely new story titled, Paddy Red Downey and the Voice in the Dream in which Paddy Red Downey fishes for junk and finds himself transported to a world beyond his wildest dreams eventually hearing an old women's voice calling him to return home and share his new found wonders with everyone.
Andrea Malone, Teacher
The Paddy Red Downey and the Voice in the Dream project was easily one of the most effective projects I have been involved in. Initial conversations with Joanne Brennan (Arts in Education CMETB) and meetings with Robbie and Annie entailed planning, organising and ensuring all requirements were met e.g. garda vetting, school space, curriculum linkage etc. Robbie and Annie also met with the children to introduce themselves and explain the project.
How were the ideas developed and how did the young people, artist and teacher work together?
Annie Callaghan & Robbie Perry, Artists
The ideas were developed as a direct result of the principles of Sleeper Creeper. A multidisciplinary approach to art form and the themes based around recycling and repurposing of everyday materials and junk. The story itself was created as a catalyst for inspiring young minds. Using the story as an opening for the project workshops, we were able to demonstrate to the young audience aspects of theatre, drama, storytelling, music and shadow puppetry that they would in turn learn to use over a two day period for their own collective performance.
The teacher allowed Robbie and Annie to bring the children around the school grounds to examine and collect, in pairs, any objects they found of interest. These objects were then projected through the use of an analog overhead projector and discussed openly and collectively on how their appearances changed with our changing perceptions. This example facilitates a validation process for the individual in what they later view as art and how it can then be manipulated and viewed to help create a story.
Then began a separation of the group into two halves. One half facilitated by Annie and the shadow puppetry and the other half by Robbie and music creation as a means to underscore the students very own production.
The teacher's role within this workshop was almost only to observe and maintain any control if needed. It cannot be overstated how important this approach was to the project overall. Conversations and shared opinions with the teacher, revealed aspects and qualities of each student's character as they worked closely and intensely with the artists that were keenly observed and somewhat enlightening to the teacher.
What was your personal experience of the project in terms of successes and challenges?
Annie Callaghan & Robbie Perry, Artists
The project itself was quite experimental. We hadn't taken something as complex as our performance, and adapted it with a workshop in mind ever before. Also, there were many challenges such as time needed for the students to learn multiple skills with a final performance, questions regarding the suitability of their classrooms, rather than a hall for the workshops etc. We were very pleased to find that we coped quite favorably with all these challenges which were also challenges for the schools. The fact that we could work within the classroom meant no upset to the rest of the school in organizing or rearranging scheduled use of alternative rooms. Also, the fact that the hours we put in were arranged for an intense two days consecutively meant a greater opportunity for all involved to focus and achieve a fully immersive creative experience.
Catherine Mc Guirk, Teacher
One of the activities that I felt really supported the children's confidence with regards to the music aspect was the time in which they were allowed to explore the different instruments. I found that at the age the children were at doing the projects, they were conscious of whether or not they were "good at" something. It can often be hard to try and get them to engage fully in something if they feel it is on an area that they aren't talented in. However, the vast arrange of musical instruments that were available to them allowed them to try out their musical abilities on them. I found that my class would often associate musical talent as to whether or not you could play the piano etc. However, with the way in which they were able to explore the vast array of instruments and create backing music for a story, it was a whole new side to music for them. It was also something that after we had engaged with in the workshop, they wanted to do it more in class. The more exposure they get to experience this, the more confident they will grow in it.
What was significant for you about the project that is worth sharing?
Annie Callaghan & Robbie Perry, Artists
Probably the most significant thing for us was the true potential of each and every student to achieve in an extremely short but significant amount of time, an entire production. From inception until final performance in front of an audience, the entire class worked as a team with individuals quickly finding their strengths and how best they could contribute to the group as a whole. It was wonderful to observe, for example, two students that were much happier to be a part of the technical projection work rather than perform music or drama. This revealed for us the complex range of interests within any given group and reinforces the idea that we need projects that provide more opportunities which exercise the potential for total inclusivity.
Catherine Mc Guirk, Teacher
Telling of a story is something most children love to do. Some I have found can find it difficult telling a story when they have to write it- for many different reasons. E.g. some might find spelling difficult and get so caught up on whether a word is spelt correctly or not hinders their story telling ability as they don't get their story finished. The way in which the children were allowed to tell a story through art and music really developed confidence in not only the children who love writing stories but also in the children who find that hard. While doing this they were also developing their Drama skills- even though they may not have realised that. They were able to use their imagination and tell a story not only with their drawings but just by using environmental objects- again, allowing those who didn't feel confident in their artistic abilities to still their artistic confidence by using environmental objects in an artistic way. It was something that they really enjoyed. They developed so many different skills by doing the project, learnt lots of new things without realising it.
Andrea Malone, Teacher
This process of choice supported confidence in its own right. The children learned through many different methodologies that suited all learners. Robbie and Annie facilitated so appropriately but still allowed the children to have responsibility for their own learning.
Has anything changed in your work as a result of the project?
Annie Callaghan & Robbie Perry, Artists
It has only further increased my belief in the creative potential of children and the potential of group orientated creative projects
Catherine Mc Guirk, Teacher
It has changed the way in which I teach arts education as it reminded me how important it is to not only teach the subjects but to allow them to co-exist with each other, to use them together as a way to allow for further exploration as to what they can achieve when combined.
It has given me more confidence in doing projects like this, integrating the Arts subjects- along with others, in the classroom
Andrea Malone, Teacher
This project has given me the confidence as an educator to give the children much more responsibility for their learning. My Arts lessons are less structured which has resulted in a smoother flow to lessons. The power of integration throughout the Arts subjects was evident throughout the 'Paddy Red Downey and the Voice in the Dream'   project hence I have increased integration throughout Drama, Art, Music and Physical Education.
'Paddy Red Downey and the Voice in the Dream' was a wonderful project where I witnessed children growing in self-confidence, learning and having so much fun!
!!!! A Sensory Experience of Place
Tell us the story of your project – What was it about? Who was involved? How did you begin?
Leanne Kyle, Teacher
We were working with Kids' Own Publishing Partnership on a project called Virtually There. In this project the artist doesn't actually come into the classroom. We correspond mostly via the interactive whiteboard. I was ICT coordinator and this project really appealed to me. It was different and offered  a new experience for me and the children.
Initially the artist (Lisa) came to meet us at the school. It was great day because we were able to chat and have a planning session. We went on a walk around the school. We decided to use nature and the actual school environment as a beginning point. I wanted to use the school garden and create links to the eco-school ethos. We tied this all together into a project which focused on the topic of 'senses'. This topic is very popular and suitable for P2 and 3. Later we narrowed this down further to the sense of touch with many trips outside working with the trees. It was Autumn time so we began to focus on the leaves. Lisa taught a 'leaf dance'. From here, it just took off with a focus on nature and touch.
Lisa Cahill, Artist
My 'Virtually There' journey with Kids' Own Publishing Partnership, Leanne Kyle and the P2 & 3 Class of Aughnacloy began in September 2016. At this time I was also Dance Artist in Residence at the Froebel Department of Primary and Early Childhood Education at Maynooth University. The Autumn of 2016 marked the final phase of the three year residency. I had received an Arts Council, Young People Children and Education (YPCE) Bursary Award. The focus of my investigations included the development of frames and activities that engaged the sensory body in the outdoor environment of a school site. Over those Autumnal and Winter months the creative journey with many partners unfolded.
Developing the body's sensory attunement through engagement with the site is an important element of my practice. I was spending a lot of time outside. I was out in the garden , fields, orchards, forested areas of the University campus. My explorations involved movement, writing, art making, gathering sounds and natural materials, reading and learning more and more about the natural environment that I was in.
I wanted to bring these explorations into the Virtually There project. I really looked forward to sharing these with Leanne and the children. I wanted to notice and hear their responses through multiple and different forms of documentation. I wanted to see what emerged through our collective journey.
Leanne shared my curiousity in this discovery process as we set about investigating:
Sensory bodies;
Going out and spending time outside;
Trying out different means and ways of communicating, listening and sharing as a triad of partners (teacher, artist and children).
We committed to holding an intention of listening to the needs and responses of each partner. We committed to capturing each of our responses to the tasks and activities. These responses might emerge in different forms, such as verbal, written, a gesture or movement, a photograph, a word, a drawing.
I felt my role was to invite and remind us to return to our body and the sensations and feelings we were experiencing right now in each moment.
And so our journey unfolded.
How were the ideas developed and how did the young people, artist and teacher work together?
Leanne
At the first online session, the children introduced themselves to Lisa. They wrote a little about themselves and they read this to Lisa through the interactive whiteboard. We began to work on the leaf dance and talked about the different seasons. We were in the season of Autumn. We went outside and discussed how the leaves were falling and blowing in the trees. Lisa shown us her leaf dance. That really got the children thinking about what they would like to do. They had a lot of input. We created some sensory warm up audio clips with Lisa.
https://soundcloud.com/lisadance/virtually-there-warm-up
She was great to ask the children for their ideas. The children decided that they would like to bring things in from the outside. We played with different ways of using these materials in our warm up clips. This resulted in the children bringing in leaves and things like that. This then resulted in their favourite activity; leaf tattoos. The children loved this. It was so simple, yet so effective. This all tied in well with our topics in school because we look at the different seasons. It tied in with our literacy, particularly poetry. When we arrived at the season of Spring, we wrote poems. We'd explored so much by this stage. We looked at our hands, created drawings of our hands, gone outside to find natural objects to mark make on paper. Actually, this mark making was something they really loved.
The children, in small groups, began to form their own dances. They led the learning at this point. Some of them started to think and dance about trees being chopped down. This led us to a new topic, which I had never done before in school; the topic of deforestation, looking at the Amazon rainforest and the effect of deforestation. The children really led this bit. There were lots of woodcutters chopping down trees. But also planting new trees. This was really the chidren's own ideas, which came from Lisa's input. At a later stage in the project, the children made campaign posters to send to the Prince's Rainforest Trust. We are a UNICEF school and it all tied into the modules of Your Rights and You Have a Right to Have an Opinion. The children had a right to voice their opinion that deforestation is wrong.  They led the learning completely.
I would say it was very collaborative project, a journey in working together.
Lisa
The intention Leanne and I brought to the development of our work together was to listen to each other and the children. In listening, we focused on attuning to the energy and responses of the children. How were they responding? At what moments did energy heighten and flow?
Indeed it was often a great challenge for me to notice and 'feel into' the energy of the children, the temperature of the room in response to an activity. My own sensory experience of been in the class room through the interactive whiteboard at times felt frustrating and even at times lonely. Looking at the classroom through the narrow screen of my laptop made me consider other ways of discovering and identifying the information I needed to 'feel into' and sense in order to learn about this room full of people. I had to ask specific questions to the children and Leanne to receive their feedback.
I will always remember Leanne's description of the children's response to the task of creating leaf tattoos. She described the children's joy and laughter coupled with their attention in colouring and pressing leaves on their bodies.
Throughout the duration of the project, I continued to share elements and small samples of work from my own practice. From these sharings, Leanne and the children began to develop their own questions, tasks and creative forms of response and reflection.
I found it so exciting to see, hear and feel individual's process, their ideas, questions and responses.
What aspects of the project made you smile? What aspects of the project made you feel challenged?
Leanne
I'll start with a challenge. It was session 9. Everything had been going so well on our computer programme, Blackboard Collaborate. But on lesson 9, the technology would not work for us. Lisa couldn't connect with us. I felt lost. The C2K school network in Northern Ireland is very strict. I couldn't use facetime or skype to connect with Lisa. So we ended up communiciating via whatsapp. It was a whole new way of connecting with Lisa. We were able to communicate with Lisa using whats app voice messages. We sent photographs of what we did that day (which was a continuation of what we were doing). So when technology fails – that is a challenge.
The highlight was when Lisa came up to the school for two days in April. I will never forget that the time that she spent with them before we went out filming their dances. I will never forget that. The children will never forget that. It was amazing. We spent all this time working collaboratively online.  Then she was there in person. That was a highlight for me and the kids.
Lisa
Indeed, like Leanne, memories of session 9 haven't softened for me. Our means of communiciation didn't work. I lost a little confidence with the technology after this point. I felt anxious in the lead up to the next sessions. When technology fails, it definitely poses a big challenge.
But, because of the realisation that we could not rely on our online connection, we began to develop less focus on me as the leader of sessions. I look back now and realise that this was a really important moment of our journey together. After session 9, I think Leanne and the children really took off and entered their full flow. Up to session 9, we spent much time getting to know each other, exploring ideas, trying things out, engaging with our senses indoors and outdoors, experiencing each others small creative forms and experiments. I know that the children had developed skills and knowledge and were full of passion for creative movement and the natural environment around them. In stepping back a little, I created more space for this dynamic partnership (teacher and children) and individuals to embrace their own creativity. When I reflect on this, I smile.
What insights from the project are worth sharing? (These may seem small, but are significant to you)
Leanne
At the start I wasn't really sure where it was going to go. I needed to take a step back and breath. Lisa encouraged us all to concentrate on the simple things. But the simple things turned out to be very effective.
In main stream schools at the minute, it's all about getting children in touch with their senses again. There are so many children coming into school at the moment with sensory issues. With the warm ups, we focused on the sense of touch. Before each lesson the children were so excited about working with Lisa. The warm ups helped calm the children.
The sensory issue is a big thing at the minute in main stream schools. We recognise the need to support children to return to the basics, being calm in themselves and able to regulate themselves. The warm ups for me were great. They focused on touch and feeling, touching your arm, leg and head. From a sensory perspective, this was significant for me and I thought it prepared them well for their dances.
Lisa
Something I would like to share is how we endeavoured to document the process through gathering multiple means of documentation. Leanne is an avid photographer. She created, gathered and drew our focus to this form of visual documentation.
It feels now, following completion of the project that the engagement with multiple forms of documentation was a really important layer and container for the processes and choices that emerged throughout the project. Methods included: photography, film, writing, art, movement and the gathering of materials. These forms illustrated and offered many entry points for others into the work and processes of the project.
Has anything changed as a result of the project?
Leanne
Yes. The impact of the audio warm ups and our attention to the senses made me take a step back and realise everything in mainstream teaching is done at a pace. You are going at a rate of knots to try and get everything covered because there is so much curriculum to cover. At the end  of the day as society goes on, moves more into technology (and yes our project was based around technology), this project brought out the importance of just been still. Breathing and regulating yourself, mindfulness. Being aware of your space, being aware of your own body and senses, which alot of children at this age are missing. I'd say that has really made me think as a teacher.
Dance does not have to be very structured. It can made so creative and the children proved that. I was thinking where is this going to go with the boys? How are the boys going to get into this? And I not being a dancer, I was thinking, 'gosh, where is this going to go? I think at times I worried about the end product. But I realise now it's really about the process. The amount of work the children put into the process of it all was unbelievable. Those dances didn't happen overnight. The children took ownership of their own process. I loved the days when Lisa worked with small groups, chatting to them about their dances, giving them feedback, hints and tips. The children loved this. It was really about the process but it's also nice to have an amazing end product. But it really is about the process.
For me the parents really getting on board was important. It was a risk you take. Our sessions took a whole day. It was a whole day out of the normal curriculum; numeracy and literacy. For this day, you are dancing!
It was really important that the parents were on board with this. And they were. They kept involved all the time. Right from the class assembly, when we shared an interview between the children, teacher and artist. They absolutely loved it. They got to see Lisa. They had heard so much about Lisa from the chidlren. But they got to see Lisa and they were so keen to learn more about her. I think that was important, getting the parents on board and getting them involved. We created a DVD as part of our project. The DVD idea wasn't my suggestion. It wasn't the childrens or Lisas. It was the parents' suggestion. Parents came to me after the class assembly and asked me for the footage. We had shown a film of an interview between Lisa and the children. We had two interviewers who asked Lisa questions. They did a super job and their parents were so proud watching the footage of  them confidenctly posing questinos. This project was inclusive of all chidlren in the class and particulary appealed to those chidlren who learn best through kinaesthetic learning.
Our final DVD came from the parents request to see footage of this interview. The parents wanted to see the children's dances and share it with others. I think this is important. It is not just a partnership between the teacher, children and the artist. It is also a partnership with the parents.
When Lisa came to the school in April, it was amazing to see the parent's excitement. She got out of her car and they were all saying hello. She had never met them before. But they all felt that they knew her. It's amazing how you can work with someone all year and ye're at opposite ends of the country. When something like this comes together, it's pretty special.
Lisa
I think what I am left with at this stage and what I would like to remember as I go forward with Leanne, the children, families and community of Aughnacloy PS, is my curiousity around makings connections and asking questions.
I have neither an answer or a method as to how to achieve these successfully. But I think we can rely on our intention to listen, trust and be curious.
Here is a note from my journal (which was written throughout the project).
What question(s) can be shared to offer permission for an experience to 'unfold'.
I think there are different ways of thinking about this.
The possibility of making connections – learning about something and learning about myself simultaneously.
Again, what question(s) encourage openness and curiosity – giving ownership back to the individuals.
Recognise
Acknowledge
Acceptance – acceptance of where someone is right now.
A non-linear approach to learning and achievement.
What is between the teacher and the artist?
The known and the unknown. Staying at this edge. It might feel like a void or a delayed in-between stage.
Developing structures together which are composed from all the sensations of the work and materials.
A sense of intimacy and dialogue with the work – listening to it.
There is a need to explore and create frames and structures, which are away from the demands of an end product or production.
A project where we can all ask questions of each other.
"What do you know now?"
"How are you now?"
!!!! CREATIVE DANCE TALES – A Digital Resource for Teachers and Dance Artists
Tell us the story of your project – What was the impetus? What was it about? Who was involved? How did you begin?
CREATIVE DANCE TALES is storytelling through dance. It began as a pilot workshop series supported by The Ireland Funds in 2015, and ran in parallel with David Bolger's production THE WOLF AND PETER by CoisCéim Dance Theatre. The workshops were delivered to over 300 children in 8 primary schools around Ireland, giving children an imaginative, kinaesthetic learning experience in dance. Two professional development workshops for educators were also held in Dublin and Galway. In part CREATIVE DANCE TALES emerged from requests made by teachers in primary schools. It was supported by CoisCéim's Arts Council funded residency at The School of Arts, Education and Movement, Institute of Education, St Patrick's Campus, DCU, and as a legacy to the three year residency, was developed by CoisCéim Broadreach and the Physical Education Unit.
How were the ideas developed and how did the young people, artist and teacher work together?
The project evolved through working with children in different primary school settings nationwide, and through working with the Physical Education Unit and undergraduate student teachers from The Institute of Education, formally St Patrick's College, on an in-school creative dance project as part of the physical education major specialism.
In autumn 2015, Philippa Donnellan (Director of CoisCéim BROADREACH) worked with children in different primary school settings nationwide in parallel with a national tour of CoisCéim Dance Theatre's production of The Wolf and Peter by David Bolger, the Artistic Director. In spring 2016 she then commenced work with the Physical Education Unit and undergraduate student teachers from The Institute of Education DCU, formerly St Patrick's College, on a creative dance project as part of their physical education major specialism studies. Content and ideas drew from the musical score and the choreographic and dramatic material of The Wolf and Peter. Philippa led the work, building on the students' previous work in creative dance as part of their PE modules. Following on this, the students were supported teaching dance to local primary school children using the Creative Dance Tales draft lesson plans. These were subsequently revised based on observations of the student teachers planning and teaching as well as the responses of children. The lesson plans provide detailed and easy to follow guidance on creative dance activities inspired by Peter's dance, the dance of the Hunters and of course the Wolf dance. The Creative Dance Tales digital resource is the culmination of this work involving children, an artist, student teachers and teacher educators.
What was your personal experience of the project in terms of successes and challenges?
From the point of view of the DANCE ARTIST – The success of the project was witnessing how fully the children engaged and enjoyed working creatively in dance. Almost without exception, their enthusiasm and excitement in 'becoming the wolf' or animating the character of Peter and dancing together demonstrated how positive dance activity as a mode of learning. Challenges have included developing a fully comprehensive digital resource, which maintains artistic integrity within a clear education framework, and is engaging and accessible for teachers and dance artists alike.
From the point of view of the LECTURERS IN PHYSICAL EDUCATION – The successes from our perspective included the engagement of the student teachers with the CREATIVE TALES DANCE workshops and the quality of their work. Observing the progression in the student teachers teaching of the dance lessons to the local primary school children was encouraging. The student teachers pedagogical skills improved, as well as the quality of the children's performances. The student teachers confidence and understanding to teach creative dance was evident in their comments and reflective diaries.  The opportunities for the students, staff, local primary school children and their teachers to see the performance of THE WOLF AND PETER at the St. Patrick's Campus auditorium was a positive and enriching community event. Challenges included the administration involved in the various aspects of the project, the time required to write, design, and edit the resource.
What was significant for you about the project that is worth sharing?
The project helped to link the Physical Education lecturers, student teachers, teachers, children, CoisCéim and other curriculum staff members on a joyful, meaningful, visual and practical dance journey, which was linked to the Irish Primary School Curriculum (1999).  The CREATIVE DANCE TALES digital resource is a significant teaching support available on the Arts Portal website for teachers, student teachers and others.
Has anything changed in your work as a result of the project?
From the point of view of the DANCE ARTIST – As the lead Dance Artist on this project, the experience and understanding gained from working in varied formal educational settings – has clarified my own dance education work. In particular I believe it has simplified, yet focused my teaching skills and the different methods I employ in guiding children to grow and learn creatively.
From the point of view of the LECTURERS IN PHYSICAL EDUCATION – Having the CREATIVE DANCE TALE resource will support physical education dance work with student teachers. Having the resource available in digital format allows easy access for the student teachers to teach the lessons while on school placement. They can inform teachers in their school placement schools of the availability of the resource. The Physical Education Unit and The Irish Primary Physical Education Association can share the link to the resource on their respective websites.
To download the resource pack, click here.
For individual teacher lesson plan
https://artsineducation.ie/wp-content/uploads/CDTLesson_1.pdf
https://artsineducation.ie/wp-content/uploads/CDTLesson_2.pdf
https://artsineducation.ie/wp-content/uploads/CDTLesson_3.pdf
https://artsineducation.ie/wp-content/uploads/CDTLesson_4.pdf
!!!! Launch of CREATIVE DANCE TALES – A Digital Resource for Teachers and Dance Artists
CREATIVE DANCE TALES is storytelling through dance. It began as a pilot workshop project in 2015 which ran in parallel with CoisCéim Dance Theatre's THE WOLF AND PETER by David Bolger and its three year-long residency at DCU (formerly St. Patrick's College).
Supported by The Ireland Funds, CoisCéim BROADREACH conducted 26 workshops in 8 primary schools at 6 locations around Ireland with over 300 children taking part. Two specialist seminars for educators were held in Dublin and Galway. CREATIVE DANCE TALES gave children an imaginative, kinaesthetic learning experience in dance and highlighted the power of storytelling through performance.
Emerging in part from requests made by teachers, the CREATIVE DANCE TALES DIGITAL RESOURCE was developed together by BROADREACH and the Physical Education Unit, The School of Arts Education and Movement, Institute of Education, DCU, and funded through the residency by the Arts Council of Ireland.
It is a celebration of the work of children, students, teachers, teacher educators and dance professionals. Distributed free of charge through the Arts in Education Portal in Ireland and www.dcu.ie, the lesson plans are designed to act as a starting point to stimulate creative thinking for teachers and children alike.
To download the resource pack, click here.
For individual teacher lesson plan
https://artsineducation.ie/wp-content/uploads/CDTLesson_1.pdf
https://artsineducation.ie/wp-content/uploads/CDTLesson_2.pdf
https://artsineducation.ie/wp-content/uploads/CDTLesson_3.pdf
https://artsineducation.ie/wp-content/uploads/CDTLesson_4.pdf
!!!! The Easter Rising Dance Project
Tell us the story of your project – What was it about? Who was involved? How did you begin?
Maria Svensson, Artist
It all started when Marie and I met during the Department of Education & Skills' summer programme of Continuing Professional Development (CPD). This summer course was one element in a wider exploration of Teacher/Artist Partnership as a model of CPD for enhancing and supporting arts education in the Primary school.
When course finished we decided to apply for funding for a partnership project to facilitate us to apply the course learning in practice. An application to the Kerry County Council 1916 Commemoration Fund was considered and discussions took place with The Education Centre, Tralee, on how we might progress this. The teacher had been nominated by The Education Centre and I had been nominated by the Arts Office of Kerry County Council.
Our aim was to work with the 3rd class at Ardfert National School, focusing on the students' enjoyment of movement and their ability to express themselves freely through movement and dance whilst exploring the history of the Easter Rising. Moreover we wanted this work to culminate in a public showing, i.e. a dance performance. Finally, our aim was to develop teacher competence and confidence around dance.
The development of children and teachers through this art form using a Partnership approach was supported by The Education Centre, Tralee and Kerry County Council. Marie and I scheduled a workshop with the school's Principal and staff in Ardfert NS to incentive and introduce the project. We began to plan the initiative and set out the objectives for teacher, artist and student learning. We also started planning what to do with the students, where and when we would meet, where the performance could take place etc. I had 10 sessions with the students, each lasting 2 hours. For some part of that time, the students would write in their reflective journals while Marie and I would have a chance to talk about what to do next or reflect ourselves on how things were going.
Marie O'Connell, Teacher
As the teacher, I felt that this initiative presented a great opportunity for the pupils to work with a dance artist and experience the art of dance. They did not have such an opportunity previous to this. I also felt it would be a great opportunity to support my own continuous professional development, to deepen my knowledge of the art of dance and to learn how to approach a theme through the art form.
The use of reflective journaling by the children was most revealing as it provided insight into the childrens' learning journey within the context of the initiative and captured some of the impact and response. The journals contained written and pictorial reflections on the development of the project. In this way it introduced the children to the notion of reflective practice and the sharing of those reflections developing their skill and knowledge base. 
How were the ideas developed and how did the young people, artist and teacher work together?
Maria Svensson, Artist
After the workshop with the Principal and teachers it was decided that the school would organise a concert in the community centre, where other students could perform as well. The theme throughout would be The Easter Rising.
During the first couple of sessions with Marie's class, I aimed at getting to know the students and exposing them to different movement exercises. Marie laid the groundwork, looking at the history around the time of The Rising and how people lived then. She introduced a folder with gathered stories about The Rising aimed at 3rd-4th class. I received a copy of this myself and knew then what the students were learning with regards to the theme. In the dance and movement classes I would look at expressing emotions related to stories and images from that time. I did not want to teach the students moves they would copy and learn off by heart. Instead, I used ways of working so the movements would come from the students themselves. They were very willing and creative and gained confidence as we went along. One of the teachers in the school recommended music for us and helped practice with the students. We decided the students would start and end the piece by singing Mise Éire and there was another song called Fionnghuala, which they would sing in the middle of the piece. Ideas were developed as the project went along, such as duration, costume, format etc. The music found its place, as did the various movement tasks we had been working on, such as phrasing, moving like statues etc. In the lead up to the performance, Marie would practice the piece with the students outside the set dance classes to give them a chance to remember where to go and what to do next. Marie would join in the exercises and tasks, when she wasn't managing the video camera, and her presence was extremely beneficial for the students as they saw this class was to be taken seriously, just like any other class. Marie also supported the students in writing their own Proclamation, which we used in the piece.
Marie O'Connell, Teacher
As the teacher I worked through the topic of 1916 at an age appropriate level for the children. I felt it was important to focus on an area that the children could identify with to make the 1916 experience relevant for them, as they are quite young. We focused on the lives of children from 1916 and how it differed from their own lives, we then led onto the Proclamation of 1916. This in itself was a difficult piece of writing for the class to comprehend but after teasing it out we decided to write our own class proclamation. All children were involved in teasing out the ideas for this piece of writing and they were very proud of the ideas they came up with in the end. This piece of writing became part of the dance performance and worked well with the movements to change the overall mood of the dance.
What aspects of the project made you smile? What aspects of the project made you feel challenged?
Maria Svensson, Artist
The aspect of the project that made me smile were the times I could clearly see the students enjoying simply moving and overcoming any fear around performing/dancing in front of others. I enjoyed reading the students' notes after each class, which were copied and posted to my house. This was always a treat because they were usually extremely positive. I was also very happy to hear the Proclamation which was their own and written by them.
There were many aspects of the project that challenged me. To begin with I didn't know much about the theme we had chosen and I had to do a lot of research. This unfolded quite naturally as the whole country started to immerse itself in the history of 1916 in various ways. To start off with, I had no idea how we were to create a dance piece around the theme with thirty one 9-10 year olds. It is a delicate subject but it turned out that dance was a perfect way of looking and dealing with the history.
Marie O'Connell, Teacher
As the teacher, the most difficult part for me was creating a starting point for the project once we decided it was on the 1916 theme as the children are quite young and the topic is quite advanced and complicated. But once we got started it all seemed to fall into place. Working with Maria was great as dance seemed to fit with the topic in terms of  facilitating the children to express their feelings so well and she was able to reach their level so easily. It was lovely to see the project coming together so well and to get the opportunity to work with somebody else as this is not the norm for a teacher.
What insights from the project are worth sharing?
Maria Svensson, Artist
My insight would be that anyone can dance and express themselves even after only a few sessions (maybe some people don't even need that, confidence and willingness goes a long way). The students embodied the tasks I gave them and managed to not only improvise in front of more than 200 people but to do it with  confidence and brilliance, which is a massive achievement.
Marie O'Connell, Teacher
As the teacher it was great to see my pupils being so enthusiastic about working on this project. They really took it on board and each one of them gave 100% to it.
Has anything changed as a result of the project?
Maria Svensson, Artist
The way this project was structured made me change my way of teaching dance in other schools. It made me require more from teachers I work with to create more of a partnership and collaboration.
Marie O'Connell, Teacher
I feel reflections are a very important part of education. It was very interesting to read the pupils' reflections after each dance session. Many of them were the same and they were happy with the way things were going but every now and again a child might suggest something that you had never thought of. Hearing the child's voice and responding to it is very important when teaching. Working in partnership, while challenging, affords new insights and has the potential to change perspectives for both the teacher and the artist.
Comments from the children's reflective journals, Ardfert NS
"What surprises me most about like 100 years ago is that there were pencils. And that British army stayed in Dublin Castle."
"It was fun exciting, emotional, slow and fast."
"I enjoyed doing the past when you talk in dance."
!!!! Finding our way
Tell us the story of your project – What was it about? Who was involved? How did you begin?
Lisa Cahill, Artist
An invitation was sent to Gaelscoil Uí Fhiaich requesting a teacher to work in partnership with the Froebel Department of Primary and Early Childhood Education's Dance Artist in Residence. This school was chosen because of its long and active engagement with The School Placement Committee at the Froebel Department of Primary and Early Childhood Education at Maynooth University. Triona Stokes, the Residency Co-ordinator supported the management and administration of the project from the very beginning.
Tracey Kirrane, teaching Second Class pupils at the Gaelscoil accepted the invitation and we arranged a meeting. From the start, Tracey's energy and openness was evident and it was clear that we shared a real excitement about the project and its possibilities.
On visiting the Gaelscoil, I was immediately taken with Joe Butler's Fish sculpture at the front of the school. This work was made as part of the Per Cent per Art scheme about three years previously. This sculpture became a stimulus for the development of the dance work.
The aim of the project was to create a number of creative outcomes between all collaborators. I envisioned that this body of work would illustrate the context of the project, the creative processes and the learning that was taking place between all collaborators. These creative outcomes would include an integrated dance performance (students and children dancing together) and a film element. I also wanted the documentation methods and outputs to became part of the final sharing. These outputs would include recorded interviews, journals, reflections (both written and using art materials) and photographs.
Tracey and I set up Thursday morning weekly sessions in the school for the children. Sessions were scheduled for an hour.
Two students of the  Froebel Department of Primary and Early Childhood Education at Maynooth University were scheduled to accompany me on a rotating basis. Their role was to participate as dancers and develop their own relationships with the children. They were also involved in the planning and evaluation of the workshop with me. They took on active, fluid roles in both leading group dance tasks but also following and learning from the children. This balance became an important element of our co-operative approach. All of us as participants needed time and space to learn from others, and to lead and share with our collaborators.
Tracey Kirrane, Teacher
One of the teachers in the school approached me asking if I would be interested in taking part in a dance project with Maynooth University. He knew I had a keen interest in dance and music. I always like to give the children in my class movement breaks and I find that dance can be a great way to do this. I had a meeting with both Triona and Lisa in the school and they explained the whole process. Instantly I thought this would be an interesting and exciting project to be part of . On that day we discussed what information needed to be sent to the children's parents and we arranged that we would do hour long sessions on a Thursday morning.
On the first session Lisa arrived, she did movement exercises with the children. The children were instantly engaged and I knew from then on that they would enjoy the journey we were about to begin. After returning to the class after this session the children were very excited and couldn't wait for the next session.
Louise Young, Student
At the beginning I must admit that I was finding it hard to visualise the finished piece, but as the structure and story became more apparent the performance itself came together into a terrific piece.
Claire Casey, Student
I wanted to take part in this project as I thought it would be a challenging experience that would enable me to take part in something I'd never had experience in before. I would always jump at being involved in something with children outside of our normal placement and I am really glad that I took part in this project.
How were the ideas developed and how did the young people, artist and teacher work together?
Lisa Cahill, Artist
The ideas developed through shared and separate work involving dance and reflection over 13 weeks.
The layers of the project included:
1.    My own exploratory work in the studio and planning meetings with Triona Stokes;
2.    Sessions with the children (led by Tracey and/or the artist)
3.    Sessions with the students (facilitated by the students themselves or led by the artist)
4.    Integrated workshops with the children and students together. This took place at the school with small number of students. Workshops also took place on the Maynooth University Campus. There were three whole group workshops/ rehearsals. This included the class of 30 children with the six student teachers who committed to the performance element of the project. These sessions took place at the University and were supported by the Froebel Department of Primary and Early Childhood Education Dance Residency Committee and a large body of student assistants;
The development of the work is exemplified through the partnership with Laura Thornton, who encouraged me to deepen our collaborative exploration of line. Laura Thornton is an art lecturer at Froebel. She supported me in broadening my artistic tools in this exploratory process. I used both the body and art materials in our investigation of line.
I introduced the examination of line to the children and students. We created lines in our bodies through shape, we drew lines using a variety of body parts through the space. We studied, drew and photographed lines and shapes on the Fish sculpture. From the 'line drawings' the children began to speak about following a map and finding treasure. Discussions and playful work developed around this idea. We traced and followed our maps through the space. Children spoke about great and small journeys they had been on. They recalled times when they had followed maps or watched their parents follow maps. The children introduced challenges and obstacles that one might meet along a journey. Real and imagined journeys were shared, danced and written about.
Tracey encouraged me to consider what the story of the dance was. She talked about a story we are all familiar with, 'Going on a Bear Hunt' by Michael Rosen. From here, we began to clarify and refine how our story/ journey would be structured and organised. I appreciated and listened to Tracey's experience and her gentle reminders to communiciate clearly the intention of our work and the intention of our dance.
The dance evolved into a final performance called 'Finding our Way', "Ag lorg Slí"  The performance illustrated moments of a journey. This was articulated through live dance performance, film and photographic work.
A note from the performance programme read, 'The dance journey reveals the discoveries the performers made throughout the creative process of this project. With trust and a light heart, we find our way together.'
Is trí dhamhsa, scannánaíocht agus grianghrafadóireacht a léiríonn "Ag lorg slí" giotaí d'aistear. 
'Aistear is ea "bogadh ó áit go háit".  Cruthaíonn na rinceoirí scéal an aistir trí chomhghníomhaíochtaí simplí maraon le damhsa drámatúil.  Soiléirítear an próiséis cruthaitheach tríd an damhsa. Nochtar na fionnachtain atá aimsithe ag na rinceoirí le linn an aistir cruthaitheach don tionscnamh seo.'
Tracey Kirrane, Teacher
Lisa and I discussed ideas together and a lot of them came naturally from watching the children participate in the sessions. Being a teacher, I like structure on things, as I feel that the children need guidelines to follow so they know what my expectations are. I knew that there needed to be definite stages in our dance with very clear transitions so children could easily participate in the process. I first thought of the story 'We're going on a Bear Hunt' by Michael Rosen as it is a very clear depiction of a journey made up of individual sections. I discussed this with Lisa.
Lisa really liked the sculpture of the fish outside the school. This is where she got the idea of curved and straight lines. Children were taught to move in a variety of ways including different directions and heights, using various parts of the body.
Myself and Lisa had several meetings together to gather and share our ideas. I really felt we needed to start putting a plan in place as I felt we had a huge amount of ideas and there was no way that they could have been all incorporated into one dance.
Niamh Jordan, Student
Something I really liked, was the fact that the creative dance process overlapped and integrated with drama so much. The children were thinking creatively the entire time, embodying a character at times, and using movement and dance to express their emotions and feelings. In fact, I came to realise during the process, that there is so much scope for integration across the curriculum through the medium of creative dance. The use of the fish sculpture in this project as a stimulus for the creative dance, brought visual art into the process.
Tadhg (Child)
What I know now about dance? You can make anything of dance.
What aspects of the project made you smile? What aspects of the project made you feel challenged?
Tracey Kirrane, Teacher
I really enjoyed seeing the shy or nervous children getting really involved. They trusted the process and each week they engaged more and more. It was very important that the sessions didn't go on too long as I could see the children's attention was fading and it would not be beneficial to continue.
Lisa Cahill, Artist
The project was a bilingual project. This both terrified and excited me. I facilitated as much as I could through the language of Irish and encouraged the children to support me. I often had to pause and rely on body language or fewer words to describe tasks. I think this had an impact on how we used our bodies throughout the project. I did not always understand the children/ students or Tracey's words. They slowed down, utilising their bodies to help me to understand. Towards the final stages of the project, I needed to speak more and more English. It did make me smile though as the students and children continued to speak in Irish to each other. It was a perfect collaboration in action.
Lauren O' Callaghan, Student
I especially enjoyed the communication between myself and the children, particularly as it was through Irish and I love to speak Irish with children. I felt like I had helped a lot after the session, and I felt I had begun to build a relationship with the children.
Marie Casey, Student
The fact that the project was done mainly through Irish was also a great experience as it allowed me to see the power of creative dance and the ability to create dance in any language.
Lisa Cahill, Artist
A challenge I faced in this project was managing and threading together the ideas and movements, created by the children and students during their separate sessions. I used a variety of improvisation tasks to encourage the dancers to explore and tune into their own movement responses. This was balanced with taught sequences and opportunities for mutual learning. I utilised the working concept of 'translation'. This concept requires you to consider how participants are doing something, not what they are doing. This philosophy is central to choreographer Cecilia Macfarlane's practice and her work with Crossover Intergenerational Dance Company in Oxford, England. It meant that as part of our process all ideas were translatable across all the bodies and all ages. This is supported by careful selection of language in the framing of the ideas. I believe that the real value of this philosophy and working concept is that it allows for a shared ownership of the choreography and empowers participants to make choices.
As I look back at the project now, I smile with pride as I recall dancing with Tracey. In the final performance we danced a short duet together. I know that it meant the world to the children and student teachers to witness Tracey and I dance together. Like the children and students, we were dancing our 'journey' also.
Niamh Jordan, Student
Something that made me smile during this project was during one of our rehearsals in the university with the children. I had the opportunity to work with a small group of children (the map girls) as they were practicing their piece in the dance. I remember standing back and watching them practice and perform, and thinking how wonderfully they were working together as a group, and coming together to perform a piece. It was an eye-opener as to how inclusive creative dance can be to all children in the class, as it does not rely on academic ability at all. The girls were working together and relying on each other to remember the sequence and the dance that they had created themselves. It was really lovely to be a part of this.
What insights from the project are worth sharing? (These may seem small, but are significant to you)
Lisa Cahill, Artist
A personal objective I set for myself in this project was to pay close attention to my engagement with the other bodies.
In wishing to open up to the possibility of interaction with the teacher, children and students, I endeavoured to pay equal attention to my 'self' (my own process and learning) and to that of the other(s). I wanted to 'receive' in equal attention to 'giving'. So I explored the framing and structuring of my own attention. I did this through journalling, studio time, drawing and art work, play time for myself with the sculpture, meetings with the Residency Co-ordinator and through discussions with the lecturers at The Froebel Department of Primary and Early Childhood Education at Maynooth University who had expertise in a variety of areas (Art, Geography, Music and Irish). I met informally and interviewed formally the sculptor of the Fish, Joe Bulter. I also interviewed the former principal of the school Máirín Ni Cheileachar and  the current principal Neil Ó Tarráin, , owing to a change in school leadership within the duration of the project.
Both Máirín and Neil were active partners in the project. I had regular meetings with Tracey and weekly email conversations. I enjoyed tea with the students and we discussed how we could support their engagement with the project within a very busy college schedule.
In engaging with the collaborators, I returned to a question in our shared dialogues throughout the project:
'What do you know about dance now?'
'What do I know about dance now?'
'What do we know about dance now?'
Learning through practice was a key working philosophy for my own artistic practice and facilitation throughout the project. I endeavoured to trust and invite the knowledge that each individual has in their own body. I encouraged this in myself, the children, the students and Tracey. Making things our own, as a way to achieve deep learning. We all explored together and in separate spaces. Each person kept journals and had opportunities to share their reflections and considerations.
Louise Young, Student
In terms of dance as part of the curriculum, I found that there is so much scope in PE for dance outside the typical dances. Dance is an art and a set of lessons could easily be created around a theme or a concept, and this can develop throughout the weeks, giving the children the freedom to shape the dance and help it evolve. Dance can also be integrated into drama as an effective methodology, as well as SPHE as a means of self-expression.
Claire Casey, Student
I loved the way the children's suggestions and ideas were taken on board as this meant that they had such an integral part in the whole project and they were really a part of it from the beginning to the end.
Richard (Child)
Dancing is like a different language, but your body does the talking.
Eoghan (Child)
I like dancing with everybody. They are good and I am.
Has anything changed as a result of the project?
Tracey Kirrane, Teacher
I can see a notable difference in the children's confidence in relation to movement and dance and also in their confidence in speaking out and sharing their opinions and ideas. When some children started out they were very reluctant to engage as they felt it may have seemed silly. But as the weeks went by they gained confidence in their abilities and were less conscious of others around them. The children worked very well in their groups and some proved to be great group leaders.
On the morning of the performance the children were so excited and some a little nervous. They always knew there was no such thing as making a mistake and that if things didn't go according to plan that they could continue on regardless. They astounded their parents during the performance and you could see how proud they were of their children. The video of the performance was shown at a whole school assembly. The children were in awe at what they saw and my class were so proud of all they had accomplished. I was extremely happy that I agreed to take part in this project and would most definitely recommend any class / school to participate in a dance project in the future.
Lisa Cahill, Artist
I would say now that my ambitions and aspirations have been heightened following this project. I notice that when I speak and write about this particular project, my spine lengthens and my back broadens. I notice a feeling of absolute resolution, a feeling of muscular activation through my whole body, but a softening in the left side of my chest, my heart open and warm. I believe in the partnership model, artist and teacher, student teacher and child, artist and child, etc. I believe in building a relationship through the acknowledgment of the unknown and the known. I recognise and acknowledge the child, the teacher and the artist within me – within each of us. I wish to receive the facets of each individual in relationship. At the centre of the partnership is our physical selves- the body. The dance of each body; the dance of two bodies relating – evolving and responding, trusting and growing.
In response to the question, 'what is my response following this project?' I can state: 'a determination to continue to build dancing partnerships within our educational settings, a determination to continue to follow my interests and a need to listen and observe, respond and reflect.'
Marie Casey, Student
I have seen first hand the children becoming creative agents in the dance project, becoming integral to the project itself and the performance. As a teacher, I feel more comfortable in exploring dance with a class (on my most recent placement following this dance project I decided to teach creative dance during PE lessons) and I feel much more confident that maybe one day I could engage a class in a project like this, using their own experiences, using their environment and personalities to create a vibrant, interesting and memorable performance with the children's work at its core.
Oisín (Child)
"Everyone in the world can dance."
Senan (Child)
"I now think dancing is really fun. […] The story is about a big adventure."
"It's all about doing adventure stuff and doing different shapes along the way." (Child participant)