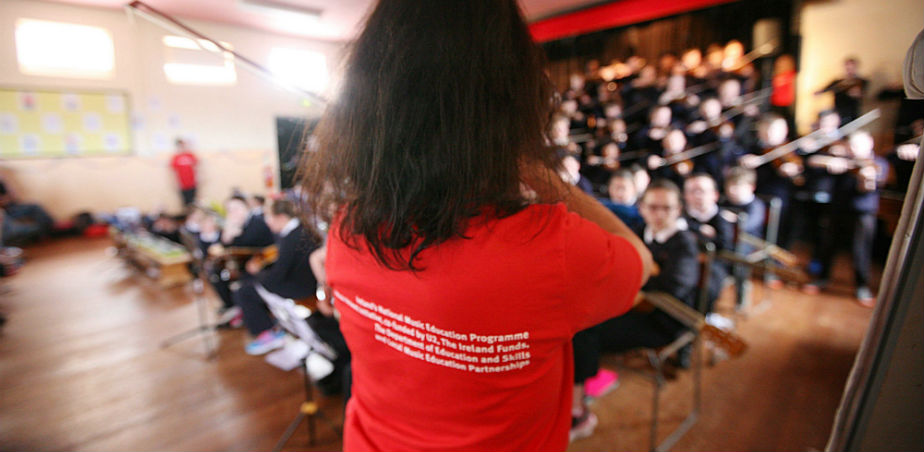 Music Generation is Ireland's National Music Education Programme, initiated by Music Network and co-funded by U2, The Ireland Funds, the Department of Education and Skills and Local Music Education Partnerships.
'Phase 1' of Music Generation established the programme in 11 areas of Ireland (Louth, Mayo, Sligo, Cork City, Laois, Wicklow, Carlow, Limerick City, Offaly/Westmeath, Clare and South Dublin) and in September 2017 a further nine areas were selected for participation as part of 'Phase 2' (Galway County, Waterford, Wexford, Dún Laoghaire-Rathdown, Leitrim, Kilkenny, Cavan/Monaghan, Galway City and Roscommon). In addition, in December 2017 as part of the launch of 'Creative Youth' Government announced its commitment to support expansion of the programme nationwide by 2022. Currently the programme creates more than 48,500 opportunities each year for children and young people to engage in high-quality, subsidised performance music education across more than 150 different programmes in all musical genres and styles – from trad to jazz, rock, pop and hip-hop, samba drumming, brass band, choral and orchestral initiatives, composers clubs and much more.
Music Generation believes in every child and young person's musical potential and their innate artistry, that it is every child and young person's right to have the choice of access and the chance to participate as a musical citizen and that music doesn't just change lives, it transforms lives.
Contact Details
---
Contact Name
Address
Music Generation
NCH Building,
Earlsfort Terrace,
Dublin 2
---
Telephone No.
+353 1 475 8454
---
Email
---
Website
---
Facebook
---
Twitter
---
Instagram
---
News posts - 14 results
---