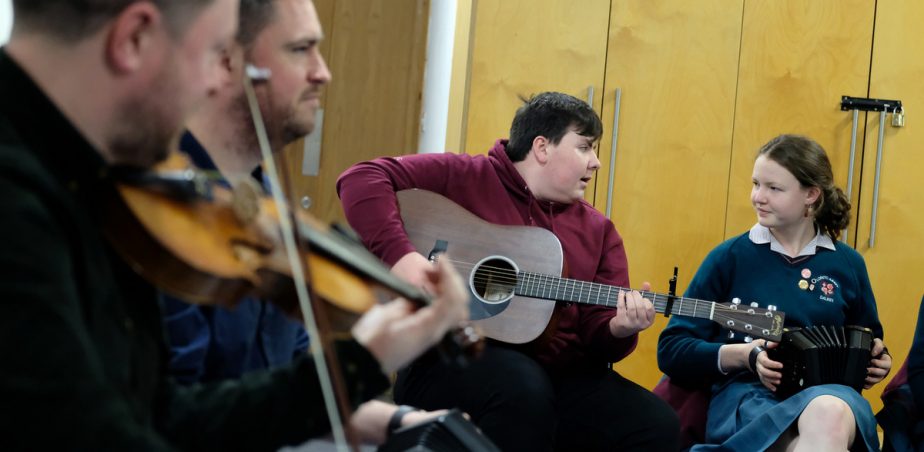 Music Network makes high-quality live music accessible to communities throughout Ireland. Our vision is that of a culture which increasingly values live music in our everyday lives, embracing it as an important part of a healthy, vibrant society. Everything Music Network does stems from this vision: from our work in music education, to supporting musicians throughout their careers, to providing concerts and music-making opportunities through our valued network of partners.
At Music Network we want to leave a lasting impact on the communities we reach. Our learning and education activities are designed to spark an appreciation of music amongst curious audiences and participants of all ages, whilst our professional development programmes help talented musicians to excel in today's competitive performance environment.
Schools Programme
Music Network's touring ensembles regularly perform in local schools as they travel around the country, giving primary and secondary school students opportunities to experience the joy of live, high-quality music in their own classrooms. Our activities in schools incorporate musical demonstrations, student participation and opportunities to meet the performers.
Masterclasses for Young Musicians
Music Network's world-class touring musicians support emerging talent through our programme of masterclasses delivered under our National Touring Programme, in partnership with local music schools, conservatoires and our subsidiary company Music Generation.
Community Workshops
There are many thriving community music groups around the country, and we aim to enhance their work though our diverse programme of workshops with community groups led by our touring musicians.
Professional Development Opportunities for Musicians
Music Network offers a range of supports and training opportunities to professional performing musicians. From courses that help musicians develop the skills necessary to stand out in today's competitive industry, to performance platforms and mentoring programmes for emerging musicians, our opportunities are bespoke, relevant and delivered in collaboration with leading industry professionals.
Family Audiences
Attending concerts together is a great way for all generations to share the magic and joy of live music. We believe that children and families deserve only the very best, and our tours of specially-commissioned performances for family audiences are original, thought-provoking, entertaining, interactive and accessible.
Instrument Hub
Music Network's Instrument Hub is a national online resource that helps music students and musicians of all levels to access suitable instruments. The Hub brings together into one easy-to-access place information on instrument grant schemes, instrument hire and instrument banks, funding opportunities for high-value instruments, and music tuition bursaries and scholarships. Our aim is to ensure that nobody in Ireland is prevented from participating in a musical life for lack of a suitable instrument.
Residencies 
The Music Network Artist Residency Programme positions musicians at the very heart of local communities. Presented annually in partnership with a venue, a local authority and other supporters, our residencies enable professional performing musicians to curate a 6-concert series with integrated community-focused participatory activities.
Contact Details
---
Contact:
Sarah Ledwidge,
---
Programmes Administrator
---
Address:
Music Network,
National Concert Hall Building,
Earlsfort Terrace,
Dublin 2
---
Email:
programmesadmin@musicnetwork.ie
---
Telephone No:
+353 (0)1 4750224
---
Website:
---
---