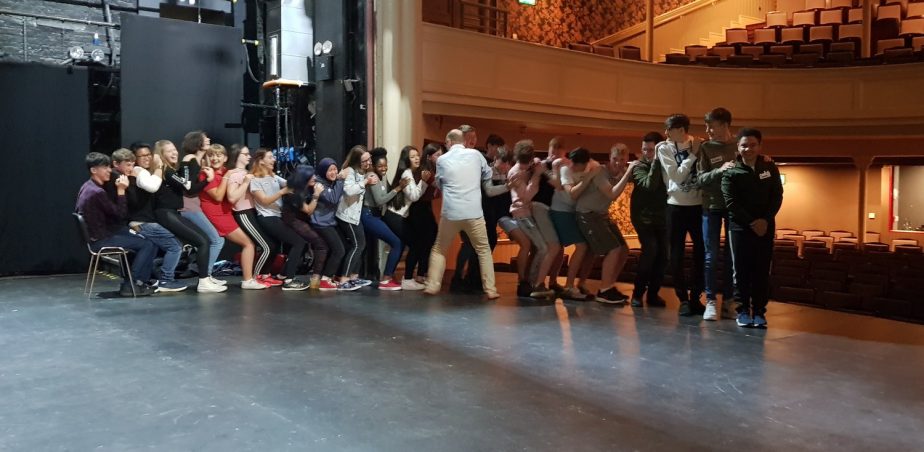 Theatre Royal works to contribute to the advancement of arts and arts education through the promotion and encouragement of cultural and artistic activities.
Through its programme of activities, the theatre supports the creation and presentation of the arts across a range of artforms and arts practices.
Theatre Royal strives to be at the heart of its community. It stirs emotions, entertains, enlightens and informs its wide reaching audience and is recognised for supporting and nurturing community theatre, those involved in amateur theatre and fosters a love of theatre for young people.
The Shakespeare Review
The Theatre Royal's Shakespeare Review programme works with teachers, Shakespearean actors and experienced young adult theatre facilitators to review the current Leaving Certificate text. The bold and exciting ninety-minute performance of Hamlet helps students gain a deeper understanding of Shakespeare's iconic masterpiece by lifting the play off the page and onto the stage, making it accessible for students as they start their exam revision. The actors vividly present key scenes on stage which are then explored in detail by the facilitator between scenes, bringing to life Shakespeare's vibrant characters.
"Discussing the scenes in a modern way made it very easy for the students to relate to." - Tipperary Teacher
"Excellent ideas for classroom approach." - East Cork Teacher
"Enjoyable and worthwhile, gave students a focus for study and revision" - Waterford City teacher
Theatre Skills Mentoring Programme
Theatre Skills Mentoring Programme is an exciting opportunity for young people in partnership with educational, artistic and financial partners and presented by Theatre Royal.
This initiative aims to:
- Deliver a practical and hands on experience for young people who wish to gain further experience in arts practices under strategically laid out modules.
- Provide young people who have a keen and real interest in developing arts skills with learning opportunities and professional supports.
- Ensure that the collective expertise and skills shared amongst Waterford's arts professionals are transferred to emerging arts practitioners – creators, leaders, makers – those who want to learn.
- Create comfortable scenarios for reflective evaluation throughout the entire process on all levels.
15 week module with learning opportunities under the following roles
❖ Production & Stage Management – incorporating practical technical skills
❖ Theatre Design – for set, costume and props
❖ Event/production Development, Script Writing, Direction and performance
❖ Event Management – incorporating budget, scheduling, discussion & meetings
❖ Arts Marketing, Promotion & Sales
This initiative will encourage combined thinking as a 'production company' and with mentoring support from arts professionals and venues will provide each individual with the opportunity to fully realise their creative potential.
Interactive Tours @ Theatre Royal for Young People
Bring your students into the heart of Waterford's iconic cultural building. Let them experience a fun, imaginative and exciting onstage drama workshop. This 80-minute visit will incorporate a backstage tour and will provide them with an opportunity to experience a live working theatre, hear its stories and ask questions about the building and how it operates.
Our tour guides and drama facilitators look forward to welcoming your group.
Suitable for ages 8 to 18 and for TY's, Primary Schools, Language Schools, Youth Groups.
"It was a pleasure to be at the Theatre Royal, the drama facilitator did a great job with the students. They all learnt a lot. I think you do a great job organizing these activities with kids, as they learn self-confidence and love for drama. It will be a pleasure to be back in Waterford soon." Adventure Programme H4 Facilitator, Summer 2018
€7 per student, we welcome groups of 20 or more and can facilitate large numbers over 2.5 to 3hour sessions.
To book and for more information contact Anouschka, tickets@theatreroyal.ie or by phone on 051 874402.
Contact Details
---
Contact Name
Mary Boland,
Theatre Manager
---
Address
Theatre Royal,
The Mall,
Waterford
---
Telephone No.        
+353 (0)51 874402
---
Email   
---
Website
---
---
---