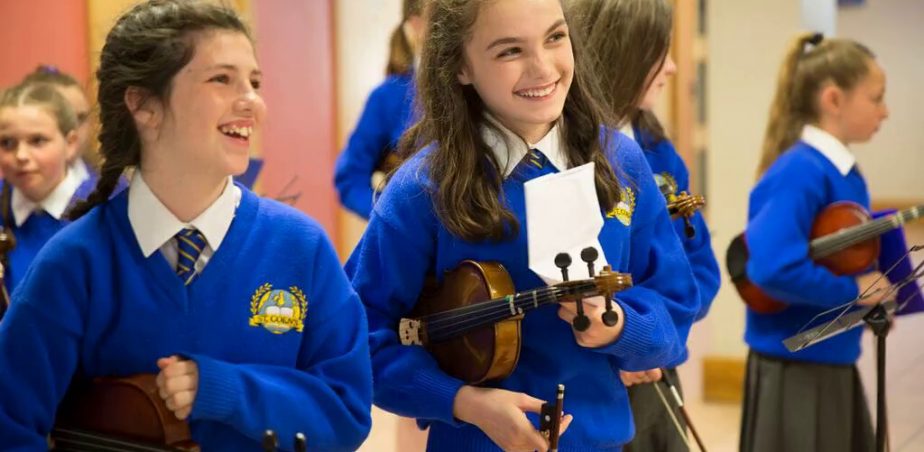 Music Generation Wicklow is a music education service that provides access to high quality performance music education for children and young people in the county.
The 'Stepping Tones' programme caters to children in Early Years settings.
A Foundation Music Programme provides children from junior infants to second class with an introduction to music in whole-class settings, through singing, percussion, rhythm, movement, games and more.
The Wicklow Children's Choral Music Programme, for primary school children in second class and above, enables children to engage in high-quality group vocal tuition and activities. The programme encourages and supports young people to sing together well, with confidence, enjoyment, good vocal health and high aspirations.
Small group instrumental tuition is available both within and outside of school settings, offering young people an opportunity to explore different music genres on instruments including bass guitar, cello, flute, guitar, keyboard, Bodhrán, percussion, piano, traditional instruments, violin, voice and band mentorship.
Ensemble and Orchestra creation is encouraged and supported by Music Generation Wicklow. The programme assists schools to develop ensembles by assisting in the provision of tuition or helping with instrument rental.
Other opportunities provided by Music Generation Wicklow include after-school group classes in the Blessington Music Hub, a Strings programme in Dunlavin, Samba Drumming, Community Choir, Jazz Ensemble, the Rithim Orchestra and Youth Engagement Projects.
Music Generation Wicklow is part of Music Generation, Ireland's national music education programme initiated by Music Network and co-funded by U2, The Ireland Funds and the Department of Education and Skills and locally by Wicklow Music Education Partnership, led by Kildare and Wicklow Education and Training Board in partnership with Wicklow County Council.
Contact Details
---
Contact Name
Ann Catherine Nolan,
Manager
---
Address
Music Generation Wicklow,
Kildare Wicklow Education and Training Board Admin Offices,
Church St, Wicklow,
Co. Wicklow
---
Telephone No.
+353 (0)404 60505
---
Email
---
Website
---
---