Blag 2: Coláiste Muire (Inis) agus Scoil Mhuire (Inis Díomáin), Co. an Chláir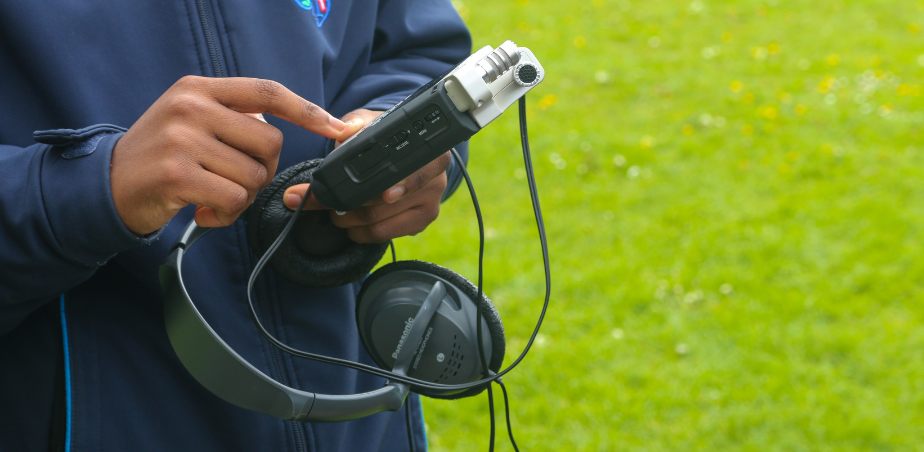 The following blog posts have been written by art teachers Aidan Power and Mary Fahy along with their 5th Year class students in Coláiste Muire (Ennis) and Scoil Mhuire (Ennistymon), Co. Clare. They share their experiences of collaborating with artists Mitch Conlon and James Moran on the project Keystone, commissioned by Clare County Council to celebrate and mark 20 years of artist in schools programming by Clare Arts Office. The curatorial framework Art School, directed and curated by Jennie Guy, were invited to deliver the project, along with co-curator Fiona Gannon. This project is one of the recipients of the 2023 Portal Documentation Award, read the announcement here.
The new Leaving Certificate Art specification focuses on art as social commentary, political and social art and artists in the community, for this reason, the 5th Year students from the respective schools were selected to participate in the project. 
---
This second blog post has been written by Aoibheann Roughan of Coláiste Muire, Ennis.
Scríobh Aoibheann Roughan ó Choláiste Muire, Inis, an dara blagiontráil seo.
Ag Comhoibriú i nDearadh Fuaime
Bheartaigh mé mionphlé a dhéanamh i mo bhlag ar cheann de na laethanta ab fhearr liom le linn Keystone. Is éard a bhí ann ná an seisiún dearadh fuaime le Liam McCartan.
Is éard a bhí ann ná an chéim iniúchta agus trialach den tionscnamh. Níos luaithe sa tseachtain iarradh orainn gearrthóga fuaime a thaifeadadh a chur téamaí s'againne d'uaigneas, d'fhéiniúlacht, de phríobháideachas etc. i gcuimhne dúinn. Ansin seoladh na taifeadtaí seo do Liam, an léiritheoir fuaime. Leag sé na gearrthóga fuaime amach ina shaothar ealaíne fuaime iontach. 
Bhuaileamar le Liam go digiteach, ar ghlaoch Zoom. Chuir sé é féin in aithne agus lig sé dúinn éisteacht le cuid den saothar a rinne sé roimhe seo, mar shampla "Blue Morning" agus "Hold your Breath". Thug sé seo léargas dúinn ar an gcuma a d'fhéadfadh a bheith ar an dréacht deiridh. Ansin d'éisteamar le saothar s'againne, agus thosaigh Liam ag cur gnéithe ceoil eile leis. Bhí sé ag baint triail as comhaid fuaime éagsúla, á malartú, agus ag cur maisíochtaí fuaime leo. Chomh maith leis sin, chuir sé uirlisí difriúla isteach cosúil leis an ngiotár nó an méarchlár chun comhcheol a chruthú ó na gearrthóga taifeadta. Dá bharr sin uilig, d'éirigh leis cur lenár dtaifeadtaí, go mbeadh cuma ní ba shuimiúla orthu. Léirigh sé seo tuilleadh mothúchán agus mar gheall air sin, bhí na téamaí ní ba shoiléire. 
Mhínigh sé an próiseas go han-soiléir. An rud a thaitin liom chomh maith ná gur chruthaigh sé cúpla rogha ag gach céim agus scaoil sé dúinn na cinntí a dhéanamh agus vóta a chaitheamh ar son an rud ba mhó a thaitin linn. Ba é ceann de na cinntí seo ná píosa áirithe a mhoilliú. Bhraitheamar gur chruthaigh sé seo atmaisféar níos mó agus níos drámatúla, nó roinnt fuaimeanna áirithe a leagan amach i sraitheanna chun cur leis an díochracht. 
Bhí an píosa ina insint anois. Bhí mé ábalta mothúchán an uaignis a chloisteáil go fíormhaith i roinnt codanna mar shampla nuair a bhain tógáil ghlórach amhrán na n-éan, an méarchlár agus gearrthóga eile an buaicphointe amach, ansin stopann gach rud agus níl le cloisteáil ach bípeáil an mheaisín caife. In áiteanna eile d'aontaíomar gur nasc na téada ceoil na fuaimeanna le chéile, agus bhí caighdeán cineamatach coitianta ann dá bharr. Cruthaíodh atmaisféar croíúil áthasach a chuir laethanta i spás s'againne - in áit s'againne - i gcuimhne don ghrúpa chomh maith. 
Tríd is tríd bhain mé an-taitneamh as an tionscnamh Keystone toisc go bhfuair mé taithí ar réimsí ealaíne nach raibh aon bhaint agam leo roimhe seo. Fuair mé léargas i bhfad níos leithne ar an ealaín chomhaimseartha agus ar na meáin éagsúla is féidir a úsáid. Sáraíodh na tuairimí traidisiúnta faoin ealaín agus tugadh orainn machnamh a dhéanamh ar an gcaoi a bhforbraítear smaointe.
[caption id="attachment_9243" align="alignleft" width="601"]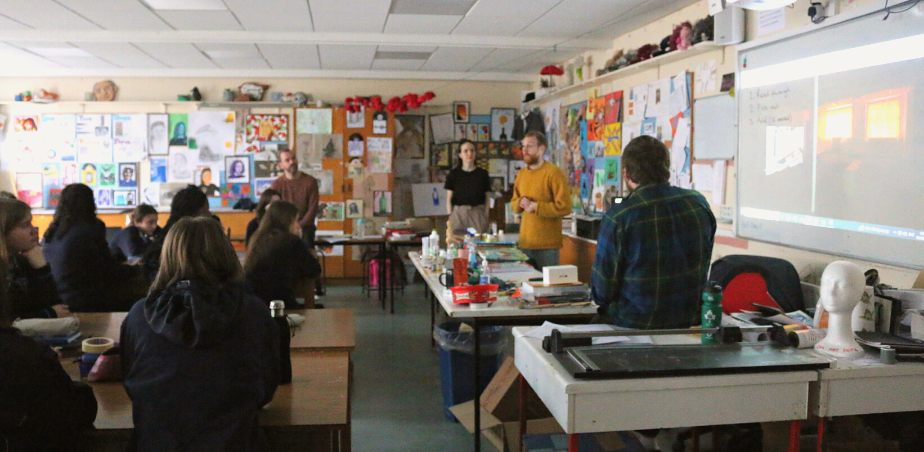 Scoláirí Choláiste Mhuire leis an múinteoir Aidan Power (ar chlé) i rith ceann de na seisiúin rannpháirtíochta leis an ealaíontóir Mitch Conlon (ar dheis ón lár) agus James Moran (ar dheis), chomh maith leis an léiritheoir Fiona Gannon (ar chlé ón lár). Buaiteoir Dhámhachtain Doiciméadaithe Thairseach na nEalaíon san Oideachas 2023, Tionscadal Bunchloch (Keystone), Coláiste Muire, Inis. Íomhá le caoinchead ó Edel Doherty.[/caption]
Foilsithe
27/6/2023
Leibhéal
Réigiún
---