Blag 4 - Coláiste Muire (Ennis) and Scoil Mhuire (Ennistymon), Co. Clare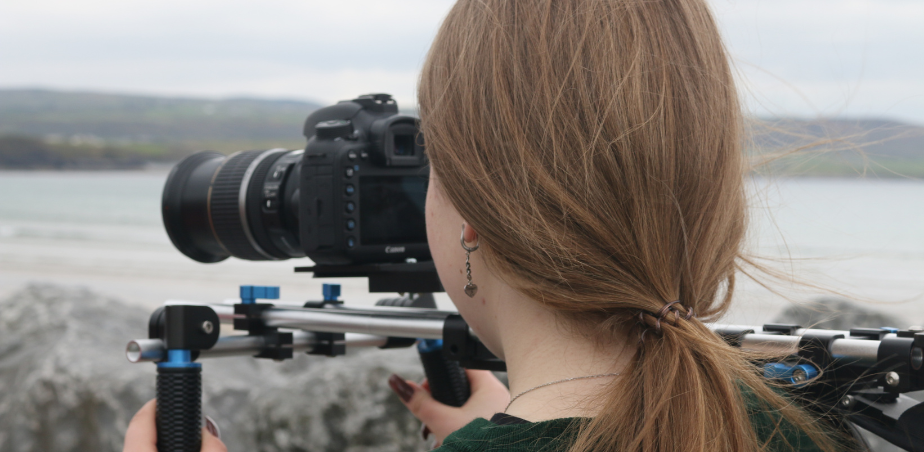 The following blog posts have been written by art teachers Aidan Power and Mary Fahy along with their 5th Year class students in Coláiste Muire (Ennis) and Scoil Mhuire (Ennistymon), Co. Clare. They share their experiences of collaborating with artists Mitch Conlon and James Moran on the project Keystone, commissioned by Clare County Council to celebrate and mark 20 years of artist in schools programming by Clare Arts Office. The curatorial framework Art School, directed and curated by Jennie Guy, were invited to deliver the project, along with co-curator Fiona Gannon. This project is one of the recipients of the 2023 Portal Documentation Award, read the announcement here.
The new Leaving Certificate Art specification focuses on art as social commentary, political and social art and artists in the community, for this reason, the 5th Year students from the respective schools were selected to participate in the project. 
---
Tá an ceathrú blag seo, an blag deiridh, scríofa ag Niamh Lynch ó Scoil Mhuire, Inis Díomáin.
Ár nGuthanna
Le linn 2023 ghlac mé páirt i dtionscadal ealaíne Keystone. Uair sa tseachtain tháinig Mitch agus James, dhá ealaíontóir rathúla, go dtí ár scoil le haghaidh plé, a d'fhorbair ina dhiaidh sin go gníomhaíochtaí agus dul chun cinn ar an tionscadal féin. Sna chéad seachtainí chuireamar go léir aithne ar a chéile trí bheith ag caint agus ag déanamh plé ar na foirmeacha ealaíne is ansa linn. Rud ar chuir mise suntas ann le linn na gcomhráite seo ná an chaint a bhí againn ar chomhoibriú agus an chiall a bhí againn di. Bhí deis againn go léir ár dtuairim a thabhairt, rud a d'fhág timpeallacht an tseomra ranga an-chomhoibríoch. Phléamar ar cheart róil éagsúla a bheith ag daoine sa tionscadal. B'aoibhinn liom na comhráite seo a bheith againn agus aithne a chur ar na healaíontóirí, nó bhí sé i bhfad níos fusa a bheith ag obair ar an tionscadal mar gheall air sin.
Ba é ár gcéad tasc scríobh faoi áit éigin speisialta dúinn. Roghnaigh mé an Leacht mar sin an áit arb as dom agus an áit a raibh an iomad cuimhní deasa agam le mo chairde. Roinneamar go léir ár n-obair leis an rang, rud a thug léargas dúinn ar na háiteanna is ansa linn timpeall an cheantair áitiúil. Ba é an dara tasc dúinn fuaim a thaifeadadh áit éigin inár gceantar nó ár bpobal. Thaifid mé fuaimeanna na dtonn ag briseadh ar an trá mar is fuaim í sin a chuireann mé ar mo shuaimhneas, agus samhlaím í le cuimhní deasa. Roinneamar ár dtaifid fuaime sa rang. Tar éis tuilleadh plé, nuair a lorgaíomar comhspéiseanna sna háiteanna agus na taifid a roghnaíomar, shocraíomar ar na píosaí a d'fhéadfadh a bheith ag teastáil uainn dár scannán. Chuamar go léir chun na Leachta le foireann scannánaíochta agus trealamh chun taifead a dhéanamh. Rinneamar na carraigeacha, an gaineamh etc. a scannánú. Bhaineamar go léir triail as bheith ag scannánaíocht agus an trealamh taifeadta a láimhseáil. Lá an-taitneamhach a bhí ann mar bhí deis againn faoi dheireadh fís a fheiceáil conas a bheadh an tionscadal deiridh. 
An tseachtain ina dhiaidh sin sa seomra ranga fuaireamar ár gcéad dréacht d'fhuaimrian ár ngearrscannáin. San áireamh ann bhí na fuaimeanna go léir a rinneamar a thaifeadadh de láimh níos luaithe sa bhliain, chomh maith le ceol ón seanam. Mhínigh na healaíontóirí go leagfaí ár bpíosaí scannánaíochta síos tar éis an fhuaimriain.
Roinnt seachtainí ina dhiaidh sin, bhí deis againn sa deireadh ár gcéad dréacht den scannán ar fad a fheiceáil. Bhí uimhir curtha le gach radharc. Bhí deis againn a rá céard a thaitin agus nár thaitin linn, trí nótaí a bhreacadh ar gach radharc. Bhraith sé go hiontach a fheiceáil sa deireadh céard a rabhamar ag obair air ar feadh achar chomh fada sin. Cuireadh ár n-aiseolas ar ais chuig na healaíontóirí agus an físghrafadóir, sa chaoi is go ndéanfadh siad an scannán a chur in eagar agus a bheachtú le bheith ag teacht leis an méid a bhí ag teastáil ónár rang. 
Eispéireas iontach a bhí ann a bheith ag glacadh páirt sa tionscadal seo.  Bhí deis againn a bheith mar pháirt de chomhoibriú ollmhór inar chualathas guth gach scoláire. Bhraith sé go hiontach go n-imreodh mo smaointe féin tionchar ar an tionscadal. Táim buíoch as an deis seo, mar bhí mé in ann níos mó a fhoghlaim faoin ealaín chomhoibríoch, rud ar bhreá liom leanúint ar aghaidh á fhiosrú. Go raibh maith agaibh a Jennie, Mitch, James, Fiona agus gach duine a bhfuil baint acu leis an deis iontach seo.  
Foilsithe
24/8/2023
Foirmeacha Ealaíne
Leibhéal
Réigiún
Tags
---