National Gallery of Ireland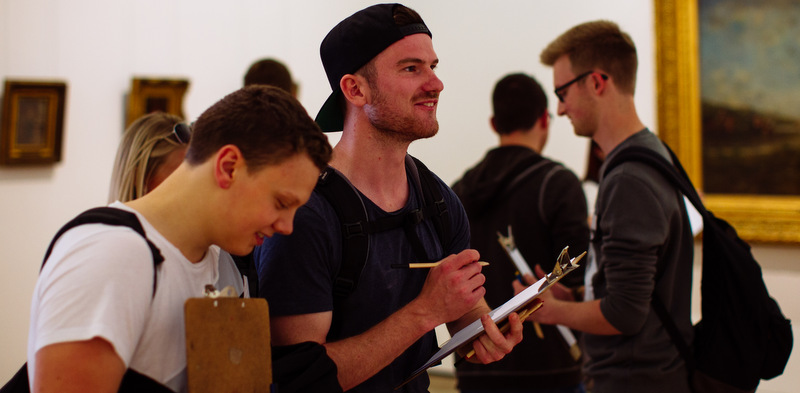 The National Gallery of Ireland houses your National Art Collection.  Originally opened in 1864, it is located in Merrion Square, in the heart of Dublin city, and is an important and vibrant resource which is FREE to visit, easily accessible by public transport, and is open seven days a week, 361 days a year. It contains over 16,300 artworks, spanning the history of Irish and western European art, from around 1300 to the present. It also has a vast library and archive filled with fascinating objects and documents. This offers a unique environment for education and engagement. Here, the learning process can be a transformative, complex, curious and rewarding experience, with the power to provoke positive change whether through a one-off tour or a lasting scheme.
We provide tailored talks, tours, workshops and special events for diverse audiences including teachers and schools, early years, families, young people, adults, lifelong learning and community groups.  The programme connects with the National Collection, special exhibitions and national and local festivals and programmes. Our Access Programme is dedicated to ensuring that individuals or groups with additional needs are catered for within our general public programme and through bespoke activities and events available both onsite and via outreach projects.
For schools we are proud to offer FREE guided tours of the collection and special exhibitions to every school child in Ireland, from pre-school to Post Primary. At all levels, our programme links directly to the curriculum, reflects best practice in Visual Arts Education and can be tailored to the needs of your group. We work onsite, offsite and online with a range of partners to develop tailored school workshops and provide detailed resources on our website.
We run national programmes, including the Zurich Young Portrait Prize, our inclusive art competition for children and young people aged 0 to 18. The annual National Drawing Day takes place in May in galleries, museums, art centres and libraries nationwide.
We welcome the opportunity to connect with new audiences. Find out more about our current programme of education activities here:
https://www.nationalgallery.ie/what-we-do/education-department
Contact Details
---
Contact Name
Sinéad Kathy Rice
Head of Education
---
Address
National Gallery of Ireland
89, Merrion Square West
Dublin 2
D02 K303
Ireland
---
Telephone No.
00353 (0)1 663 3582
---
Email
Education@ngi.ie
---
Website
---
Nuacht - 13 torthaí
---