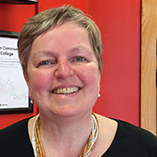 Máire O'Higgins is a teacher and an Assistant Principal at Larkin Community College Dublin 1. She also coordinates partnerships for the College and is the school Chaplain. Máire is 26 years working in the north east inner city. Before she became a teacher she worked as an actor and a Theatre Director.
Larkin Community College is a second level CDETB DEIS Band 1 school in the north east inner city of Dublin. It is a co-educational school with 430 students and a staff of 48. Students come from all over areas of socio-economic disadvantage in Dublin to attend the school. We are a mainstream school. We offer Arts, Soccer, Basketball and Academic Scholarship Programmes.
In the first of her blog series Máire discusses funding, partnership and documentation as part of the Theatre Making and Citizenship Programme with the Abbey Theatre.
---