Blog 1 – Kotryna Knystautaite & Niamh Woods, Student Select Exhibition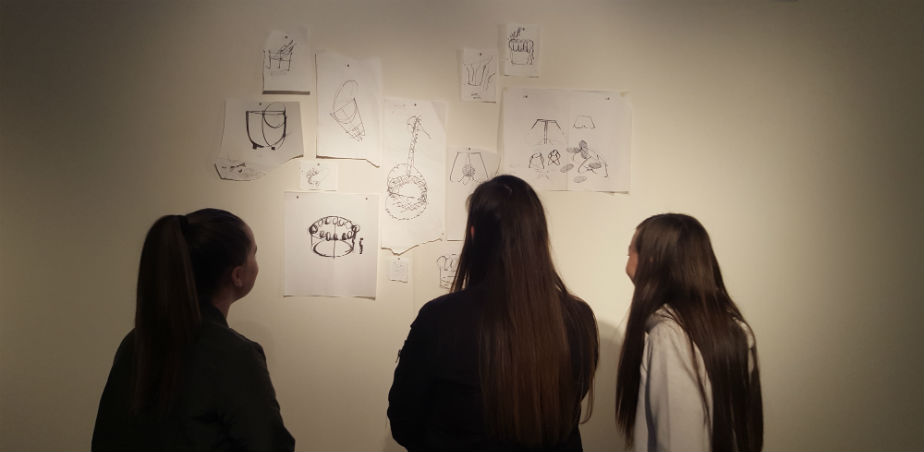 Kotryna Knystautaite from St Oliver's Community College, and Niamh Woods from Our Lady's College, Greenhills, along with 10 other students have been working in partnership with the Highlanes Gallery in Drogheda and with the British Council as part of the 'In Sense of Place: Student Select' exhibition. The students involved have selected and curated an exhibition, which opens Friday the 25th of November 2017.
In Sense of Place: Student Select
A unique exhibition of iconic artworks selected from the Drogheda Municipal Art Collection and the British Council Collection selected and curated by Drogheda secondary school students.
In Sense of Place is supported by the British Council, Drogheda Credit Union, Drogheda-Bettystown-Trim. Highlanes Gallery's ongoing funders are Louth County Council and the Arts Council.
Student Blog – No. 1
Nearing the middle of our Transition Year, our art teachers, Kieran Gallagher (St. Oliver's) and Áine Curran (Our Lady's College), told us we would be collaborating in the curation of an art exhibition for the Highlanes Gallery, here in Drogheda. Before we started this project, we didn't know much about what a curator did; how much work and research was involved in creating an exhibition. We were always the artists, but never would we have thought of being curators. To our first few meetings at the Highlanes, we came in filled with curiosity, intrigue and excitement- and these have only intensified coming closer to the final countdown. At the first few meetings, we looked at the British Council's Collection for artwork that we liked. Then we discussed why we admired these pieces; we spoke of colours, mediums and what the imagery made us feel, think. We made lists of the art we desired and sent it out to the British Council. Unfortunately, some of the artwork was unavailable – but we kept looking until we found other works that we liked.
During the summer, we got the chance to go out to Dublin and visit a few art galleries. We collected our own research on things like how tours were given, lighting and labelling. The information we gathered would be applicable to our exhibition and it was helpful to see how these galleries were run. Dublin City Gallery The Hugh Lane was the first gallery we visited. We had a quick but informative tour as time was limited. Then our enthusiastic tour guide at The Little Museum of Dublin gave us a very interesting tour through Stephen's Green. The Kerlin Gallery was next on our list. We all agreed on how unique and beautiful the gallery space was. We then went from the Kerlin gallery to another contemporary gallery, The Douglas Hyde Gallery. After that, we visited the RHA, which was filled with compelling works. The National Gallery was displaying the drawings of Leonardo da Vinci at this time which we had the chance to see. Lastly we were invited to the opening of an exhibition in Farmleigh. The trip gave us invaluable experience for what is to come.
When a final list of the artwork was agreed on, we had to link all this artwork to a theme. Luckily, the works we've chosen did in fact have numerous themes combining them. We also had the privilege of choosing works from the Drogheda Municipal Art collection. Then we moved on to the important task of naming the exhibition. There was many ingenious suggestions made, but in the end "In Sense Of Place", we felt defined our whole perception of these artworks. We not only had to unite the artworks to a theme, but also the artists to each other. We did extensive background research on these artists, their work, their style and their art movements.
Now with less than two weeks until showtime; the work has doubled, but also our enthusiasm and passion.
Written by Kotryna Knystautaite & Niamh Woods
Published
30/11/2016
Artforms
School Level
Region
---