Blog 1 – Lucy Hill, Artist in Residence, Virtually There Project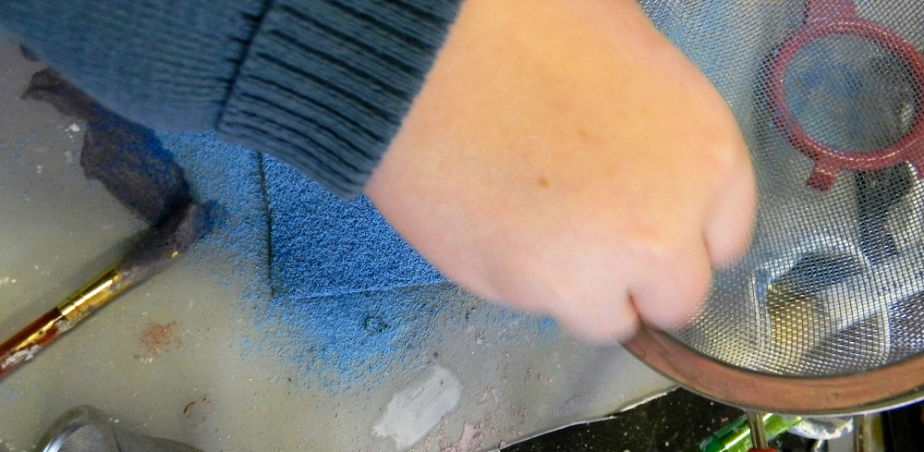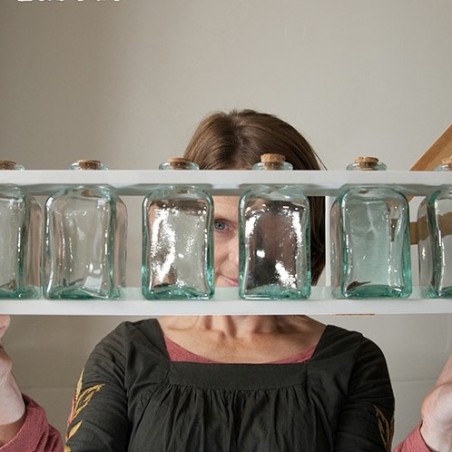 Lucy Hill completed an M.F.A at Winchester School of Arts in Barcelona having previously studied painting at Crawford College of Art in Cork. She has won several awards (George Campbell Memorial Award, Thomas Dammann Award), public art commissions (Wexford & Mayo County Councils) and exhibited in solo and selected group shows (EV+A, Claremorris Open). She has been working with children through a wide variety of projects and organisations for fifteen years. She is in the second year of her practice based PhD at NCAD researching material engagement in early childhood.
Image: Artist Lucy Hill examines her Death Jars, part of her interactive Children's art exhibition 'paint' at the Linenhall Arts Centre, Castlebar. Photo Alison Laredo
Artist in Residence with the Kids' Own, Virtually There Project
Our project began when we met on our first training day in Portlaoise. We were set a task to create something together using the available materials (markers, paper, tape, pencils). It was a gorgeous sunny day so we opted to take the materials outside. There was a breeze that kept catching the papers we had laid on the ground, so we weighted them with different found objects: sticks, stones, leaves. A woodlouse crawled across one of them and we followed its trail with a pencil line. There were linear cracks in the paving stones. We traced shadows from the strong sunlight. We 'painted' with the available moss. We found that the breeze, the light and the 'wild life' made us follow the materials. There was an equality to that process between artist, teacher, materials and environment that we both responded to. That idea of 'Following Materials' became a clear starting point for our project with the children.
I am very lucky to have a Creative Resource Centre in Castlebar, so I loaded up the car before travelling to Tralee with card, elastic, string, paper, cotton, hessian, plastic, tubing, test jars, tape, lids, bottles, cones, fabric, netting, black board, beads, ribbon, chalk, pestle and mortars, sieves, glues, stones, sticks, wool, felt. As is to be expected, the children responded really well to the explosion of different materials brought into their classroom. The freedom to physically move around the room also played an important part as did the decision to take the entire school day for the project. The materials generated an excitement and flow of possibility and so Carmel and I became very much secondary to the general activity. We were able to help with individual creative engineering problems as they arose and to watch as the materials led the children on a wide and varied series of routes sparked by their own passions and knowledge. When we had finished and were reflecting on the day, the children's questions and comments were rooted in their own experiences and so we had a really insightful set of statements to think about, which will definitely spark the next sessions.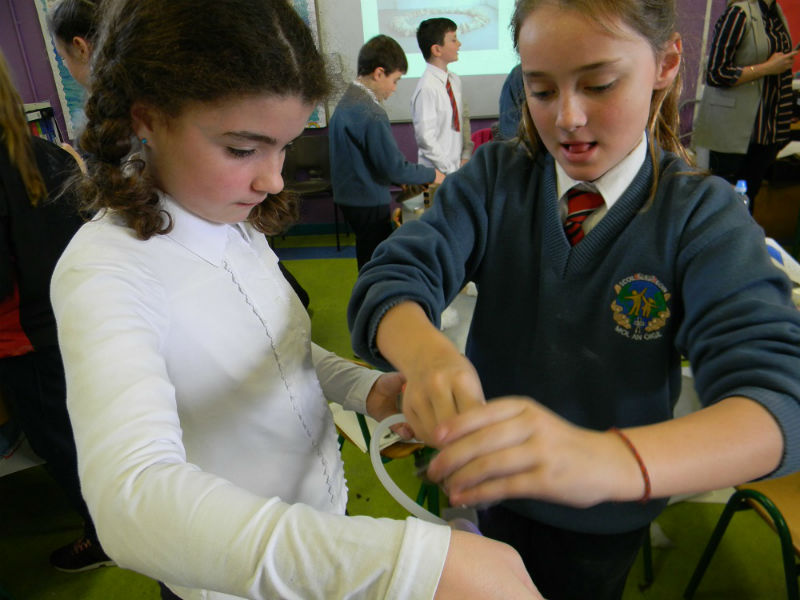 Getting to know the children through their working methods with the materials gives a privileged insight into their unique personalities but also for me as a visitor, into their deep bonds as a class group. I usually work with children outside of school environments and so I was really struck by how close and knowing their working relationships are. Also, the introduction of materials that invite exciting ideas rather than particular skills generates an equality that is really interesting to watch. The children all seemed to be on an equal footing, with no-one being selected as 'the best' (which may put them under an expectant pressure or hold others in their shadow a little). Everyone got on with their own ideas unconcerned and unintimidated, thanks to the level field introduced by the new materials. Carmel and I were free to check in with each other regularly as to how it was all going, which is a lovely reassuring thing for us as adults that hugely benefits the children by really focusing on and protecting the creative flow. In terms of my relationship with the class, I gratefully accepted all their warm and generous words during our reflection but I'm very aware that the real positivity lies in the natural, exciting entanglements between the materials and the children themselves. I'm really interested to see how it translates or is transformed through the addition of the virtual element next week.
This blog is part of a joint series with primary teacher Carmel Broderick as part of the Virtually There, Artist in Residence Project with Kids' Own Publishing Partnership. 
Published
30/11/2016
Artforms
School Level
Region
---