Blog 2 – Lucy Hill, Artist in Residence, Virtually There Project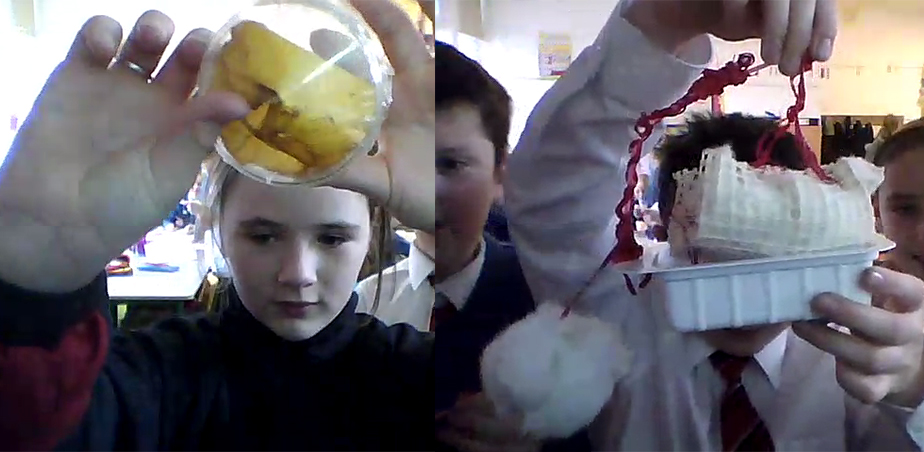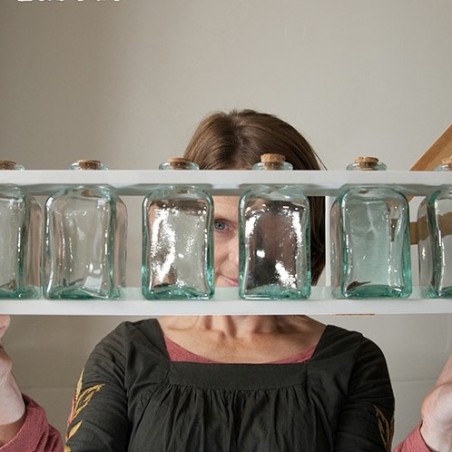 Lucy Hill completed an M.F.A at Winchester School of Arts in Barcelona having previously studied painting at Crawford College of Art in Cork. She has won several awards (George Campbell Memorial Award, Thomas Dammann Award), public art commissions (Wexford & Mayo County Councils) and exhibited in solo and selected group shows (EV+A, Claremorris Open). She has been working with children through a wide variety of projects and organisations for fifteen years. She is in the second year of her practice based PhD at NCAD researching material engagement in early childhood.
Image: Artist Lucy Hill examines her Death Jars, part of her interactive Children's art exhibition 'paint' at the Linenhall Arts Centre, Castlebar. Photo Alison Laredo
First Virtual Visit

As part of our training before the project with the children began, Carmel (my project partner teacher in Scoil Eoin, Tralee) and I scheduled in a couple of technology 'play dates'. This helped us work out any glitches, internet speed, how we related, communicated and looked. My studio space is in the Customs House Studios in Westport and at the moment I'm working on a research project so, it looks (to my own children at least) like I'm plotting the downfall of a small country…charts, maps, sticky notes, colour coding, a lot of chopped up text stuck on the walls…maybe not what the class expect an artist's studio to look like……I needn't have worried…..they were far too busy with the work in the classroom.
For our first virtual visit we had decided that we would use a selection of materials in the classroom that I had brought for the 'actual' visit. We had separated each material into a numbered pocket folder. We then had a lottery selection with me matching each child to a number/material. The question we asked was 'What might materials do to each other?' so in teams of two initially, the children devised visual sequences of possible interactions between their materials and set up a photo shoot. Then we got nicely complicated in teams of four, then eight. They drew with pencils and markers as they planned, and again once they had set up their material interactions.
I actually found the virtual aspect quite tricky. It's entirely natural when you are physically in a room full of children with creative action unfolding, to be able to tune in, to listen, watch, play, interact and try to read and understand the atmosphere being generated…….but virtually, it's a little disconcerting. I was trying to see around corners, onto desks, into hands….it was like wearing vision restricting goggles. The up-side was that when the children were at the screen talking to me, they really had to explain themselves clearly and I could see some of their ideas being solidified for them in that process. I found it very funny too as some children couldn't help but fix their hair as they talked to me/themselves or try to surprise me by popping up out of nowhere.
The photo shoots were very exciting. They were expert at setting up clear uncluttered shots, some making sophisticated stop motion sequences. They happened at the back of the classroom so I had no control at all over how they were progressing and no idea what the images would look like. And then they took their materials outside to see how would they behave or change with the inclusion of the weather and the school yard. They waved me good bye and switched me off. I waited anxiously for half an hour. At last, they switched me back on and while taking off coats and fixing wind swept hair, they told me about how they had got on. The photos they took were fantastic. In our discussions, a question had come up about 'pixel art' so after the session was over, I played around with pixelating some of their photos, I hope they like the results.
In our next virtual session, we are going to ask 'What might materials do to us?'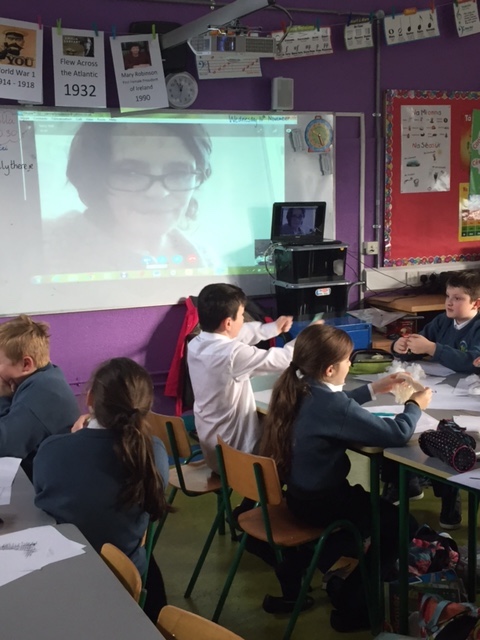 This blog is part of a joint series with primary teacher Carmel Broderick as part of the Virtually There, Artist in Residence Project with Kids' Own Publishing Partnership. 
Published
20/12/2016
Artforms
School Level
Region
---