Ireland's first history book written and illustrated by primary school children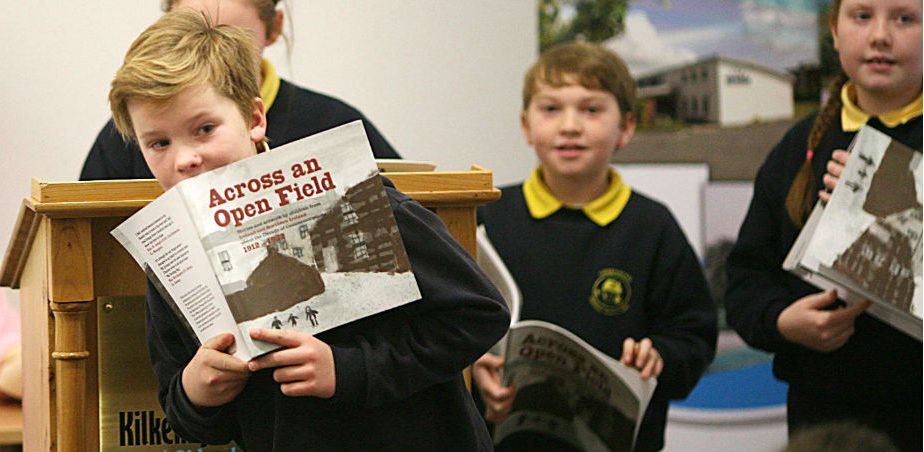 Kids' Own Publishing Partnership 
Across an Open Field is the first Irish history book written and illustrated by children, revealing unique accounts and personal insights into Ireland's past. Over 300 children from 10 primary schools in Ireland and Northern Ireland investigated the events of 1912-1922 during a two-year project led by Kids' Own Publishing Partnership. Funded by the Department of Foreign Affairs Reconciliation Fund, the book project took place with children aged 8-12 in schools in Antrim, Down, Dublin, Galway, Kilkenny, Limerick, Monaghan and Tyrone. Across an Open Field was launched by the Minister for Education and Skills, Richard Bruton, T.D. on November 25th in Kilkenny Education Centre.
To create the publication, the children became action researchers within their own communities, each school taking a different direction as the children found their own areas of interest and exploration. Several schools engaged a local historian to support them in their research and the long-term nature of the project provided the scope for the children to look beyond the received myths and perceptions around historical events.
Across an Open Field captures the children's fascinations across global and national happenings, local events and family stories in the 1912-1922 era. Some children were drawn to social change and economic development, and explorations included the Suffragette movement, transportation, workers' rights and the children of the 1913 Lockout. The minutiae behind global events such as World War I were another source of intrigue. We learn about family histories and the role of blood relations during The Easter Rising and The War of Independence. Other children were captured by a single story – from pioneer aviator Denys Corbett Wilson to the Clones Shootings – which they chose to explore collectively in more detail.
Paul Fields, Director of Kilkenny Education Centre, said: 'This publication demonstrates the commonality, humanity and concerns of our nation, all written and drawn by children. It offers a platform for historical discussion about our nation, our people, and how our children understand its evolution, development, emergence and identity.'
Fíonán Carolan, aged 12, St Joseph's BNS, Carrickmacross, Monaghan, said: 'When the project started I asked my Dad if he had any relations in the war or anything to do with the Easter Rising. I didn't expect to have any connection. It was very interesting to find out how they lived. I've become passionate about history, the Rising, the War, Michael Collins, the Titanic and the Lusitania.'
Linda O'Sullivan, Teacher at St Joseph's BNS, Carrickmacross, Co. Monaghan, said: 'I feel that children have developed a wonderful sense of how history can leap off the page and come alive for them from this project.'
Marie O'Donoghue of the Education Authority, Northern Ireland, said: 'The pioneering methods of Kids' Own forge a rich environment where creativity is nurtured and developed. When children are placed in this type of environment they never cease to amaze us. They shine with their ability to think for themselves, to solve problems and to notice something that we would never think of. The depth and breadth of the learning that the children are experiencing is tangible. This is education at its best.'
Orla Kenny, Director of Kids' Own, said: 'This publication provides a unique and significant resource as a first history-book publication developed by children as part of the commemoration initiative. The title of the book is drawn from the children's own words – from a story about World War One – but as the title, it seeks to convey history as an open field of investigation. We hope that it offers a stimulus for continued dialogue and learning, and inspires children everywhere to have a deeper connection with our history and our culture.'
Across an Open Field is published by Kids' Own Publishing Partnership in association with Kilkenny Education Centre (representing the Association of Teacher Education Centres in Ireland) and the Education Authority, Northern Ireland. The children's historical research is documented on a dedicated website which includes case studies and videos capturing their voices and perspectives: 100yearhistory.com
The publication is available from kidsown.ie.
Published
5/12/2016
Artforms
School Level
Region
---