Blog 4 – Máire O'Higgins – Teacher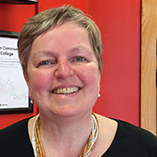 Máire O'Higgins is a teacher and an Assistant Principal at Larkin Community College Dublin 1. She also coordinates partnerships for the College and is the school Chaplain. Máire is 26 years working in the north east inner city. Before she became a teacher she worked as an actor and a Theatre Director.
Larkin Community College is a second level CDETB DEIS Band 1 school in the north east inner city of Dublin. It is a co-educational school with 430 students and a staff of 48. Students come from all over areas of socio-economic disadvantage in Dublin to attend the school. We are a mainstream school. We offer Arts, Soccer, Basketball and Academic Scholarship Programmes.
In the first of her blog series Máire discusses funding, partnership and documentation as part of the Theatre Making and Citizenship Programme with the Abbey Theatre.
Blog 4 – December 2017
It is six months since we finished the Reimagining Education showcase and exhibition with students and staff from Larkin Community College and the Gaiety School of Acting.
The showcase and exhibition were a great success. The discussions after each showcase were enlightening and exciting. It was heartening to hear what young people thought about their own education. It was poignant to hear what older adults remembered about their often limited creative engagement with education.
Did we succeed with this partnership project? Yes, on so many levels.
The work was a celebration of a year of hard work and focused engagement with the theme of reimagining education. It gave a voice to young and old and allowed them to express their opinions about education. Students developed skills in independent research, collaborative learning, planning an event, Theatre Making and curation. Students mirrored the world of work by modelling best practice in curation and theatre making.
However a lot of the good work that was done to ensure a strong aesthetic standard in performance and in curation, was done in teachers' and facilitators' own time. And that is not sustainable. This sad reality shines a light on what is currently the reality in our education systems at second level, in particular in second level DEIS schools (a DEIS school is a school that receives more funding from the Department of Education and Skills to deliver equality of opportunity in schools).
I hope that in naming what that reality is, we can help to reimagine a new and exciting DEIS model.
In the year of our partnership project with the Gaiety School of Acting, teachers and facilitators had two classes a week for one hour at a time, to research, devise, rehearse and produce a showcase about reimagining education. They also had two classes a week for one hour at a time to create exhibits and a catalogue for an exhibition. Outside of this time teachers met with each other and with facilitators from the Gaiety School of Acting in their own time, to plan and reflect on processes and prepare for the exhibition and showcase. We loved the experience but it took its toll.
The key to the project's success was twofold:
firstly, the regular meetings we held to connect with each other and the project;
secondly, the critical development of our own passions around the project.
We all bought into the vision for the project and we were able to check in with each other as we progressed, to make sure that we were all still clear on that vision.
This work as I have stated was done in our own time. We were happy to give of our time voluntarily but this way of working is not sustainable in a wise education system. Volunteering in a school community is important but it should not form the core work of creative engagement in education. If the core work relies on volunteerism it will quickly move to adhoc provision of best practice in education.
Sadly for this project, none of what the students did could be formally assessed in education last year. This year with the new Junior Cycle, we can thankfully now record similar processes and outcomes and formally acknowledge this type of work. That is great news.
However for us to continue to engage creatively in education with partners is challenging for a myriad reasons.
For instance, teachers are often now on year to year contracts. This makes it difficult to plan a project with a colleague until we know that they will be working with us the next year.
We cannot apply for funding until we know who may be engaging with the projects.
Funding then does not often come in to the school until the middle of the first term.
All of this means that is really hard to plan projects for the academic year.
An exciting model for education would be one where teachers and artists are supported and empowered to create a strategic direction for a school for five years. This would allow us to deepen practices and develop innovative programmes that can nurture creativity in education for stakeholders and for young people.
It is hugely time consuming trying to fundraise and plan and build experience amongst teachers so that we can best serve young people.
Working in a DEIS school, we work with young people from areas of socio-economic disadvantage. One of the factors that contribute to instability in the lives of the young people we work with is the often chaotic patters they encounter in their personal lives. These include constant changes in the home, breakdown of family relations as well as addiction outcomes such as unpredictable behaviour in the home. Change happens too frequently and causes instability for our young people.  It is a real pity then that they find that their school life mirrors this with a high turnover of staff annually due to employment structures in education. Offering five year contracts to those who work in DEIS schools would support wise planning and sustainable structures in DEIS schools and create stability for our young people. Teachers and partners could plan, fundraise, build research components and evaluations, reflect and reiterate best practices in creative engagement. I firmly believe that this would begin to address equity and equality in some of our most deprived communities in Ireland.
Published
20/12/2017
School Level
Region
---