Scoileanna Ildánacha / Creative Schools Pilot Begins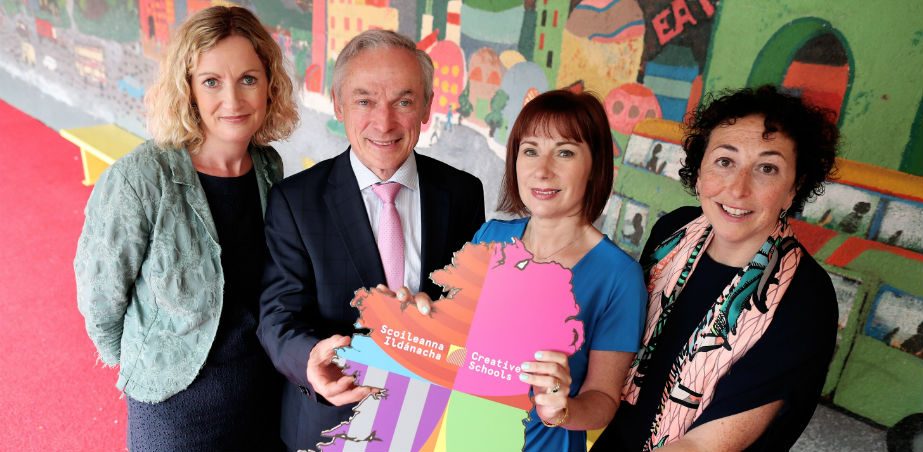 The Arts Council's Creative Schools Initiative
Chosen from over 400 applicants, 150 schools across Ireland will participate in the new Creative Schools pilot which aims to put the arts and creativity at the heart of children and young people's lives. The schools chosen include primary schools, secondary schools, Youthreach centres, special schools, DEIS schools, co-educational schools, rural, urban, single-sex and Irish-language medium schools. Their work will begin in the new school year and run through to the summer of 2019.
The enthusiastic response to the call for applications suggests just how vital the arts and creativity are within schools across the country. In their application, schools had to explain how their participation would support learning and development in the arts and creativity, their capacity to engage as a school and their plans for ensuring that children and young people play an active role in developing, implementing and evaluating their work as a Creative School. Through the programme, the Arts Council is engaging with children and young people across the country to develop their creativity and linking them to  the arts and creative infrastructure in their locality and nationally.
Schools selected for the pilot will benefit from a package of support which includes funding and expertise from a Creative Associate to help them to understand, develop and celebrate the impact of the arts and creativity on school life. With the support of their Creative Associate, schools will develop a Creative School Plan and design a unique programme that responds to the needs and priorities of their school. This process will support children and young people to challenge themselves in new ways, to gain in confidence and to take a more active role in learning.
The Creative Schools team within the Arts Council will be travelling the country in September and October training and inducting Creative Associates, School Co-ordinators and other teachers from each of the 150 schools.
This innovative pilot is a cornerstone of the Creative Youth Plan, an initiative of the Creative Ireland Programme, led by the Arts Council and in collaboration with the Department of Culture, Heritage and the Gaeltacht and the Department of Education and Skills.
Future opportunities for Creative Schools will be included in the Arts Council's newsletter which you can subscribe to at the following link: www.artscouncil.ie/about-us/newsletter/. They will also be posted on their website where a full list of the 150 schools participating in the pilot can also be found: www.artscouncil.ie/creative-schools/pilot-schools/
Published
27/8/2018
Artforms
School Level
Region
---