Guest Blogger: Claire Murphy, Irish Forest School Association – Blog No.1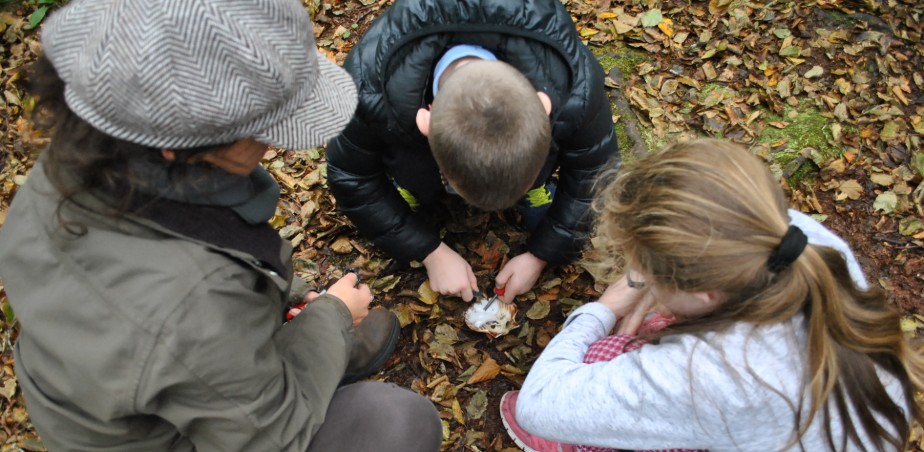 The Irish Forest School Association (IFSA) was founded in 2016 and is engaged in the promotion and development of the Forest School (FS) movement in Ireland.  We bring Forest School practitioners together to inspire inclusive, playful learning for all, in nature.  We want to build resilience and relationships, through our connection with each other, and the natural world, while inspiring creativity and supporting wellbeing. More information can be found on our website www.irishforestschoolassociation.ie.  Some of our members will describe their engagement in Forest School in this series of blog posts. First up is Claire Murphy:
MarieClaire (Claire) Murphy is a primary school teacher, forest school leader and a PhD researcher in Mary Immaculate College, Limerick. Thanks to funding from the Heritage in Schools scheme, Claire is currently working collaboratively with a Forest School Leader to bring a high-quality learning experience to primary school children.
Exploring the Visual Arts Curriculum in Primary School the Forest School Way – Blog 1
We know that one in six Irish parents don't think it's safe for their five-year-old child to play outside at home during the day (Early Childhood Ireland 2019). So opportunities to explore and to be in natural environments are increasingly limited for young children. Forest School inspires learning through interactive games, activities, songs, stories, nature crafts, foraging and sensory nature meditations. The sensory exploration deepens the children's connections to nature as a result igniting curiosity and questioning, a fantastic gateway to learning about nature.
Forest School occurs as a weekly session in the child's standard preschool or primary school context. The primary aim of Forest School is the development of children's self-esteem, self-confidence and independence skills. A second aim is to encourage children to appreciate, care for and respect the natural environment (Maynard 2007). Taking risks is also an important element of this approach. The learners engage in activities such as building shelters, cooking on camp fires and identifying plant and wildlife (Harris 2017). The focus is on the whole child and their experiences developing the child's independence and self-esteem through their engagement with the natural environment (Murray and O'Brien 2005).
The Visual Arts Primary School Curriculum presents a range of activities for the child to perceive, explore, respond to and appreciate the visual world, this involves 'looking with awareness and understanding of the visual elements and their interplay in the environment and in art works' (NCCA  1999, p. 2). One of the general aims of the Arts in Education includes the development of the child's awareness of, sensitivity too and enjoyment of visual, aural, tactile and spatial qualities in the environment (NCCA 1999, p.4).
I explored the Visual Arts 'Construction' strand through this Forest School approach in a small-scale study. This was conducted in a 1st Class in a large, urban, DEIS status school. Overall, I found that there was a positive response as the majority of children noted that they 'liked' the lessons. There was evidence that children were engaged in the learning process and they displayed a development of new vocabulary associated with Forest School. I observed enthusiasm and engagement in the visual arts making process. I also found some unanticipated results of the study; I tended to structure group work in the classroom, but I found that this occurred more naturally during the Forest School sessions. Children had space to move from group to group, some enjoyed working in small groups of 2 or 3 children, while others preferred larger groups. Children had control of their social space. One child in particular tended to become frustrated with children at his group in the classroom. I observed that he moved away from the group for certain periods of time to work on his own, returning to the group when he was ready. There was a change of attitude towards the outdoors and the creatures found outdoors. One example of this is the class' decision to protect an earthworm from the sunlight with leaves.
I am now continuing this research in a larger scale study. I am investigating the impact of the introduction of weekly Forest School sessions in an Irish Primary School setting. The Forest School sessions will take place in four mainstream classes, ensuring that there are observations of each of the curriculum levels as delivered in the Irish Primary school system. This is being conducted over the period of an academic year which ensures that each class engages in Forest School sessions for 10 weeks. The impact will be explored through the perspective of the teacher and the child to explore whether the teaching and learning methodologies used during Forest School sessions are consonant with teaching and learning methodologies advocated in the Irish Primary School Curriculum
Further reading of the integration of the Irish Visual Arts curricular objectives through the Forest School approach can be found in Claire's paper in The Journal of Adventure Education and Outdoor Learning; https://www.tandfonline.com/doi/full/10.1080/14729679.2018.1443481
---