Guest Blogger: Ciara Gallagher Creativity & Change programme participant – Blog No. 4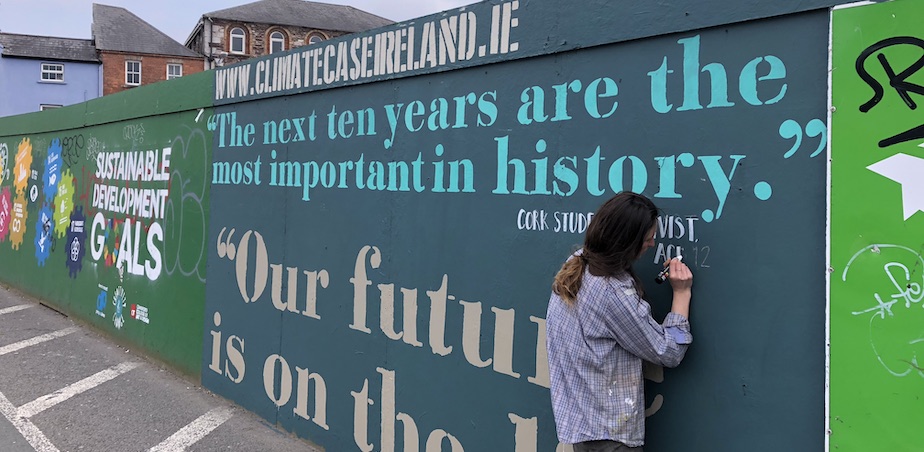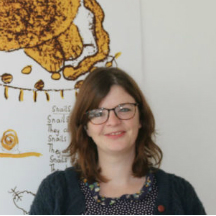 Ciara has a PhD in English from Maynooth University. She has worked as researcher on the National Collection of Children's Books (TCD) and "Gender Identity: Child Readers and Library Collections" at the Centre for Children's Literature and Culture, DCU. She has taught English in various universities and currently works at Kids' Own Publishing Partnership as Administrative and Development Officer.
Blog 4 – On Practising Creativity and Change
The second half of the Creativity and Change course focused on "application to practice" – on applying the forms and modes of creative engagement we had experienced and worked with in the first half of the course. Over numerous weekends, we practiced creativity across a variety of forms. In small teams, we co-facilitated creative workshops to critically focus on important local and global justice issues with our peers. We created a 60 foot piece of street art – participating in the entire process from beginning to end.  We planned and designed a number of creative street actions to engage the public in Cork city in support of Climate Case Ireland.
A core part of the Creativity and Change course is its focus on connecting learning that occurs through the head, hand, and heart – through reflection and critical thinking, through doing, making and taking action, and through affective learning and creating connections. Each weekend, each activity, actively engaged all three modes of learning. Not only did we practice the application of creativity and creative processes to encourage a critical reflection and action to change on global justice issues, we also built a community, a collective, however temporary, within which these experiences became all the more meaningful.
This head, hand, and heart model is not just something to apply to just certain learning experiences, but something that can inform so many areas of our lives, our learning, our teaching, our living. This too, like creativity, is something to practice each day and to continually build on.
Now, perhaps more than ever, it seems like the time to take action in our world, to resist retreating into apathy. The scale and persistence of the global justice issues that we face can make taking action seem like an impossible task. What the Creativity and Change course encourages is a sense that this continually coming back to these issues need not feel futile, or as evidence that things do not change despite our best efforts. That instead, circling back to social justice issues in new, creative, and diverse ways, is also something to live, and to make part of our lives.
---