Minister McHugh announces launch of Arts and Culture in Education Research Repository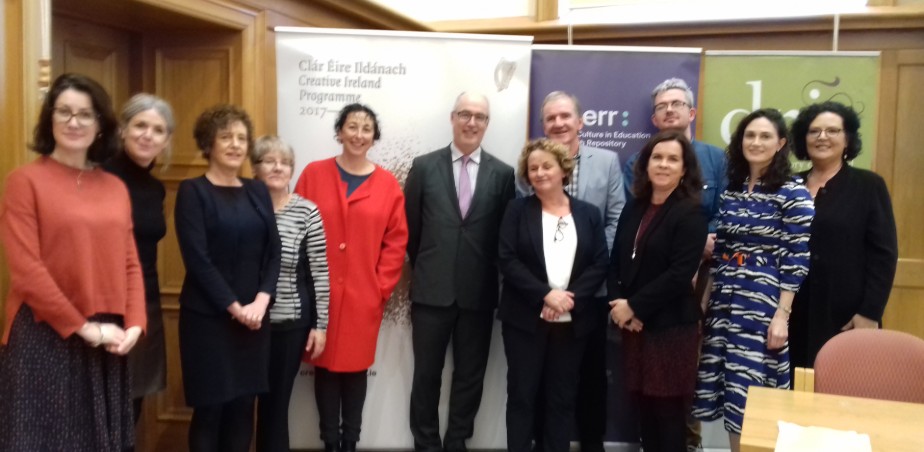 Launch of archive to preserve Arts in Education content and showcase the work of creative organisations in Ireland
The Minister for Education and Skills Joe McHugh T.D. on Monday September 23rd announced the opening of a new free-to-access online archive to showcase creative activity of teachers, artists, researchers and others.
The Arts and Culture in Education Research Repository (ACERR) will be open to people working in education and the public, allowing them an insight into the inspirational ideas being developed for schools.
Some of the work available in the archive includes an essay from the UCC School of Digital Humanities on using Minecraft as a tool for creative engagement in the classroom and a project on using rap music as a creative method in research with children and young people.
The repository also details the experiences of Lisa Cahill, a dance artist in residence at Maynooth University in 2016. The repository has allowed for videos of Lisa's work to be recorded and uploaded for the public to view.
It is hoped the archive will be expanded as teachers, schools, arts and cultural researchers, academics, colleges and universities and artists offer resources including video, music, dance, drama and art.
The repository will also help to overcome traditional barriers to publication for arts and creative practitioners.
Making the announcement, Minister McHugh said: "This Government is doing huge work to put creativity to the fore of a child's education and development, not least with the 300 schools in the Creative Ireland programme or the growth of Music Generation.
"The new archive will grow over time and help to cement the great work already being done every day in our classrooms as well as giving researchers and parents and others an insight into how we can inspire the next generation."
The ACERR has been developed as part of the Creative Ireland Programme and has been supported by the Dormant Accounts Funds.
To access the ACERR click on the link here.
Published
30/9/2019
School Level
Region
---