Opportunity for Artists: Branar Tiny Show/Seóanna Bídeachs Residency Open for Applications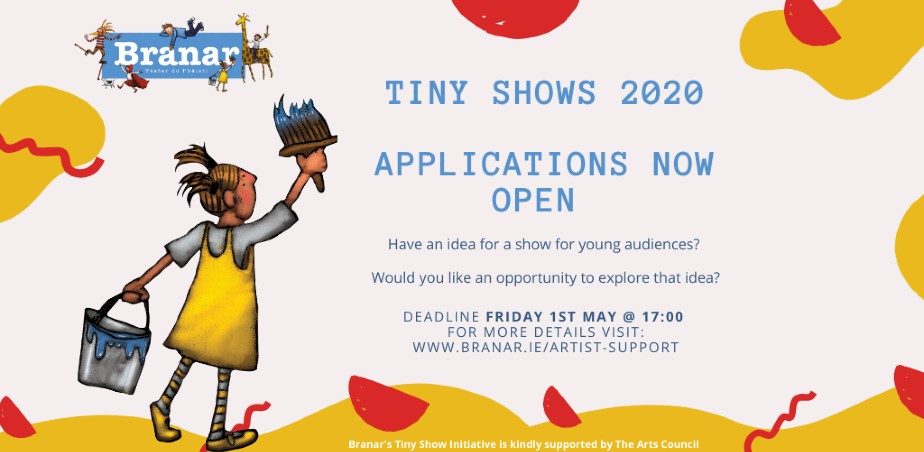 Branar Téatar do Pháistí
Deadline: 5pm, 1 may 2020
Do you have an idea for a show for young audiences?
Would you like to explore that idea?
Do you want to work with new art forms?
Branar's Tiny Shows/Seóanna Bídeach initiative offers artists & theatre makers time and space to explore & develop new skills, new roles and new work in a developmental context.
This weekend long residency will facilitate the early stage development of ideas for new shows for young audiences.
The residency provides artists with the opportunity to:
try out new and early stage seed ideas for young audiences
explore working in a collaborative environment with fellow practitioners
explore areas of practice, including live music, dance, puppetry, clown, mask, text and new media
experiment both with form and their own artistic practice in a supportive environment
Expected outcomes of this initiative include:
Exploring and gaining experience with new theatrical forms.
The development and creation of new work for young audiences.
Encouragement to the create of work for children.
Previous applicants are welcome to apply again, with the same or new idea.
For further information or questions about Tiny Shows, please contact Niamh on info@branar.ie or go to www.branar.ie/tiny-shows.
Published
27/4/2020
Artforms
Region
---