Part 1 – Virtual Portal Regional Series Round Up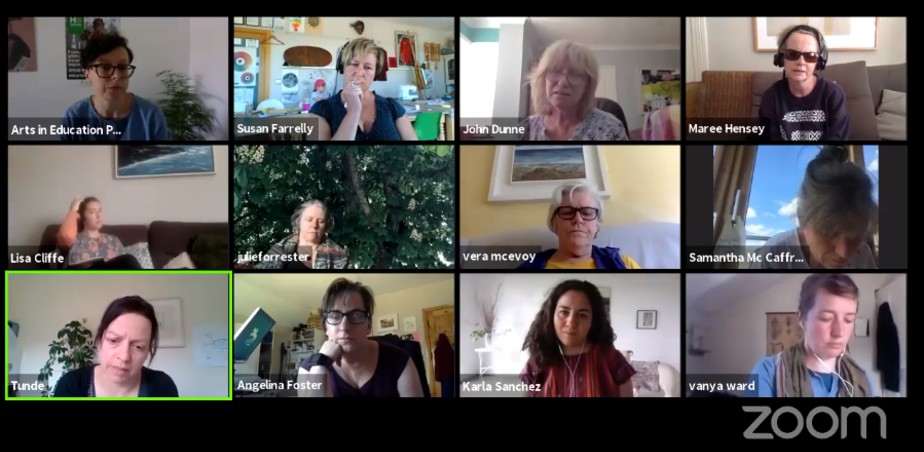 Arts in Education Portal 
Over 130 artists, teachers and arts in education professionals joined us live across the week for the first virtual Portal Regional Series which showcased arts in education and creative practise in the South East.
On Monday curator Karla Sanchez and artist Clare Breen shared with us their experience on The Living Arts Project,  a long-term primary school arts in education initiative supported by Wexford Arts Centre in partnership with the Arts Department of Wexford County Council.
Key themes that arose from the discussion were the importance of partnerships, relationships and adaptability; how these values have allowed the project to organically develop and strengthen over its thirteen years.
We were delighted to be joined in the discussion by Wexford Arts Office Liz Burns, Elizabeth Whyte Executive Director/CEO of Wexford Arts Centre and Visual Art Curator Catherine Bowe who spoke about the value of evaluation. How listening and building on the feedback from the children, artists and teachers involved has allowed the project to organically grow and adapt year on year.
Karla also introduced us to 'Curious Minds' a resource pack for teachers which was developed this year by Karla and artist Els Dietvorst with the aim of disseminating the learning from the project. Curious Minds will be launched as part of Cruinniú na nÓg in June with a local launch in September.
In Tuesdays session artist, educator and researcher Tunde Toth led us in a presentation exploring co-ownership and participation within a classroom setting, where we truly value children's questions, responses and doubts.
Tunde introduced us to the idea of taking creative risks and the importance of creating a space where children can make decisions and voice their opinions.
For those who missed the discussions they will be available to watch back this month on the Arts in Education Portal Facebook page.
Facebook Live Videos Links: 
Discussion: The Living Arts Project
Presentation: Danger Art with Tunde Toth
Links for further Information:
Published
30/5/2020
School Level
Region
---