Curious Minds – Resources for Teachers created by Visual Artists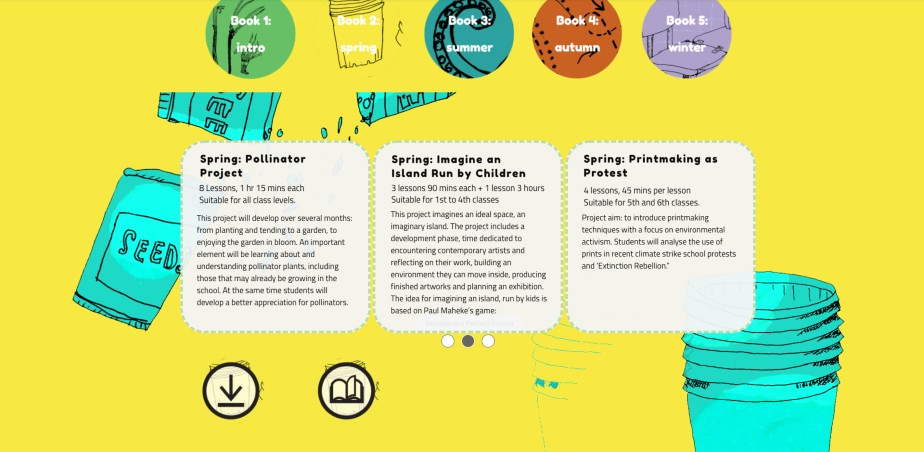 "Curious Minds" is a series of booklets with lessons for primary school teachers created by professional Visual Artists.
This free digital resource offers more than 16 projects, with 43 lessons in total, divided into five books: one with the foundation; and four with projects for every season (most projects or lessons can be used any time of the year). It also includes various "warm-up" and awareness exercises (including "gymnastics for the brain").
The content focuses on four main themes: belonging, identity, consumerism, and the environment. It is organised in such a way that allows for flexibility. Most lessons are suitable for a diverse range of ages, from 1st to 6th classes. There are projects of short, medium and long duration (from 1 to 8 lessons). The design of the books will allow anyone to print each project by lesson or in its entirety.
"Curious Minds" is the brainchild of Karla Sánchez and Els Dietvorst, who met through the "Living Arts Project", an innovative art education program run by Wexford Arts Centre and the Art Department of Wexford County Council.
Karla and Els share an interest in multi-disciplinary and holistic education, and invited a group of creatives to collaborate in this endeavor: Clare Breen (who also did the illustrations), Laura Ní Fhlaibhín, Orla Bates, David Begley and Colm O'Neill (graphic designer).
For further details please see: livingartsproject.ie/book-1-introduction-and-fundamentals/
"Curious Minds" is supported by the Creative Ireland Programme.
Published
24/6/2020
Artforms
School Level
Region
---