IFI Launches IFI@Schools: Its First Online Nationwide Streaming Library For Schools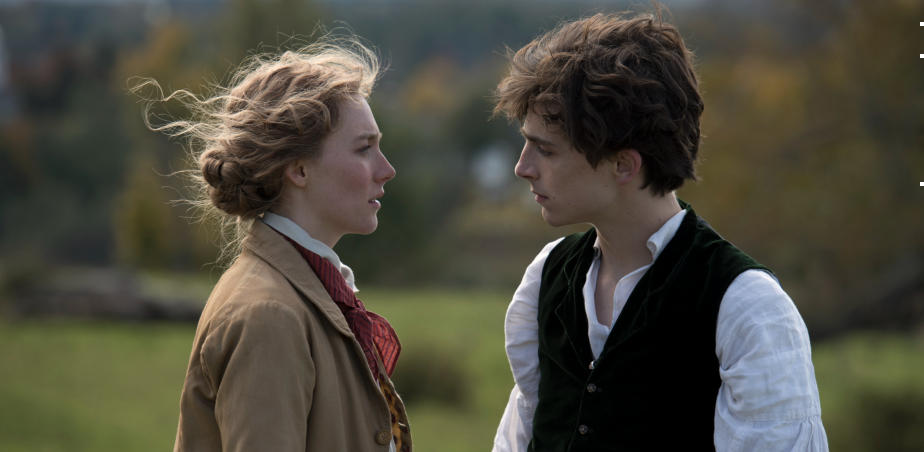 Irish Film Institute
The Irish Film Institute today (1st December) launches its comprehensive 2020/2021 IFI Schools' Programme. For the first time, the programme will be available to view nationwide online on the Institute's brand-new IFI@Schools
platform at www.ifischools.ie. Films to feature as part of this year's offering include Greta Gerwig's Oscar-nominated Little Women, Bo Burnham's Eighth Grade, Neasa Hardiman's Sea Fever, and three films from Cartoon Saloon, Kilkenny's beloved animation studio.
The entire programme is available to view for schools through an annual subscription for either the Primary or Post-Primary programmes. With the generous support of the Arts Council Capacity Building Grant, the IFI has been able to heavily subsidise costs so that an annual Primary subscription costs €100, and annual Post-Primary subscription costs €250.
Each subscription allows 10 teachers per school to watch 10 screenings each. Unlike booking student groups for
cinema screenings, the subscription allows the teacher a greater degree of flexibility as to when material is viewed in the classroom and will encourage increased media literacy across a wide range of ages.
The ever-popular Modern Foreign Languages strand, encompassing French, German and Spanish, presents five Irish premieres. Eagerly awaited by teachers and students alike, the films are an invaluable way of promoting language and culture. Included in the 2020/21 Spanish selection is Berlinale prize winner Wolves and classroom drama One For All. French students will enjoy teen comedy-drama Man Up! for Senior Cycle, while Junior Cycle drama Fahim, The Little Chess Prince rides on the coattails of The Queen's Gambit, and focuses on a young Bangladeshi immigrant who discovers he has a gift for playing chess. The German choices this year are Ulrich Köhler and Henner Winckler's A Voluntary Year (Das freiwillige Jahr) for Senior Cycle, and Sarah Winkenstette's Too Far Away (Zu Weit Weg) for Junior Cycle.
Speaking about the launch of the platform, IFI Director Ross Keane said, 'The advent of IFI@Schools is a truly transformational moment for IFI Education, bringing our hugely popular and successful schools programme directly into classrooms all around Ireland. While Covid-19 has presented huge challenges for arts organisations, it has also made us all examine what we do and how we can continue to engage with our audiences in new and innovative ways. We are therefore delighted to offer this exciting new online platform to schoolchildren nationwide, marking the beginning of a new era for IFI Education'.
Head of IFI Education Alicia McGivern commented, 'While school trips to cinemas and arts venues may be on hold for the moment, the appetite for quality arts engagement remains undiminished. IFI@Schools offers teachers the opportunity to bring film content directly into the classroom in a smart, affordable and accessible way. We're very excited to bring the magic of cinema into schools and to continue to foster a love of film in students during these unprecedented times.'
Arts Council Head of Film and Architecture Fionnuala Sweeney added, 'The Arts Council is delighted to have funded the development of the IFI@schools platform. At a time when cinema doors are closed, this dedicated new platform will bring the world of film into classrooms all over Ireland so that children and young people can continue to collectively experience, explore and enjoy film.'
For English this year, Senior Cycle students can look forward to Oscar winner Jennifer Lawrence in Debra Granik's Winter's Bone, and Paddy Breathnach's acclaimed drama Rosie, starring Sarah Greene and Moe Dunford. For Junior Cycle, there's a hugely entertaining and thought-provoking slate of films including Taika Waititi's Hunt for the Wilderpeople, The Peanut Butter Falcon starring Shia LaBoeuf, Ken Wardrop's touching Irish documentary His & Hers, and Saudi Arabian comingof-age drama Wadjda.
IFI is delighted to present a particularly strong line-up of Irish films, and as part of our ongoing commitment to support Irish filmmakers, IFI has confirmed a number of special guests to speak as part of this year's online programme, including Oscar-nominated animators Nora Twomey and Tomm Moore, documentarians Brendan J Byrne and Ross Whitaker, and Vivarium director Lorcan Finnegan.
Other films available for Senior Cycle include documentaries In the Name of Peace: John Hume in America, Bobby Sands: 66 Days, Iris, Risteard O'Domhnaill's Atlantic and The Pipe, and drama Black '47. Transition Year students will be treated to environmental and socio-political documentaries Now, Spaceship Earth, Gaza, Push and 3½ Minutes, Ten Bullets. Art and Geography students will delight in the anime film Weathering With You, while sporting documentaries Katie and Climbing Blind look at the physical and mental hurdles sportspeople overcome to achieve their goals. A special Inclusion and Diversity section for Transition Year Wellbeing/SPHE includes Sundance winner Clemency, powerful civil rights drama Selma, and the funny and tender LGBT+ drama Love, Simon.
This year's Primary programme features a fantastic range of titles for younger pupils including the charming Little Women with Saoirse Ronan and Emma Watson, Irish drama A Shine of Rainbows, plus animations Minuscule, Dreambuilders, and the Cartoon Saloon trio of Song of the Sea, The Secret of Kells and The Breadwinner.
Finally, the IFI is delighted to announce the 2021 edition of its hugely successful Careers in Film Day events next March, in association with the Virgin Media Dublin International Film Festival. IFI will also run special events in association with Screen Skills Ireland, which will allow students to engage directly with filmmakers and their craft; these Q&A and 'First Steps' events will be held in January.
For more details and to download a full IFI Education 2020/2021 Programme, please visit www.ifi.ie/learn. For more information and booking, please contact Richard or Amy at schools@irishfilm.ie.
Full details of the programme can be found at www.ifischools.ie.
Published
18/12/2020
School Level
Region
---