Opportunity for Artists: Per Cent for Art Commission, Limerick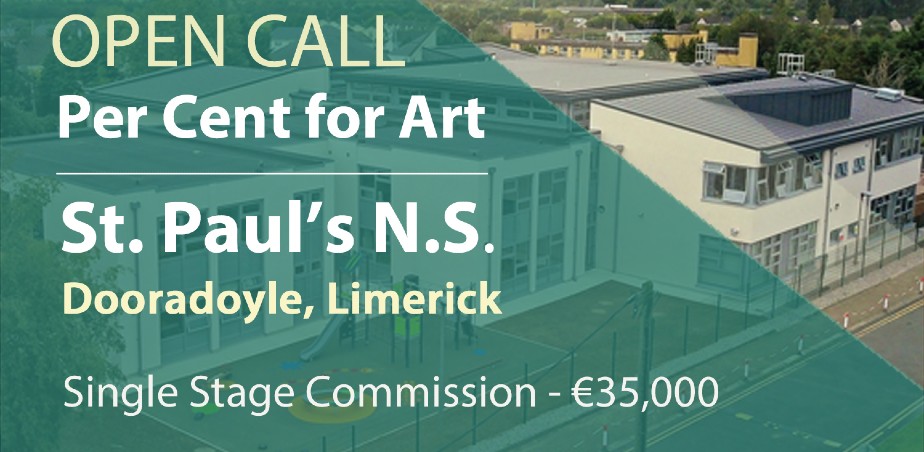 St. Paul's N.S. Dooradoyle, Limerick
Deadline: 12pm, 25 June 2021
St. Paul's N.S. Dooradoyle, Limerick invites submissions from artists for its Per Cent for Art commission of €35,000. This commission is open to all visual artists working in all art forms including but not limited to painting, print, sculpture, digital and new media art, sound art, street art, socially engaged and participatory art.
It is hoped that the selected commission will emphasise and prioritise the current pupils and create a meaningful experience for them. This may be achieved by involving the pupils in a participatory project or in the making of an artwork, or by creating an interactive artwork or area for pupils to engage with. In addition to any participatory elements, the commissioners would like a tangible and enduring element from which future generations of pupils will also benefit. They are open to the form this may take, it could be a physical artwork, a film, involve digital technology, a book, activity area or a workshop plan.
Deadline: 12pm, Friday 25 June 2021
For more information, see visualartists.ie/advert/per-cent-for-art-commission-st-pauls-n-s-dooradoyle-limerick/
To make enquiries regarding the commission, email shelly@visualartists.ie.
Published
19/5/2021
Artforms
School Level
Region
---