Opportunity: Applications Now Open for Creativity & Change Programme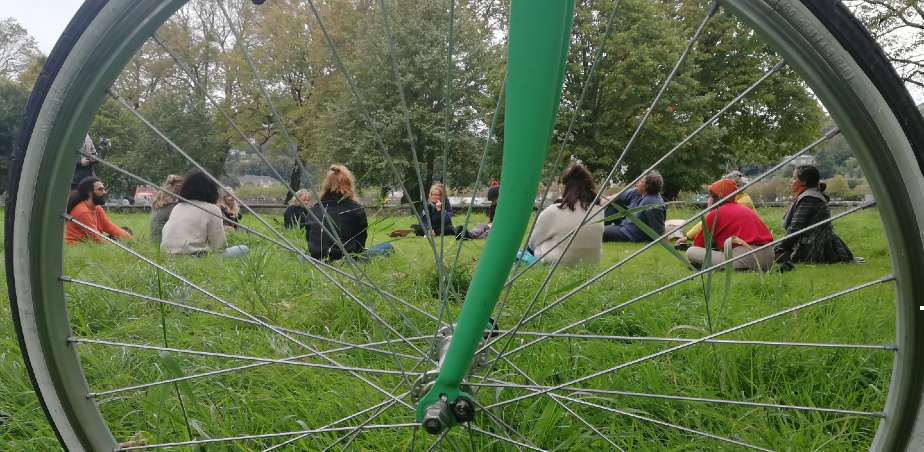 Creativity & Change, MTU
Applications now open for the September intake of Creativity & Change '21/'22
Creativity & Change's accredited, Special Purpose Award programme, targets educators, change-makers, activists, artists, youth and community workers, adult educators, volunteers and anyone who is interested in how creative engagement can nurture global citizenship and empathic action around local and global justice themes.
Based at Crawford College of Art & Design, Cork, Creativity & Change is about creativity and its power to ignite empathy, passion and learning about our interconnected and interdependent world. It is about imagining more humane, just and viable ways to live and to connect with how we think, live, and act in the world. This course explores how we can live as connected global citizens becoming part of the changes we want to see.
In 2020/21, Creativity & Change have developed a new pop-up mobile classroom initiative. They have a new cargo e-bike to carry materials and participants are asked to bring bicycles where possible and they travel together to different locations around Cork City and surrounds, applying learning and creatively responding to the outdoor environment. Allowances are made for participants with mobility difficulties.
The course fee is €680. This is a subsidised fee that is made possible by the support of a grant from Irish Aid's Development Education unit. Places on this programme are offered to suitable applicants on a rolling basis and will close once they reach maximum participant number.
It is advised to apply for the programme as early as possible to avoid disappointment.
Amplifying Voices Scholarships: Creativity & Change are consistently seeking to improve the accessibility of our programme and would love to provide opportunities to those who may have previously experienced barriers to accessing post—graduate education, such as members of minority groups, those in the Direct Provision system, or Travellers. They are now offering a number of free places on the course to those who may not have otherwise been in a position to apply. To apply for a scholarship, see www.creativityandchange.ie/amplifying-voices-scholarships/
Apply for Creativity & Change here: www.cit.ie/course/CRACRCH9
Please contact helen.okeeffe@cit.ie with any queries or see creativityandchange.ie.
---