Schools Online Workshops with The Ark: Winter Magic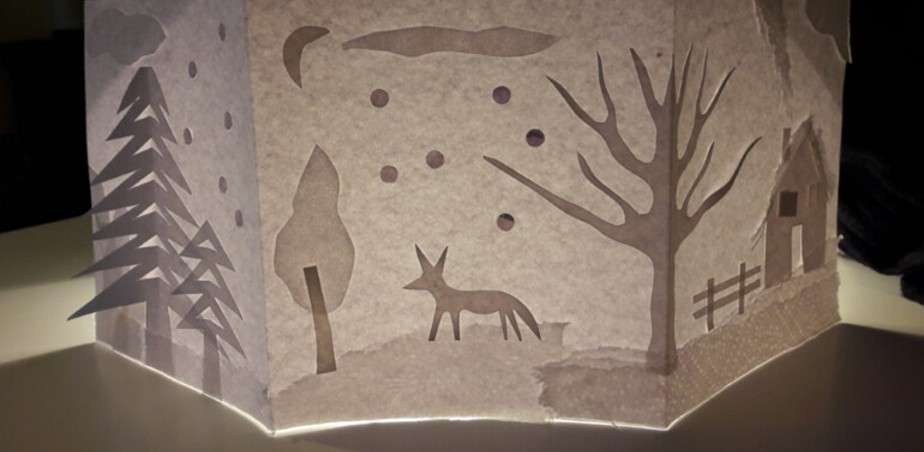 The Ark
Dates: 18 – 28 January 2022
Taking inspiration from The Ark's Winter Light exhibition and music show Tracks in the Snow, children will celebrate the magic of winter light and the variety of elements that are part of the natural world during this season.
In wintertime, light takes on a different more intriguing dimension. With frost glittering on trees and gardens, with ice forming beautiful designs on water and the moon creating magical shadows on a white landscape our imagination soars and stories unfold. There is so much to look forward to!
This workshop for primary school 1st – 6th classes is based on a simple 3D activity aimed at creating a shadow scene using a selection of white paper. Children can work on an individual piece or in pairs.
Artist Jole Bortoli will introduce the workshop through the projection of a sample of images on the theme of winter art and narrative for the children to work from and create their own artwork.
Curricular Links
This workshop links with the construction strand and drawing strand of the curriculum, allowing children to create imaginative and complex 3D structures from paper. They will explore shape, tone, line and form as they use paper in different ways to manipulate light and shadow.
The Ark is pleased to be able to offer these digital workshops for free to targeted schools outside of Co. Dublin, with the support of Rethink Ireland's Children and Youth Digital Solutions Fund.
For full details and booking information go to ark.ie/events/view/winter-magic-online-workshops.
Published
15/12/2021
Artforms
School Level
Region
---