Dr. Jill Goodwin Announced As Keynote Speaker for 2023 National Arts In Education Portal Day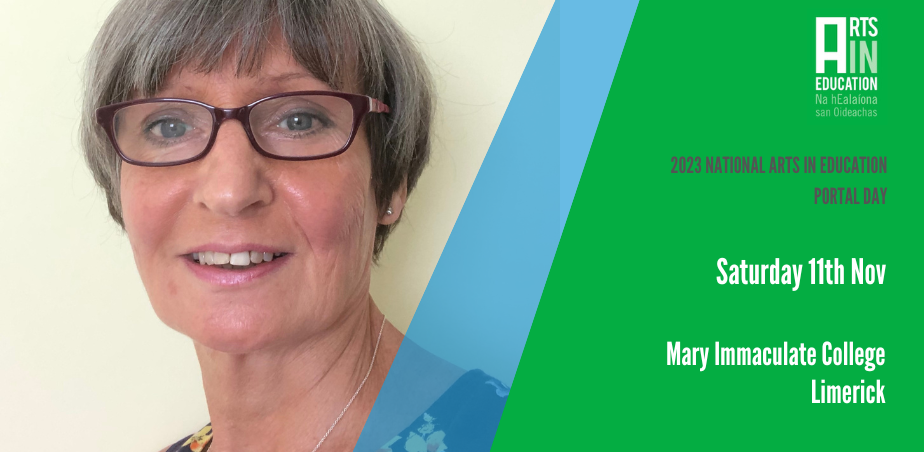 This year the 2023 National Arts in Education Portal Day is taking place at Mary Immaculate College, Limerick on Saturday, 11 November 2023 in partnership with the Department of Arts Education & Physical Education.
The Portal Team is delighted to welcome guest speaker, artist/researcher Dr. Jill Goodwin, highly respected for her practice working with children labelled as having profound and multiple learning disabilities, who will deliver the conference keynote address.
Dr Jill Goodwin
Dr Jill Goodwin is a UK-based artist/researcher with a background in education. Her experience working with children labelled as having 'profound and multiple learning disabilities' has led her to seek and explore ways of sharing meaning without words, and she sees the arts as key to this process. Jill has recently worked as a consultant, mentor and trainer with arts and educational organisations, as well as with individual artists. She was Visiting Research Fellow with the 'Centre for Research in Inclusion' at the University of Southampton from 2020 – 2023, and Researcher-in-Residence with Oily Cart, a London-based sensory theatre company, from 2020 – 2022. Jill's own art work privileges the sensory over the intellectual, making it innately inclusive.
The full line-up of the national day will be announced soon when ticket bookings will open online. This year's event will again focus on 'Seldom Heard Voices' and will see a return to the usual mix of presentations, smaller discussion-led presentations and creative workshops addressing this theme.
These events bring together members of the arts in education community from all across Ireland, to share, learn, talk, network, get inspired, and continue interrogating best practice in the field.
For further enquiries please contact events@artsineducation.ie.
---