!!!! Keystone by Art School; An Exhibition of Moving Image at The Courthouse Gallery
The Courthouse Gallery and Studios, Ennistymon
Date : 8th – 29th September
The Courthouse Gallery and Studios launched Keystone; new moving image work by Art School on 8th September. Commissioned by Clare Arts Office to celebrate twenty years of arts in education programming, Keystone was developed with selected artists Mitch Conlon and James Moran in collaboration with fifth year students from two schools in Co. Clare.
Taking the theme of the collective as its central point of departure, Keystone took shape as a series of workshops guided by artist Mitch Conlon and theatre maker and comedian James Moran working with the 5th year art students and teachers of Coláiste Muire, Ennis, and Scoil Mhuire, Ennistymon, during the school year 2022–23. The project was curated by Jennie Guy, founder and director of Art School, alongside invited co-curator Fiona Gannon, and investigated ideas around the collective by exploring the places where teenagers go to hang out.
Through presentations, games, recording sessions and collaborative decision-making, the production of Keystone explored the atmospheres of specific hang-out spots visited by the students from both schools. Drawing on additional support from filmmaker and artist Emily McFarland and electronic music composer Liam McCartan (Son Zept), the students worked with sound and video to communicate the dynamics of these often peripheral places.
There was a private screening for students and other project partners in the Courthouse Gallery on the 8th September 2023 at 6PM and the work will be subsequently exhibited in the gallery space upstairs from the 8th through the 29th of September. The gallery opening hours are 12pm through 5pm.
To celebrate the launch of the project, a limited edition poster is being produced with award-winning design studio Distinctive Repetition to mark this screening event and will be gifted to each student collaborator involved in the project.
Keystone is supported by Clare Arts Office and the Arts Council.
The project was a recipient of the 2023 Arts in Education Documentation Award
!!!! Primary School FÍS Film Awards 2023 Open for Entries
FÍS Film Awards
Deadline: 30th June 2023 at 5pm
FÍS have launched an open invitation to all Dept. of Education designated Irish primary schools to enter their films into the annual national FÍS Film Awards competition.  There is no need to register in advance.  To enter, primary schools across the country are asked to create an (up to) five-minute film on a subject of their choice.
Judging Criteria Highlights:
Imagination and creativity
Originality of the story
Curricular relevance (include details of subject/strand/strand unit where relevant)
Support of pupils' literacy and/or numeracy skills development
Excellence in set design, costume design, film direction, film production, the use of sound, acting, cinematography, etc
Excellence in the art of storytelling
Excellence in the use of special techniques, e.g., animation or special effects
Excellence in visual interpretation of a story or concept
Shortlisted schools must be available to attend the FÍS Film Awards Ceremony, which takes place in the Helix Theatre, DCU Dublin.  It is a large-scale national event with over 900 people in attendance, filmed and broadcast by students and staff from the National Film School, at the Institute of Art, Design & Technology (IADT).  The awards ceremony is live- streamed via their website. Shortlisted schools must be available to attend the ceremony.
Full details of Rules & Guidelines and Judging Criteria are available at https://fisfilmproject.ie/competition/rules/  and https://fisfilmproject.ie/competition/judging_criteria/
You can submit your entry via https://fisfilmproject.ie/competition
!!!! Sign up for Arts In Junior Cycle Elective Courses!
Arts in Junior Cycle
Dates: Various
Arts in Junior Cycle have an extensive range of elective courses available to book for post-primary School teachers. Please see a selection of the course available below.
Lights, Camera, Action! A film production workshop
Date: Wednesday 7th, Thursday 8th and Friday 9th June
Times:  10.30am – 4pm 
Location: Kilkenny Education Centre
This Arts in Junior Cycle workshop with Young Irish Film Makers (YIFM) in Kilkenny Education Centre will provide participants with an opportunity to:
understand how camera tells a story and consider film as visual language
engage in the three phases of production from concept to realisation, including: story-boarding, scripting, devising shot lists, filming, editing and creating a final rough cut
learn techniques to support classroom engagement with film-making across a range of contexts, including free software and using smart phones to film
This in-person workshop is open to junior cycle teachers of all subjects and disciplines.  
Figurative Oil Painting workshop
Dates: Monday 19th and Tuesday 20th June
Times: 10.30am – 3.30pm
Location: Royal Hibernian Academy of Arts (RHA), Dublin
This Arts in Junior Cycle workshop with visual artist Blaise Smith in the RHA will provide participants with an opportunity to:
explore basic technical and material skills to underpin a professional painting practice
examine how compositional tools such as the Golden Mean and the Rule of Thirds are utilsed in traditional and contemporary oil painting
use a limited palette to create layers and flesh tones
explore basic anatomical structure of the human figure
Open to junior cycle teachers of all subject disciplines.
Do Your Own Thing! A workshop to explore the creative process
Dates: Thursday 22nd and Friday 23rd June
Time: 10.30am – 4.00pm
Location: Irish Museum of Modern Art
Arts in Junior Cycle in partnership with visual artist threadstories and writer and poet Colm Keegan offer a two-day workshop in The Irish Museum of Modern Art.
In this hands-on and practical workshop, participants will:
engage in an open-ended exploration of word and image, using a variety of art-making materials and writing prompts
consider their own relationship to education, art and self-expression
gain insights into the creative processes of a visual artist and a writer
explore IMMA and use it as a source of inspiration
discuss possible approaches to a range of stimuli
collaborate in a safe, supportive and experiential environment
Visit the link below for full details and to register  www.artsinjuniorcycle.ie
!!!! Part 1 – Announcing the 2023 Arts in Education Portal Documentation Award Recipients
The Portal Team are delighted to announce the first of the two recipients of the 2023 Arts in Education Portal Documentation Award. We are very excited to be working with each recipient in the coming months to document their projects. These projects will be showcased on the portal as the documentation progresses.
Project Title: 'Keystone'
Keystone has been commissioned by Clare County Council to celebrate and mark 20 years of artist in schools programming by Clare Arts Office. The curatorial framework Art School directed and curated by Jennie Guy has been invited to deliver the project by artists Mitch Conlon and James Moran, with co-curator Fiona Gannon. The project has been taking place over the course of 2022 and 2023 in Coláiste Mhuire (Ennis) and Scoil Mhuire (Ennistymon) in Co. Clare, providing an opportunity for fifth year students to work with the artists to explore the significance of myth within local youth cultures.
The artists will work with the students to explore questions including: What are sites of mythological importance for teenagers in these two towns? Are these the same as those deemed important by the wider communities? And how do teenagers relate to the collective unconscious of their wider local communities?
Teacher: Mary Fahy
Mary Fahy is a visual artist from Galway and art teacher in Scoil Mhuire, Ennistymon since 2003. Commenting on the project she said: "Our 5th year art class are thrilled to be participating in this collaborative, socially engaged Artists in Schools project. It is an incredible opportunity for students to co-create art with professional artists in a supportive environment that centres their opinions and artistic voice."
Teacher: Aidan Power
Aidan Power is an Art Teacher with Colaiste Muire, Ennis. On being part of the project he added: "We have a strong artistic tradition in music, performance and visual art which helps our students to nuture a sense of self while striving for academic success. Our 5th year art class will be taking part in this collaborative project which will develop their artistic skills in a new and exciting direction. The learned knowledge will go on to support future projects throughout their senior cycle art course."
Artist: Mitch Conlon
Mitch Conlon is an artist originally from the West of Ireland currently based as a studio member within PS2, Belfast. He is a member of the Turner Prize winning group, Array Collective, a former director of Catalyst Arts, Belfast; was a co-director of online journal COLLECTED and Chairperson of Engage Studios, Galway.
Artist: James Moran
James Moran is an experimental comedian and theatre maker born and based in Dublin. Since 2014 he has written comedy shows for traditional and alternative  venues; and he has also hosted several podcasts, including the leftist political Celtic Ligers and historical comedy Primordial Views.
About Art School
Art School is a collaborative project founded by Jennie Guy in 2014. Art School enables exchanges between contemporary artists and sites of education, creating opportunities for younger audiences to encounter and participate in the making and potential of art in society.
!!!! The FÍS Film Project Awards 2023 – Winners Announced
FÍS Film Awards 2023
Cappawhite National School in Tipperary have been crowned winners of 'FÍS Film of the Year' at the FÍS Film Awards 2023, which have taken place at The Helix, DCU, Dublin.
The movie, entitled 'The Christmas Truce of 1914' recounts the fabled ceasefire between British and German soldiers on the Western Front during World War I. It also scooped the Outstanding Cinematography prize. The FÍS Film Awards 2023 recognises the creative talents of primary school children across Ireland.
The Awards, hosted by RTE's Sinead Kennedy, is a collaboration between the Institute of Art, Design and Technology and the Professional Development Service for Teachers It was devised as a grassroots initiative to nurture Ireland's future moviemaking talent by encouraging them to devise, develop, produce, and submit their short films for consideration in a range of categories. The event was co-produced by students of IADT's National Film School and streamed live on the official FÍS website.
Some other 2023 winners include :
Lackamore NS, Tipperary – Outstanding Achievement in Filmmaking – Adaptation – Na Trí Mhuc
Carrig N.S, Offaly – Award for Best Comedy – The Villains
Strawberry Hill NS, Cork – Outstanding Achievement in Filmmaking – Production Design – The Normans
Gaelscoil Riabhach, Galway – An Scannán Is Fearr as Gaeilge – Fáilte go dtí An Córas Díleá
Commenting on this year's awards, FÍS Manager from The Institute of Art, Design & Technology, Bernadette Meagher said:  "The judges had a tough task at this year's event, the standard and ambition of the entries was so high, not to mention the creativity. We congratulate every one of the children involved, along with their teachers, on their well-deserved awards……"
!!!! Catalyst Film Festival: Schools Programme
Catalyst International Film Festival
30th March to 1st April 2023
The Catalyst International Film Festival will host the 4th edition of the festival in Limerick from 30th March to 1st April 2023, presenting a film programme that celebrates diverse stories and storytellers currently under-represented on screen and behind the camera.
After a hugely successful schools' screening last year and taking on board feedback from teachers they have expanded their schools programme for 2023 and are very excited to share their plans and officially open bookings! This is a great opportunity for young people to experience filmmaking from the ground up and find out if a career in film is for them.
Read more about the festival and book your tickets here: https://catalystinternationalfilmfestival.com/school-programme-2023
!!!! FÍS: Teacher Resources
FÍS Film Project
The FÍS Film Project Teacher Resources support teachers to introduce live-action and stop motion animation filmmaking into the Primary Classroom with interactive lessons, teacher perspectives and technical guides.
The online FÍS Teacher Resources are well designed individual lesson plans which can be used in isolation or as a complete course. The course outlines all the skills and activities involved in making a film with the emphasis being on the children being the creators/doers, and the teacher as the facilitator of the learning.
FÍS helps develop active learning, creative thinking, language, imagination, collaborative learning and problem-solving skills, as well as giving children hands-on experience of using technology as part of the filmmaking process. For children this project provides them with an outlet to express themselves and showcase their talents in an educational but non-academic way which can do wonders for children's confidence and attitude towards learning.
The FÍS Film Project is an initiative of the Department of Education in a collaborative partnership between the Institute of Art, Design & Technology's FÍS Office and the Professional Development Service for Teachers (Technology in Education Dept.) The project started during the 1999/2000 school year. The FÍS methodology supports teachers to introduce film making in a cross-curricular way into their primary school classroom. After a successful 3-year pilot, the project was mainstreamed and the annual national FÍS Film Awards Competition was also launched and remains a highly successful outcome of the FÍS Film Project to this day.
To access the FÍS Teacher Resources, please visit https://fisfilmproject.ie/teacher-resources/
You will also details about the annual FÍS Film Awards Competition and videos of the shortlisted national finalists.
!!!! IFI Schools Programme 2022/23
Irish Film Institute School Programme 2022/23
The Irish Film Institute is delighted to offer a brand new programme of films selected for students across primary and post-primary levels, available in-cinema at IFI Dublin or regional venue and online through IFI@Schools. This year includes exciting collaborations with the Irish National Opera, IMMA, the Broadcasting Authority of Ireland/BAI and An Chomhairle um Oideachas Gaeltachta & Gaelscolaíochta/COGG.
IFI@Schools supplements the in-cinema programme, offering further ways of incorporating film into your teaching, including rewatching key scenes or choosing from a wider range of content for other subjects such as history, geography, music, art, Gaeilge, English and more.
Screenings for the French language selection include Mes Fréres et moi (My Brothers and I) and King in partnership with the Ambassade De France en Irelande. Screenings for the German language selection includes Der Pfad (The Path) and Klammer in partnership with GEOTHE Institut.
Details of the full programme list and regional venue screenings can be found here.
To book tickets visit the Irish Film Institute at Irish Film Institute (ifi.ie) or contact Amy Louise or Holly at schools@irishfilm.ie
!!!! Butler Gallery: Cartoon Saloon – My Father's Dragon, The Exhibition
Butler Gallery
19 November  2022 – 29 January 2023
Butler Gallery continues its successful partnership with the Kilkenny-based and five time Oscar© nominated Irish animation studio Cartoon Saloon, in an exhibition response to their new animated film My Father's Dragon, directed by Nora Twomey.
The film is based on a beloved 1948 fantastical children's novel by Ruth Stilies Gannett about Elmer Elevator, a boy who runs away from home to rescue Boris, a captive baby dragon trapped on a wild island.
The exhibition combines the expertise of Butler Gallery's exhibition team with Cartoon Saloons worldwide reach and distinctive style to develop an immersive, sensory and child-centred exhibition experience that will captivate audiences of all ages.
____________________
Learning and Public Engagement Programme:
As with previous collaborations with Cartoon Saloon, Butler Gallery will deliver an extensive programme of public engagement for children and adults that will include themes such as children's resilience and problem solving, addressing mental health issues while coping with a crisis, and celebrating the films art and artists. Learning and Public Engagement events will include: tailored inclusive activities for children and young people; interactive visits for schools and groups that encourage creativity through hands-on making; a talk series and masterclasses with Cartoon Saloon animators, editors and directors; and an animator-in-residence programme.
To book an interactive visit for your school* contact Butler Gallery at:
learning@butlergallery.ie or +353 (0)56 7761106
*Bookings for groups of over 5 is essential.
The exhibition is also complemented by the screening of The Making of My Father's Dragon which is on view in the Digital Gallery (duration 5 mins 24 secs)
For further information visit: https://www.butlergallery.ie/whats-on/my-fathers-dragon-cartoon-saloon
!!!! Opportunity for Schools: Drama & Filmmaking Project Adúntas
Crooked House Theatre Company
Crooked House Theatre Company are delighted to invite applications from youth work organisations and schools in County Kildare to participate in a new drama and film making project 'Adúntas'. Providing eight free programmes for young people, the project will focus on maintaining wellbeing and developing emotional resilience after COVID-19.
Through 'Adúntas' eight young people will also receive training in youth drama facilitation.
"We recognise the importance of allowing our young people to process the experience of Covid-19 in their own way and at their own pace", Oguzhan Sahin, Outreach Manager with Crooked House.
This project is funded by the RTE Toy Show Appeal Grants for 2022 by the Community Foundation for Ireland. for more information about the RTE Toy Show Appeal go to www.rte.ie/eile/toy-show-appeal/.
About Crooked House Theatre Company
Crooked House is a theatre-making organisation established in 1993 in Newbridge in County Kildare, Ireland. We make theatre with, for and by young people from the ages of 11 to 24. Participation in all our activities is free and open to anyone. Young people can join our weekly workshops in Newbridge anytime. Visit www.kildareyouththeatre.com to find workshops for your age group. Our work is inspired by tolerance, equality, social justice, compassion, and empathy. We aim to create theatre that is ambitious, challenging, aesthetically engaging, and relevant to our audiences.
For further information and application details go to www.crookedhouse.ie or email info@crookedhouse.ie.
!!!! IFI Schools Programme 2021/2022
Irish Film Institute (IFI)
The Irish Film Institute launches its comprehensive 2021/2022 IFI Schools' Programme.  This year's programme offers screenings in cinema and also online, on the platform IFI@Schools. Choose from brand new titles for Modern Foreign Languages, prescribed English titles, Irish films, and much more!
The ever-popular Modern Foreign Languages strand, encompassing French, German and Spanish are an invaluable way of promoting language and culture. Included in the 2021/2022 German selection is films Cleo, Zu weit Weg, Das freiwillige Jahr, and Nachtwald which are presented in partnership with the Goethe-Institut Irland. Screenings for the French language selection includes Petit Pays, Gagarine, Man Up!, and Fahim in partnership with the French Cultural Service.
If you can't get to IFI or one of our partner venues, you can stream the majority of the films on the Schools' Programme 2021-22 on IFI@Schools. For more information about the streaming platform go to ifi.ie/learn/ifischools-about.
Download the the full 2021/2022 IFI Schools' Programme at ifi.ie/learn/schools
Or for more information please contact schools@irishfilm.ie.
!!!! Guided Workshops for Schools with VISUAL Carlow: The Corona
VISUAL Carlow
Dates: October 2021 – January 2022
The VISUAL Carlow invites primary, post-primary and third-level students to The Corona, an animated documentary film, interactive exhibition and series of guided workshops through the gallery, sharing the experiences of young people in their own voices during lockdown.
The Corona foregrounds the experiences of young people aged 3 – 24 in their own voices. The film shows the experience of lockdown from the perspective of children in early years settings, primary schools, afterschool care, young people from Comhairle na nÓg, early school leavers, third level students and children and young people with disabilities.
Schools can book facilitated, guided workshops through the galleries to view The Corona films, engage in facilitated conversation about their experience of the COVID-19 pandemic and contribute their drawings and reflections to the archive of children's experiences of the pandemic.
Dates: October 2021 – January 2022
Times: Tuesday 10:00 – 11:30 & 12:30 – 14:00, Wednesday 10:00 – 11:30, Thursday 10:00 – 11:30 & 12:30 – 14:00
Cost €50 per group.
If cost is an issue for your school please contact learning@visualcarlow.ie Schools can also come to the gallery any time during opening hours and do a self-guided free visit to the exhibition. Self-guided tours are free but must be booked through boxoffice@visualcarlow.ie or by calling 059 917 2400.
For more information, see visualcarlow.ie/whats-on/the-corona-schools-workshops
!!!! Cork International Film Festival 2021 School's Programme
Cork International Film Festival
Dates: 8 – 11 November 2021
Cork International Film Festival presents five excellent films in this year's Schools Programme. These specially selected titles are aimed at Leaving Cert students of French, German and Spanish. Presented in association with the Irish Film Institute Education Department, these films will be screened at the Gate Cinemas in Cork, Midleton and Mallow from 8 – 11 November.
Leaving Cert French titles include Gagarine by Fanny Liatard and Jérémy Trouilh, suitable for ages 12 and over; and Petit Pays by Eric Barbier, suitable for ages 15 and over. Leaving Cert German titles include Nachtwald by Andre Hörmann, suitable for ages 15 and over; and Cleo by Erik Schmitt for ages 13 and over. For Leaving Cert Spanish students, the Festival will screen Los Lobos by Samuel Kishi, a Mexican film suitable for ages 12 and over. Tickets are €6 per student and accompanying teachers go free.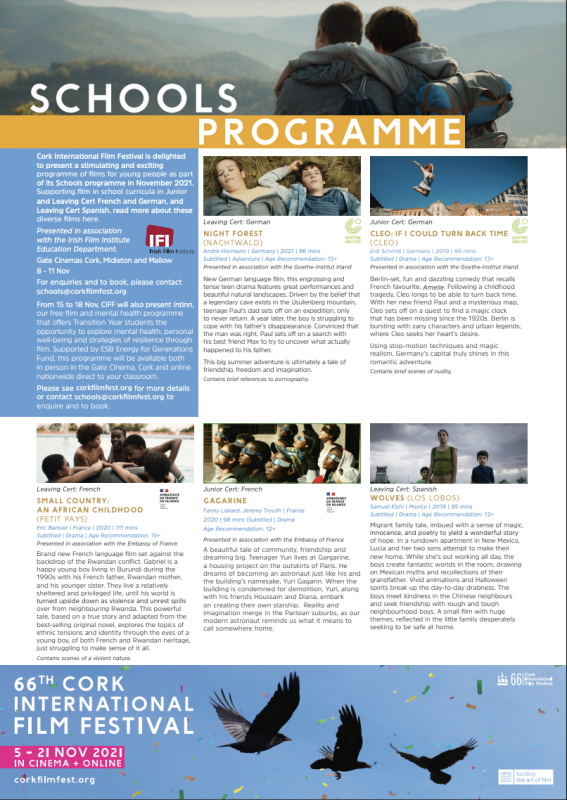 Dates: 8 – 11 November 2021
For more information, email schools@corkfilmfest.org or see corkfilmfest.org/ciff-announces-family-schools-programme-intinn-and-journalism-workshop-as-part-of-its-2021-festival/.
!!!! Schools are invited to Branar Téatar do Pháistí How to Catch a Star
Branar Téatar do Pháistí
Dates: 29 November – 10 December 2021
Branar, in association with Town Hall Theatre, are delighted to present a new film version of their acclaimed production of How to Catch a Star by Oliver Jeffers. Partnering with 24 venues across Ireland, all schools will have the opportunity to experience this unique and well-loved story.
Based on the beloved book, this film will be available to stream to classrooms throughout the country for a limited period.  Schools can book to receive access to the filmed production for a full week and receive access to a dedicated online educational resource pack for pre- and post-engagement.
This adaptation combines an original score by Colm Mac Con Iomaire, puppetry by Grace Kiely and Neasa Ní Chuanaigh, directed by Marc Mac Lochlainn with design by Maeve Clancy. Branar's signature storytelling creates a show which reminds us all to follow our dreams.
Dates: 29 November – 10 December 2021
For more information, see www.branar.ie/htcas-schools
!!!! First Cut Youth Film Festival 2021
First Cut! Youth Film Festival
Dates: 17 April – 9 May 2021
First Cut! Youth Film Festival returns for its 12th year showcasing new films by young filmmakers. Running from 17 April – 9 May 2021, offers an imaginative, thought-provoking and entertaining programme for young people aged 12-24yrs. Audiences from all over Ireland, and from abroad, are invited to join them virtually for a completely free programme of events including: Open call short film and feature film screenings, workshops, panel discussions with some of the leading filmmakers in Ireland, a host of special guest appearances and more.
Workshops include: Puppetry for Film and Television Workshop, Stormtroopers SFX Workshop and more.
Dates: 17 April – 9 May 2021
To see the full programme, see: https://firstcutfilmfestival.com/
!!!! Opportunity for Young People: Source Arts Centre Online Workshops
Source Arts Centre
Date: 24 April
The Source Arts Centre is hosting a series of online workshops until June as part of their 'Y' Arts Programme. The 'Y' Arts Programme encourages young people aged between 13 and 18 to create new works of art using a task and challenge based approach. The programme aims to encourage an understanding of contemporary art and avant-garde art.
Workshop : Dream Like Maya Deren
12pm-1pm, 24th April 2021
Maya Deren was a Ukrainian-born American experimental filmmaker  in the 1940s and 1950s. In this workshop, participants will look at her most famous film 'Meshes Of The Afternoon' and examine how dream states or the subconscious are depicted in art.
For more information, see here: www.thesourceartscentre.ie/events/info/dream-like-maya-deren-workshop
!!!! IFI@Schools New Film Platform
Irish Film Institute – IFI@Schools
Stream new films into your school with a brand new film platform from the IFI@Schools, launching in October.
With school trips on hold and very different learning situations arising in schools across the country, the Irish Film Institute (IFI) is launching an online streaming platform, offering films to support a whole range of subjects and interest areas.
In return for a one-off annual fee to cover film rights, your school can access the complete catalogue, using an easy, user-friendly teacher pass.
For more information email schools@irishfilm.ie
!!!! Job Opportunity: IFI Education Officer
Irish Film Institute
Deadline: 5pm, 12th October
The Irish Film Institute wishes to appoint two Education Officers to contribute to and develop its education programme both onsite and online.
Key Responsibilities for the roles include:
Programme and deliver IFI Education events onsite and online within agreed budgets and in accordance with IFI strategy, curriculum requirements & national arts and education policies
Contribute to the development and delivery of the IFI@Schools platform and promote its take up within schools
Initiate and respond to changes in school learning environments, creating new ways to promote film across curricula
Manage schools physical tours to IFI covering all aspects including administration, costing, operational and safeguarding
Contribute to delivery of IFI Film Clubs project
Contribute to IFI Education digital & online content & IFI Education's publicity materials for website and social media
Work collaboratively on all education activities as required, with Head of Education
Explore possibilities for out of school engagement with IFI, children and young people
Coordinate TY Work Experience placements and summer volunteering
Provide talks, introductions, supporting materials as required
Contribute to all aspects of IFI Education and wider IFI culture through a growing commitment to film, young people and education
Download the full job description here – ifi.ie/wp-content/uploads/2020/09/Job-Description-Education-Officer.pdf 
Applicants should forward a cover letter and CV by email to Alicia McGivern, IFI Head of Education, at amcgivern@irishfilm.ie, or by post to Irish Film Institute, 6 Eustace Street, Dublin 2.
Closing date for applications is 17.00 on Monday, October 12th.
!!!! FÍS Film for Schools Project – #MakeFilmsAtHome
FÍS Film Project
Home Movies Anyone? Let's Have Some Fun While Learning At Home!
FÍS Film Project would like learners to use the current COVID-19 social distancing policy as an opportunity to learn film-making skills for making really cool home movies!
Their new blog series #MakeFilmsAtHome is aimed at children and their families who might like to try their hand at making a stop motion animation or short live action film during the stay home phase and beyond.
With two separate blog postings per day. 1 for animation and 1 for live-action film-making. Presented in a simple easy to use format, with sample films made by Irish primary school children for the FÍS (film in schools) project and are accompanied by short video tutorials made by undergrad students at the National Film School in IADT.
Film-making is a fun, creative, imaginative and educational process and FÍS hope that families will find the tips and tools provided useful. They are encouraging parents / guardians a child or children who make a film to upload to you tube, vimeo, instagram or similar platform to share.
All you need is a mobile phone or tablet device and lots of imagination!
So, let's have some fun and get filming!
To view the blog go to fisfilmproject.ie/blog/
!!!! Students are invited to the Careers in Screen Day 2020
Irish Film Institute
Date: 4 March 2020
The Irish Film Institute (IFI) and the Virgin Media Dublin International Film Festival, in association with Screen Skills Ireland, will once again offer an inspiring and innovative day of events for young people interested in finding out more about working in the film and tv industries.
This event, aimed at Senior Cycle second-level students aged 15 to 18, is an opportunity for students to hear from a whole variety of film industry practitioners, to learn about their work, how they got there and what advice they might give to young people starting out. Whether it's the craft side of the industry, working in front of the camera or behind, as well as other areas such as production or casting, there will be something for every interest.
A number of third-level institutions will also be on hand to offer guidance on the day.
Last year's guests included director Lenny Abrahamson, producer Ed Guiney, costume designer Consolata Boyle and DOP Cathal Watters.
Booking essential. See www.ifi.ie/schools
!!!! Careers in Screen: First Steps Event for Post-Primary students at the Irish Film Institute
Irish Film Institute (IFI)
Date: 18 December 2019
In advance of the Irish Film Institute's (IFI) annual Careers in Screen Day, 2020, IFI Education, in partnership with Screen Skills Ireland, is offering a First Steps morning event, to introduce participants to the world of short filmmaking, through presentations from three flourishing filmmaking companies.
Presenting samples of their work and talking about their paths into the industry, guest speakers from Paper Panther Productions, Tailored Films and Failsafe Films, will each discuss their own career and answer participants' questions relating to their work and their roles in the industry. The event is ideally suited to young people who are exploring different career options, perhaps considering third level courses in film, media or TV, or keen to learn from Irish filmmakers about working in the thriving screen industries.
Admission costs €5 per person and tickets are strictly limited. Suitable for ages 15-18. Event will last approx. 75 mins.
For further information go to ifi.ie/careers
!!!! Audi Dublin International Film Festival Fantastic Flix programme for schools
Audi Dublin International Film Festival
21st February – 4th March 2018
Fantastic Flix, ADIFF's strand for young people aged 4-16, returns for its third thrilling year with the support of Cheestrings and featuring an exciting programme of international films for school groups.
Director of Collapsing Horse Theatre, Dan Colley, will give post-screening talks at both At Eye Level (12+), a father and son reunion tale, and Liyana (12+), a beautiful Swazi documentary with animated elements about a girl who goes to great lengths to save her younger brothers from harm. Director Meikeminne Clinckspoor will attend two screenings of Cloudboy (9+), an enchanting film about Niilas, who is sent to visit his mother in the wonderful forests of Lapland and learns about the Sami people.
Nora Twomey, director of the much-anticipated The Breadwinner, will introduce a screening of children's classic My Neighbour Totoro. Brown Bag Films' Vampirina (4+) and the Fantastic Flix Shorts (4+) are sure to delight the youngest budding cinemagoers.  Actress Wilma Lundgren will attend the festival for her film, Room 213, a seriously spooky Swedish mystery. Other highlights include the terrific animations from France, The Big Bad Fox & Other Tales (6+), and Japan, Mary and the Witch's Flower (6+).
The Fantastic Flix Children's Jury, a collaboration with The Ark's Children's Council and the Irish Film Classification Office, returns for a second year, as do a fascinating choice of workshops in collaboration with The Ark.
Schools Programme
Primary Level
My Neighbour Totoro  – Thursday 22nd February – Light House 1 – 11am – Age Recommendation 5+
Cloudboy – Thursday 1st March – Omniplex Rathmines – 10am & Friday 2nd March – Light House 3 – 11.30am – Age Recommendation 9+
At Eye Level – Thursday 1st March – Movies @ Dundrum – 1pm – Age Recommendation 12+
Vampirina – Friday 2nd March – Light House 3 – 10am – Age Recommendation 4+
Room 213 – Friday 2nd March – Omniplex Rathmines – 11am – Age Recommendation 12+
Post – Primary Level
At Eye Level – Thursday 1st March – Movies@Dundrum – 1pm – Age Recommendation 12+
Room 213 – Friday 2nd March – Omniplex Rathmines – 11am – Age Recommendation 12+
Liyana – Friday 2nd March – Movies@Dundrum – 12.30pm – Age Recommendation 13+
Career's Day – Thursday 1st March – IFI – 10am – Tickets €5 – Age Recommendation 14+
This one day event, aimed at Senior Year Secondary Level students will unpack some of the many di erent lm and television departments and skills required for a career in the lm industry. There will be insights from sparks and foley artists, script supervisors and VFX supervisors, and will feature some of the Irish lm industry's most talented artists including Darragh O'Connell (Brown Bag Films), Louise Kiely (Casting Agent), Piers McGrail (Cinematographer), Steven Fanagan (Sound Editor & Composer).
—
The Career's Day is a joint initiative from
Audi Dublin International Film Festival, the Irish Film Institute, Irish Film Board and Broadcasting Authority Ireland.
For more information go to www.diff.ie
!!!! Films for schools at Roscommon Arts Centre
Roscommon Arts Centre
This spring Roscommon Arts Centre will host a series of films for schools:
Goodbye Berlin – IFI TY/Senior Cycle German Film
Maik is a daydreamer who goes unnoticed by his classroom crush; Andrej is an oddball kid from Russia with an eccentric taste for Hawaiian shirts. The two form an unlikely bond when Andrej shows up at Maik's door with a "borrowed" blue Lada, and the prospect of an impromptu road trip beckons. Based on the bestselling German novel Why We Took the Car by Wolfgang Herrndorf, Tschick is a funny, endearing, coming-of-age film with fresh verve of its own. TUESDAY 20th FEBRUARY | 11am | €2
My Life As A Courgette – IFI TY/Senior Cycle French Film
Nine-year-old Icare, nicknamed Courgette, moves to a foster home, a place full of rejected kids fighting for survival among the rest of the bullies, loners and misfits. Adapted from a YA novel by Girlhood director, Celine Sciamma. TUESDAY 24th APRIL | 11am | €2
The Golden Dream – IFI TY/Senior Cycle Spanish Film
A group of Guatemalan teenagers attempt to make their way to the U.S.A., dreaming of the better life that the country promises, but they are ill equipped, both physically and emotionally, for the challenges they face getting there. This is an absorbing and suspenseful drama, excellently acted by its three non-professional leads. TUESDAY 20th MARCH | 11am | €2
For more information and bookings go to www.roscommonartscentre.ie
!!!! Blog 1 – Tom Dalton, Artist & Arts Worker
"What I Do When I Feel Blue"
The teenage years and early adulthood can be particularly tricky times to navigate in life. According to the 'My World' National Survey of Youth Mental Health one in three young people have experienced mental health difficulties at some point (Headstrong and UCD School of Psychology, 2012).
Developing coping strategies and building self-esteem can offer a strong protection as young people move into adulthood. A secondary school setting offers an opportunity to reach young people in their formative years and provide tools for mental and emotional resilience, equipping them with skills to cope with the bumps in the road into adulthood and beyond. Funded through Creative Engagement (NAPD) and St. Patrick's College, "What I Do When I Feel Blue" is a collaborative animation project between Mayfield Arts Centre and St. Patrick's College in Cork.
June McCarthy, Transition Year coordinator, identified a desire on behalf of the school to engage students in areas of mental health, wellbeing, peer support, community and belonging. St. Patrick's College has a strong history with Mayfield Arts, having engaged in many Creative Engagement Projects over the years. An introductory meeting with June allowed us to get a sense of the student group as a whole, learn about their previous experiences with art and to get an idea of what they and the school hoped to achieve through this project. Film was something previously unexplored in St. Patrick's College and seemed particularly appropriate for a project of this kind. Video and stop-motion are communicative, accessible and fun mediums to work within. The potential to share their film through social media and Youtube also gives potency to the work of the students.
Every Friday for six weeks, a group of twelve transition year girls made the short journey up the road to Mayfield Arts. For most of the girls it was their first time inside the building. On day one students were introduced to basic principles of filming and stop-motion using slideshows, demonstrations, examples and warm-up exercises. Once the group was familiar with the process, we all sat together, drank tea and chatted about their ideas for the project. Students were invited to name and respond to important issues that impact their lives and that of their peers. I was taken by the openness of the girls in sharing their stories. Through facilitated discussions, it became clear that the group wanted to create something positive that could help their friends and others experiencing difficulties.
We went about compiling a list of things they do when they are feeling down; things that can help lift them out of difficult times. We quickly filled an entire blackboard with suggested actions; 'go outside!', 'eat chocolate!', 'Ring your friends!' Through a voting system the group arrived on the six top things they do to make themselves feel better when feeling down. We then brainstormed how we might illustrate these suggestions through animation. Roles within the group formed naturally; some were eager to be in front of the camera, while others prefered 'out of frame' activities like setting up cameras, framing shots, controlling light and directing actors. The girls worked great as a team, generating ideas, sharing equipment, helping each other and discussing their outcomes. Footage was collected and reviewed in groups with editing carried out with support from facilitators. Regular feedback was sought from groups to access progress and offer support where needed.
The final film, a three-minute animation that acts as a 'tool-kit' for resilience, was launched and screened during the school's Transition Year closing ceremony. A couple of the girls introduced the project, sharing their ideas, methods and processes with their peers, teachers and parents. Once uploaded to Youtube, the film and its message began to spread beyond the school grounds.
Feedback from the group was really positive and there was a tangible sense of pride in what had been achieved.
"I liked everything about this project but especially that we could do it all by ourselves with just a little bit of help."
 "I wouldn't change anything, it was very interesting and fun."
 Take a look at the girls' film here!
https://www.youtube.com/watch?v=9cku_n_IJ4w
This project was funded by Creative Engagement (NAPD) and St. Patrick's College, Gardiner's Hill. For more information visit mayfieldarts.ie
!!!! Build Your Own Unknown
"Build Your Own Unknown" is a collaboration between Artist Louise Manifold, Cregmore NS and TULCA partnering with The Marine Institute.
Tell us the story of your project – What was the impetus? What was it about? Who was involved? How did you begin?
Joanna McGlynn, Education Coordinator / Project Developer, TULCA
TULCA OFFshore is a unique collaborative project whereby students, teacher, artist and scientist, learn and work together in the classroom as co-creators and collaborators. At the core of the project is engaging with and understanding the essential principles and fundamental concepts of ocean science literacy in a meaningful way, through the Arts. Beyond a wide range of materials, practices, histories and techniques, concepts and theoretical frameworks, artists – like scientists – are trained to use a unique set of skills, processes and methodologies. Learning through the Arts, is the essential 'other' of STEM education, in developing a unique set of holistic skills, transferable across multiple sectors in preparation for adult life. Young students will have the opportunity to connect STEM skills through core processes of interpretation, communication, analysis and synthesis, resulting in a broader awareness of complex ocean issues and its relevance in our everyday. TULCA and the Marine Institute are uniquely positioned to provide collaborations between some of Ireland's leading artists and marine scientists, creating a platform of connection and interdisciplinary reach in an educational environment. For this pilot project, TULCA are delighted to partner artist Louise Manifold and scientist Dr. Andy Wheeler with Cregmore National School, Co. Galway. The project began in February 2017 and will run until July with 10 in school working sessions culminating in a public exhibition at SeaFest 2017. This Project/Partnership represents the process to date.
Louise Manifold, Artist
Build Your Own Unknown was developed in response to TULCA's OFFshore proposal to create an art project with 4th class, Cregmore National School that responded to the recent discovery of a field of hydrothermal vents along the Mid-Atlantic Ridge during a research voyage led by Dr Andy Wheeler on the Celtic Explorer. In response to the call, I proposed to develop a series of workshops that will result in the production of a mini sci-fi film, in which students will work  together to design, build and create their own sci-fi narrative reenacting the discovery of Moytirra – the name of the ridge of hydrothermal vents.
Stephanie Herwood, Teacher
Myself and my class were approached last year to see if we were interested in a new film project. The film project was of huge interest to us because I believe film and animation are a brilliant and innovative new way to encourage children to communicate stories, ideas and concepts in a creative and original way.  The class have experience producing a film, when they created an animation film on 'The Miracle of Milk' in October 2016. The production of the film gave the class a taste for film making and the processes involved. When we heard the theme of the project was the Moytirra discovery, we knew straight away it was going to be a very exciting adventure. Water is such a big part of our lives here in Galway and this project is only one of many water projects the school have engaged in. 'Something Fishy' is another project the class are working on and this has introduced the class to The Lifecycle of the Salmon and Water all around the World. The two projects have complemented each other nicely and gave the children a good foundation before embarking on Build your own Unknown. Myself and the class had an opportunity to meet Louise Manifold and Joanna McGlynn and straight away the class warmed to the two ladies and a rapport was established. Louise introduced us to some of her work and her earlier projects. We sat down together and decided on a timetable and a schedule so we could get started on the project.
How were the ideas developed and how did the young people, artist and teacher work together?
Joanna McGlynn
In developing a project like this, it is essential to recognise all collaborators as experts in their own fields, with each contributing resources for the generation of new ideas in the classroom thus  recognising the children as authors of their own imaginations. In support of this cross-disciplinary process a definite structure was put in place to include four phases;  research and development, engagement, final production and installation /exhibition. Artist, teacher and student participate collectively in realising each project phase. Having passed through the R & D phase, the project is now in the exciting process of hands on making.
Louise Manifold
One of the central themes within my artistic practice explores how society uses fiction in order to understand fact. The result of this exploration has developed into a process I frequently use to work with ideas in educational contexts. I am fascinated by the relationship between science and cinema, with particular reference to how scientific discoveries, that are beyond human encounter, have been retold in early sci-fi film. Considering this, the project takes reference from one of the earliest science fiction films: Le Voyage Dans La Lune (A Trip to the Moon) (1902) created by turn-of-the-century French filmmaker Georges Méliès. Drawing from this genre and linking it to the popular DIY science projects (such as miniature erupting volcanoes), the project titled Build Your Own Unknown asks the students to work collectively to create a deep-sea ecosystem film set for their own sci-fi film production. It will work with early cinematic techniques of stop motion animation and compositing as a means to reinterpret marine science discovery into cultural forms of storytelling, sculptural and role play. Students are working in four teams and have been asked to develop their set designs in response to a number of real and imaginary sources to include: actual digital film footage of the vent field sourced from the ROV Holland research expedition; interviews with real scientist such as Dr Andrew Wheeler and Rosemarie Butler (vessels operator at the MI); sensory and embodied exercises; investigating the creatures that live there and the Irish mythology of Moytirra. The students will also get to work with Galway Atlantaquaria, to develop underwater aspects of the film and to document deep sea environments for underwater scenes and sonic recordings as part of the creation of a surreal underwater landscapes. Students are encouraged to work together using a number of resources and strategies to solve problems. In this way the project aims to emphasise collaborative learning and to create a sense of ownership on how the work will be delivered as an outcome.
Stephanie Herwood
Our first step in the project was research.  We learned as much as we could about the 'Moytirra' discovery, the field of Hydrothermal vents along the Mid Atlantic Ridge, The Celtic Explorer and Dr. Andy Wheeler. During our early sessions with Louise Manifold and Joanna McGlynn, the children discovered all the main facts and details about the discovery. The visits involved dividing children into groups and sharing their ideas and facts in a group setting.  Based on the facts learned children engaged in creative writing lessons, drama activities and art classes. The early lessons shaped and refined their knowledge and understanding. We also had the opportunity to experience sea life first hand when a skype call was organised with Louise on board the Celtic Explorer. Prior to the call the children engaged in brainstorming activities within their groups on appropriate questions to ask Louise. This call gave children a real feel for life on board the ship and it was definitely a highlight of the project to date. In the later sessions the children started building their sets in their groups and creating story boards for their film. The class also had the opportunity to film in the Galway Aquarium in a selected number of tanks using go pros. Groups also started recording sounds in the Aquarium which will be used throughout the project. All of the lessons have been very well structured with clear objectives and learning outcomes set out in every time slot.
What was your personal experience of the project in terms of successes and challenges?
Stephanie Herwood
Collaborative work in the classroom has huge benefits which range from building self esteem, developing oral communication skills, enhancing student satisfaction and the learning experience and above all it retains the children's attention in the classroom. One huge success of this project will include the ability to share the knowledge and findings easily with their peers in the school and the world. I believe this will be a fantastic starting point for building up ties and a sense of community across borders with students around the world. The whole school are behind the class and are very excited to see the final film. The class have also gained huge experience using equipment they have not worked with before e.g. go pro cameras and hand-held recording devices. This project also provides an exciting and dynamic platform to learn about a new topic. Students are engaging with new and exciting people, which are exposing them to new knowledge and new pathways in life. Since this project started many members of the class have expressed an interest in becoming a Marine Scientist, an Artist, an Explorer etc. The main challenge I have encountered in the class is time. I would love to dedicate more time to this project but unfortunately there is a very large curriculum of work to cover so three hours a week will have to suffice for now.
Louise Manifold
The project so far has been extremely successful. I feel there is a very strong connection and support network between all the partners involved in the project. The children have responded well to multiple sources of information in developing their project ideas. Initially I was concerned that the length of our workshop time might be a challenge however this is not the case. We work 3 hours in the classroom a week per session – 1.5 hours would be a typical session time of previous projects I worked on with young students.  So far this added durational aspect has provided an opportunity for more student led direction into the nature of the research, including devising their own sets of questions to interview Dr. Andy Wheeler directly. It also adds to the project's momentum providing an opportunity for a deeper engagement with both artistic and scientific enquiry and importantly really helps my role and relationship in the class as I got to know the group much quicker.
What was significant for you about the project that is worth sharing?
Joanna McGlynn
As the project is mid process, it is only beginning to reveal itself but I am excited by the possibility of working through a collaborative approach.  Linking technology into the project and creating unique opportunities such as a live SKYPE to Louise on board the Celtic Explorer from the classroom and filming off-site using GoPro camera, outside of the school environment have injected an excitable energy of discovery into the project. TULCA propose to co-develop a set of cross disciplinary lesson plans informed by this process which will be made available online through the Explorers Education Programme™, extending the legacy of this unique project into other schools and classrooms nationwide.
Louise Manifold
What makes the project significant to me is the sense of creative possibility. I feel the number of stakeholders in the project allow for a greater diversity of input and contribute to this sense of possibility. There is a very strong support network between both TULCA and the school, which has really encouraged the ambition of the project's development. It is also a really interesting subject to respond to as an artist.
Stephanie Herwood
The most significant thing about the project I think that is worth sharing is the joy that the class are experiencing during this project. No two days have been the same and the class are completely and utterly absorbed in the information and lessons. I was always a huge believer in collaborative learning but this project has reinforced the huge advantages that can be seen in group work. I also believe that all students should learn about the new world that has been discovered deep under the ocean. I had not heard about the discovery before I was introduced to the project and I would love the findings to be shared with as many people around the world.
Has anything changed in your work as a result of the project?
Louise Manifold
In respect to where we are right now in the project I would have to say that I am still understanding the value of the work. I can say so far it has given me a deep awareness on the value of creativity as a means for young children to understand often complex scientific discoveries and the use of art process as a means to think through and invite curiosity on environments that are inaccessible to us.
Stephanie Herwood
This project has opened up my ideas on art lessons within the class. Louise has introduced us to so many materials which I have never worked with before e.g. plaster of paris and chicken wire. This project has given me the confidence to expand my ideas when it comes to art and themes within the class. We have also engaged in more Skype calls since the beginning of the project. Skype has allowed us to connect with experts in so many different fields and the children are constantly coming up with new people to contact and learn about. This will definitely be a tool I will use more of in the future.
!!!! Thinking Visual
Briefly tell us the story of your project – What was it about? Who was involved? How did it get started?
Jennie:
In early 2014 I received the Thinking Visual Residency Award, run by Wicklow County Council & Mermaid Arts Centre. I proposed a new type of residency within Blessington Community College, where artists John Beattie, Sven Anderson and myself as project curator would work with transition year students to explore activities that lay between producing new artwork and developing a conceptual framework within which to present it. This residency provided a unique experience for both the students and the school to focus on this process-driven phase of contemporary art production, and highlight vital links between the artist as researcher and students as inventive learners. John Beattie gave a focus to moving image work and Sven Anderson evolved sonic frames of reference with the students.
Sven:
The curator Jennie Guy invited me to take part in a six-week residency programme working with transition year students in Blessington Community College in County Wicklow, in late 2014. Between October – December, I met with the students, Jennie Guy, and the art teacher Turlough Odonnell once a week.
Much of my practice is focused on contemporary sound art practices, so I initiated the project with an energetic workshop based on physically manipulating vinyl LPs. Using blades, electrical tape, and sandpaper, the students made physical marks on the surfaces of records that I sourced in a bargain bin in a charity shop in Dublin. Most of the students had never been near a record before .. and immediately we found ourselves having conversations about media manipulation, the sense of hearing, noise and silence, and what distinguishes noise from music from art.
I spent the next sessions presenting a variety of material to the students – some of it interactive, some of it more based on creating the time and space to listen to and comment on significant artworks in this field. These conversations crossed many boundaries by addressing subjects and techniques that were outside of what many of the students would consider as art. Each week provided the chance for another listening session – and we listened to works by Max Neuhaus, Bill Fontana, John Cage, Alvin Lucier, Christina Kubisch, Sam Auinger, and Luc Ferrari (amongst others).
After one particular conversation about sound installations in public places, the students began to express a strong interest in making a sound installation for their school. We quickly focused on conducting site surveys of the schools grounds (looking for the right site to work into), developing a concept for the work's structure and content, and going over all of the practical aspects of making such an installation. We invited the school's principal to the next workshop and the students themselves made a presentation proposing the installation, and asking for permission to construct it.
On the final day of the residency, I spent the entire day at the school working on the installation.
The final sound installation (installed by the students with help from their teachers from art, woodworking, metalworking, and the school's maintenance staff) is formed by four boards spanning over 40 ft, mounted overhead in the outdoor passageway. The boards are fitted with sound transducers, transforming the boards into resonating speakers. The students choose combinations of sounds from an online database of field recordings uploaded by various sound artists that drift between boards throughout the day (played back from a computer / hardware setup installed in one of the classrooms), providing a backdrop to the everyday sounds taking place outside their school. This piece is still installed outside of the school in early 2015.
Turlough:
Between September and December 2014 Jennie Guy (Art School / Mobile Art School) curated an artist residency in Blessington Community College. The residency consisted of six workshops for the Transition Year students. There are two classes in Transition Year in Blessington, one class worked with artist Sven Anderson and the other class worked with artist John Beattie. Over the six weeks students were introduced to the work of their resident artist, experimental workshops were carried out where students explored the processes involved in Sven and John's work. From these explorations proposals for works in video and sound were developed. These proposals were then presented to the School Management and ultimately art works were produced with the artists working closely with the students at all times.
What aspects of the project made you smile? What aspects of the project made you feel challenged?
Jennie:
As each subsequent week of the residency went by I looked forward to each residency session as I knew that there would a lot of unexpected laughs generated by each artist's session. John Beattie really pushed the boundaries of the students perceptions of experimental moving image works. He gave the groups he worked with such freedom that they were able to devise and follow through with their ideas from session to session. Seeing the students achieve such experimental works was really exhilarating for me as an observer and really fun for the students. At times I felt quite challenged at the end of each session in trying to describe what had happened from the artists and students perspective. I knew the ideas and research that the artist was trying to evolve but somehow trying to make it relevant to this student audience I would begin to stutter in my round-up. Turlough O'Donnell the art teacher has a really unique talent of being able to process the ideas the artist was bringing to his classroom and school but somehow contextualise it as a teacher and then re-present each session with great articulation to his students that I felt that I was learning a lot from him.
John:
During my third session with the students, I set a self motivated brief for the day, to give the students an opportunity to experiment with ideas independently using the camera & lens, throughout the grounds of the school. The students explored ideas and methods discussed and demonstrated from previous sessions. At the end of the task, students gathered in the art room, and I projected all images the students had shot large scale for all to view and critique. To my delight, a group of students had created a sequence of images, illustrating one of their peers "flying" steadily, in the air, through the school building. Using a Stop-Motion camera technique, the students discovered an imaginative approach, which later became the central focus of the projects final video. A fantastic moment.
Working with large groups of mixed teenagers can be very challenging to ensure that each individual feels apart of the process. Also, monitoring how engaged students are, and if students are engaging at all. It's crucial for me that I create that space for students to feel comfortable and confident to come forward and be involved in the creative process. This was the most challenging yet rewarding aspect of the project.
Sven:
There were so many moments working on this project that made me smile. One of the funniest moments occurred when we were talking about the artist / composer John Cage, in particular his composition 4 minutes 33 seconds. This piece is a performance in which the audience (and performer) remains silent for this exact duration of time, highlighting the ambient sounds of the performance space and demonstrating that there really is no such thing as silence – and that many incidental sounds can become 'material' when given appropriate focus. We were in the middle of uploading our own version of this piece via a new 4'33" iPhone App – sitting in a circle, listening to the sound of nothing – of our breath, of the creak of chairs, the subtle passing of cars outside. This duration can feel like a long time for a group of teenagers – sitting still, trying not to laugh, trying to stay quiet. One of the students was holding a 'virtual baby' / 'infant simulator' – one of these fake baby dolls that the students have to take care of, tending to their needs. Suddenly – in the middle of our silence – the baby let out a computerized cry. The laughter that had been hiding behind the silence suddenly broke and we were all laughing, the sound being uploaded to the app to be stored with hundreds of other 'silences' recorded around the world.
There were many moments like this – in which our focus on listening, and on the medium of sound, forced us to negotiate with many aspects of space and experience that we would never have had to confront if we were working in a more visual medium. By the end of the residency, I felt that we had a strong group dynamic, and a good understanding of how we could work together as a group both to understand more difficult concepts, and to work towards producing a significant impact on our environment – as evidenced through the successful installation of the sound installation outside of the school.
Turlough:
Seeing the student's reaction to appearing in the video work really made me smile, particularly because the young girl who became the focus for the main video piece is a very quite student, and she got a real kick out of making the piece. Also the first video piece involved another student being given the power to move chairs with his mind this also was very funny to see his performance in front of the students.
In the sound work shop seeing all the students engage with the artist made me smile. I and the students really enjoyed the field recording trip to Dublin also. On this trip we recorded the everyday sounds of the city; these sounds were later incorporated into a piece of sculpture the students had made in response to Sven's sound workshop. The whole project / residency challenged the students notions of what is and what is not art and they now have a broader appreciation of what is involved in contemporary art practise.
What insights from the project are worth sharing?
Has anything changed as a result of the project?
Jennie:
I must acknowledge the strength and benefit of forming strong background relationships that substantiate residencies like this. For example, without the backing, support and most importantly the creative vision of Wicklow Country Arts Office and Mermaid Arts Centre this project would never happen. My approach to creating firm and supportive relationships has deepened even more, this does take more time but now that I can see how exciting ongoing connection with schools can emerge from this type of relationship gives everybody involved in this type of project a great sense of achievement. The same approach goes for really involving the artist as early as possible before a project, either in conversation and or doing site visits and being able to communicate as much as possible before a project starts. This project has given a lot of confidence to approach new contexts.
John: I heard from the schools art teacher that after one of our sessions, a usually quite student came up to him and said that the session and work done was; "poetry in motion".
Another aspect worth sharing from the project, is the careful and considered level of detail carried out by curator Jennie Guy, with the school and art teacher Turlough, to co-ordinate and manage this process. The atmosphere and fundamental creative environment, had been set in place and in motion, making this an extremely smooth and successful project.
I think there is a large number of things that have changed as a result of the project, some measurable, many others not so easy to measure: For the school, Principal, art teachers, and most importantly the students, to experience a sense of what is possible, what can be done, of how to step outside of the school curriculum and produce innovative and challenging work. I feel people's perspective and perceptions changed in relation to art within the secondary level education system. This also goes for myself as an artist and educator, that we can bring dynamic, relevant, and engaging art practices into the school education system, and produce work and working relationships, where the integrity of project is completed with the highest level of engagement.
Sven:
The project's structure – established by the curator Jennie Guy – was quite a substantial framework to begin with. I have had experiences with workshops in which the artist is completely responsible for establishing frames of reference with the teaching staff, the school, and the students. In this case, the curatorial framework that Guy established with Turlough ODonnell (the art teacher) set the ground for more adventurous work within the residency – in which I was free to develop my own ideas in response to the students' interests as they emerged / developed over the course of the residency. The resulting environment (within these sessions) allowed us to move very quickly and to cover quite a bit of ground in six weeks, and the support and exchange with the students, the art teacher, and the curator all felt substantial and easy to balance.
I sense that the impact of having the sound installation – quite a substantial experiential structure – built outside of the school in Blessington marked a significant change in all of our expectations concerning how far we might go with this kind of experimental learning framework. This was not an expected outcome of the project – and beyond the process of producing what I consider to be a considered artwork, our experience working together and learning to ask for a chance to shape or author our environment – in this case the environment of the school – was quite significant. I believe that enabling the students to make a legible mark on their surroundings is a valuable experience in breaking down the borders between self / space (environment) / and authority, resulting in a more active approach to establishing democratic spaces.
Turlough:
The approaches of both artists have given the students great insight into the working practices of contemporary artists. Sven's work in the field of sound sculpture has the potential to create a greater awareness in students to their surrounding particularly to the sound environment of the school. As a teacher the engagement with both artists has had a very positive effect on my own approach to teaching. I believe that it is very important as a teacher to open the subject up and by getting professional artists into the art room with the students has an energising effect.
I think that students will be more open minded as a result of the project. Some students have even started to explore new media on their own. One group of students created their own video piece in and entered it in a competition called "Youth Connect". Their work was short listed to 12 which were screened in the Savoy cinema last week. I have no doubt that the video residency with John would have influenced and informed their approach.
Students' report
Our names are Shona O'Connor and Aoife Mescall, we were students involved in the residency who worked with Sven in the area of sound sculpture.
On the day we were introduced to Jennie and Sven, Sven told us about his area of work and told us what he wanted us, as a class, to learn from the residency. To introduce us to the basics of sound, he brought us in old records with very different genres and sounds and played them on his record player, which he also taught us how to use throughout the day. As an experimental activity, we each chose a record at random and used tape, sand paper and knives to mark and scratch the record to make different sounds and interruptions on the track when it played.
Following up on working with records, Sven gave us the task of making some sort of sculpture using the record covers. The class decided to build a 'sound tower' by taping the covers together in various different ways and installing small speakers to the sculpture.
After a couple of weeks, along with Sven, the class came up with the idea of making putting up a semi-permanent sound installation somewhere in the school to make others aware of the sounds around them. We came up with the concept of attaching four small speakers to four long planks of wood that would go up on the ceiling of the shelter outside the first year corridor.
In preparation for proposing our idea to Mr Burke, our principal, we had to plan to tell him what we wanted to do, how we were going to do it and what we wanted to get out of this project. We chose two pupils to help Sven to pitch the idea to Mr Burke and from the very start he was on board with helping us complete the task. Different people were given different jobs that they had to complete as their part-taking in the completion of the project. Some were in charge of preparing the wood for the speakers to be securely installed and others helped in choosing the sounds we were going to play.
At first no-one could really hear the sounds we were trying to make noticeable, so Sven and Mr O'Donnell worked on fixing it and making it louder.
On the last week in the residency, Sven came in and helped us put everything together. Outside Sven helped other pupils feed wires and cables through the wall to ensure we would be able to connect the speakers to electricity, while the rest of the students helped Donal, our care taker, secure the planks to the ceiling of the shelter to be ready to be connected. Other students stayed inside to make a final decision on the sound they were going to play and what went well together. Everything was just about finished when the final bell of the day rang. To thank Sven and Jennie for all their hard work and time they had spent with us, we presented them with a bottle of wine as a small token of our appreciation.
When people were beginning to become aware of the sounds being played, confusion was their initial reaction. They were curious as to where it was coming from, as they were not aware we had been working on this project. However when they got used to it, they listened closely and carefully to the sounds and tried to figure out the type of sound that was being played.
We feel our class really enjoyed the experience and learned a lot about how art is not just in pictures and paintings. We all got along really well with Sven and found it a very interesting and new experience. We were also thought about how interesting it is to stop and listen to how versatile the sounds in a particular environment can be.
Overall we think the project was a massive success and really enjoyed working in such a different area of art.