!!!! Cork ETB: Arts in Education Strategy 2022-2026
Cork ETB
Cork ETB recently launched their Arts in Education Strategy 2022-2026. The Strategy outlines the importance of the arts and provides a framework for arts education and the promotion of the arts and supporting their implementation throughout Cork ETB.
Minister for Education, Norma Foley attended Nano Nagle Place in Cork City on Friday 2nd December where she launched Cork ETB's Arts in Education Strategy 2022-2026.
The Arts in Education Strategy outlines the importance of the arts and provides a framework for arts education and the promotion of the arts and supporting their implementation throughout all of Cork ETB's primary, post primary and further education and training facilities.
The implementation plan includes the following five key points and their respective objectives:
Awareness: develop and create a space for the Arts in all its forms
Inclusivity: to promote and deploy Arts Education as a valuable tool for promoting social inclusion, community engagement, well-being and fostering lifelong learning
Partnership: develop existing relationships while nurturing the development of new partnerships and joint ventures
Value: to foster and promote creativity by encouraging schools and centre's to give parity of esteem to creative subjects
Quality: provision of appropriate supports and resources to provide for quality teaching and learning in the Arts
Speaking at the launch, Minister Foley praised Cork ETB for their efforts to enable better integration and promotion of the arts in their education entities.
She said: "It was a joy for me to be invited to launch the Cork Education and Training Board's Arts in Education Strategy 2022 – 2026.   I strongly believe that inclusive access to the arts can nurture, inspire and innovate all our students and young learners. The Arts in Education Strategy today clearly identifies Cork ETB's commitment to the arts and provides a framework for the way forward for all stakeholders. It was a pleasure to officially launch this milestone strategy in the presence of such vibrant performers and talented musicians."
A copy of Cork ETB's Arts in Education Strategy 2022-2026 can be viewed online here: https://www.corketb.ie/cork-etb-arts-provision/
!!!! Butler Gallery: Cartoon Saloon – My Father's Dragon, The Exhibition
Butler Gallery
19 November  2022 – 29 January 2023
Butler Gallery continues its successful partnership with the Kilkenny-based and five time Oscar© nominated Irish animation studio Cartoon Saloon, in an exhibition response to their new animated film My Father's Dragon, directed by Nora Twomey.
The film is based on a beloved 1948 fantastical children's novel by Ruth Stilies Gannett about Elmer Elevator, a boy who runs away from home to rescue Boris, a captive baby dragon trapped on a wild island.
The exhibition combines the expertise of Butler Gallery's exhibition team with Cartoon Saloons worldwide reach and distinctive style to develop an immersive, sensory and child-centred exhibition experience that will captivate audiences of all ages.
____________________
Learning and Public Engagement Programme:
As with previous collaborations with Cartoon Saloon, Butler Gallery will deliver an extensive programme of public engagement for children and adults that will include themes such as children's resilience and problem solving, addressing mental health issues while coping with a crisis, and celebrating the films art and artists. Learning and Public Engagement events will include: tailored inclusive activities for children and young people; interactive visits for schools and groups that encourage creativity through hands-on making; a talk series and masterclasses with Cartoon Saloon animators, editors and directors; and an animator-in-residence programme.
To book an interactive visit for your school* contact Butler Gallery at:
learning@butlergallery.ie or +353 (0)56 7761106
*Bookings for groups of over 5 is essential.
The exhibition is also complemented by the screening of The Making of My Father's Dragon which is on view in the Digital Gallery (duration 5 mins 24 secs)
For further information visit: https://www.butlergallery.ie/whats-on/my-fathers-dragon-cartoon-saloon
!!!! The Arts Council: Creative Schools
Arts Council announces 186 new schools will join its Creative Schools initiative
The Arts Council recently announced that offers have been made to 186 schools and centres across Ireland who applied to be part of the Creative Schools initiative. The very high level of applications to be part of this 2-year process reflects the importance that schools and Youthreach centres put on creativity and their ambition to celebrate and put creative thinking at the very heart of what they do.
Speaking at the announcement Director of the Arts Council Maureen Kennelly said: "We warmly welcome our new cohort of 186 schools to Creative Schools. We are delighted that demand for the programme is so strong across the country and we are thrilled to say that by this stage of the programme, 20% of schools in Ireland have connected with us. Working with our partners in the Department of Education, the Department of Tourism, Culture, Arts, Gaeltacht, Sport and Media and Creative Ireland, we are looking forward to another school year full of creativity, consultation and exploration".
Minister for Education Norma Foley TD said "I am delighted to welcome the 186 schools that are coming together to join the Creative Schools initiative 2022. I would like to welcome these new schools into this exciting initiative, and I look forward to seeing how these creative, colourful and captivating projects develop over the coming two years. Through Creative Schools the Department of Education supports critical thinking, cognitive and emotional wellbeing, encouraging a creative environment, without boundaries within the educational space."
Also speaking, Minister for Tourism, Culture, Arts, Gaeltacht, Sport and Media Catherine Martin TD said "I would like to congratulate the 186 schools and Youthreach centres that have successfully applied to become a Creative School and now have the opportunity to embark on a two-year journey to place creativity at the heart of their school communities. With the addition of this new cohort, 1 in 5 schools in Ireland will have experienced Creative Schools since the programme commenced in 2018 and this year sees an increase in the diversity of settings in receipt of support. This is a testament to its impact and the strength of the partnership between the Art Council, the Department of Education and the all-of-government Creative Ireland Programme."
The Creative Schools Initiative is designed to provide opportunities for children and young people to build their artistic and creative skills, each school taking part receives a grant and works with a professional Creative Associate who supports them to develop and implement their own bespoke Creative School Plan. Participation empowers children and young people to develop, implement and evaluate arts and creative activity throughout their schools/centres and stimulate additional ways of working which reinforce the impact of creativity on children and young people's learning, development and well-being.
Creative Schools received applications from counties throughout the country to be part of the initiative and they were assessed on how Creative Schools would benefit learning and development in the school and how children and young people would play a central role in leading the process.
The programme was established in 2018 and more than 650 schools have been invited to participate to date. With this latest round of offers it means that 1 in 5 schools in Ireland will have / will be taking part in the Creative Schools initiative. Recipients range from large schools in major cities to smaller schools on islands including Inisboffin, Achill, Inis Oírr and Inis Meain. Creativity truly lives everywhere.
This year 131 more primary schools, 35 more post primary schools, 11 Special Schools and 5 Youthreach centres have been sent offers to join. Also joining the programme this year are four schools in Alternative Settings who cater for young people with severe emotional and behavioral challenges. Oberstown Children Detention Campus School, Co. Dublin, Ballydowd High Support Special School, Dublin 20, Crannóg Nua Special School, Portrane, Co. Dublin and St Canice's Special School, Limerick will join the programme and receive enhanced supports.
The full list of the 186 Schools selected to participate in the Creative Schools programme in 2022-23 can be viewed on The Arts Council website at https://www.artscouncil.ie/schools-2022-23/.
Schools who have been taking part to date have explored creativity in all its forms and embraced how it can be celebrated in so many ways. From baking to creating and designing gardens, from photography to performance, from working with other community groups to transforming areas of their own schools, the impact of Creative Schools can be seen around the country.
!!!! Schools Online Workshops with The Ark: Winter Magic
The Ark
Dates: 18 – 28 January 2022
Taking inspiration from The Ark's Winter Light exhibition and music show Tracks in the Snow, children will celebrate the magic of winter light and the variety of elements that are part of the natural world during this season.
In wintertime, light takes on a different more intriguing dimension. With frost glittering on trees and gardens, with ice forming beautiful designs on water and the moon creating magical shadows on a white landscape our imagination soars and stories unfold. There is so much to look forward to!
This workshop for primary school 1st – 6th classes is based on a simple 3D activity aimed at creating a shadow scene using a selection of white paper. Children can work on an individual piece or in pairs.
Artist Jole Bortoli will introduce the workshop through the projection of a sample of images on the theme of winter art and narrative for the children to work from and create their own artwork.
Curricular Links
This workshop links with the construction strand and drawing strand of the curriculum, allowing children to create imaginative and complex 3D structures from paper. They will explore shape, tone, line and form as they use paper in different ways to manipulate light and shadow.
The Ark is pleased to be able to offer these digital workshops for free to targeted schools outside of Co. Dublin, with the support of Rethink Ireland's Children and Youth Digital Solutions Fund.
For full details and booking information go to ark.ie/events/view/winter-magic-online-workshops.
!!!! Blog 4 – Jennifer Buggie, Teacher & Lead Facilitator on the TAP Design Team
Growing during Closing
October, falling leaves and creeping numbers. It was a month of growing in a season of closing. My colleague Ciara Heffernan led our school approach to Creative Clusters within our theme, Connecting and Reconnecting. This creative collaboration between Cluster Schools is an exciting new dimension to our arts programme. The extension of the Creative Schools programme with Associate Gabi McGrath has enabled us to develop creative partnerships with artists from a range of different disciplines. Early Years Music Specialist Nuala Kelly returned to complete a partnership with Mrs. Cushen and Ms. Heffernan, while a range of classes from Junior Infants to 2nd Class will work with multidisciplinary fine artist Francesca Hutchinson, dancer and visual artist Kate Wilson and storyteller Thomas McCarthy. It is a privilege to work with and support artists in the current climate.
Teacher Artist Partnership would like to wish all our summer course participants well as they engage in their TAP residency and we look forward to sharing in the work. Our Design Tutor Team are extremely proud of the work and achievements of our National TAP Coordinator Dr. Katie Sweeney, Tralee Education Centre Director, Terry O Sullivan and Administrator Máire Vieux in securing Erasmus + funding to develop our programme on a European level with partner countries Serbia, Austria, Netherlands and Greece. Within this initiative our Design Team have been working on a series of mini-creative moments called Take Ten with TAP which we look forward to sharing with you soon…watch this space!
Thank you, Portal, for this space to share. Thank you, reader, for reading.
!!!! The Three Muses Activity Pack – Learning Resource
The Hunt Museum
The Hunt Museum are delighted to bring you The Three Muses Activity Pack, a learning resource inspired by the collections of The Hunt Museum, Limerick Museum and Limerick City Gallery of Art.
It is bursting with open-ended, creative activities which support Visual Art, History and English curricula, and comes in a full colour version for screens and a reduced colour version for printing at home. Explore and learn from Limerick's museums without leaving your house – all you need is a pencil, paper and your brilliant imagination!
The Three Muses is a learning programme designed to increase access, ownership and enjoyment of three Limerick museums, with a focus on modern and contemporary visual art. The programme includes workshops and learning resources like this. Watch a short video on the programme here.
The Three Muses programme is supported by Limerick City and County Council and Friends of the Hunt Museum. This Activity Pack is sponsored by Unity Credit Union.⠀⠀⠀⠀⠀⠀
To download the activity packs go to www.huntmuseum.com/the-three-muses-activity-pack/⠀⠀⠀⠀⠀⠀⠀⠀⠀⠀⠀⠀⠀⠀⠀
!!!! Early Years Seedlings Workshops at The Ark: Howie Hedgehog Needs a Home
The Ark 
Dates: 4 & 5 October 2019
Get cosy for the autumn in this early years drama workshop for little ones aged 2-4 led by The Ark's Early Years Artist in Residence, Joanna Parkes.
Autumn is here, leaves are falling and the animals in the woods are preparing for their long winter sleep. But Howie Hedgehog is not ready. He has no food supplies and no shelter to sleep in. He will need some help from the wood elves to collect food and build himself a warm and cosy den.
Join in to discover, explore and find out if you can help Howie build his den in this delightful workshop adventure.
Combining drama, story, play and props, this interactive drama workshop invites little ones and their grown-ups to enjoy imagining together. So if you're a parent, grandparent, uncle, aunty, godparent or carer, come along with a 2 to 4 year old and join in the fun.
Dates & Times: 
Friday 4th October, 10.15am & 2pm
Saturday 5th October, 10.15am & 11.45am
For ages 2- 4
45 minutes
For more information and booking go to ark.ie/events/view/seedlings-howie-the-hedgehog
!!!! Guest Blogger: Ciara Gallagher Creativity & Change programme participant – Blog No. 4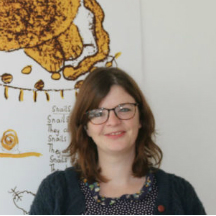 Ciara has a PhD in English from Maynooth University. She has worked as researcher on the National Collection of Children's Books (TCD) and "Gender Identity: Child Readers and Library Collections" at the Centre for Children's Literature and Culture, DCU. She has taught English in various universities and currently works at Kids' Own Publishing Partnership as Administrative and Development Officer.
Blog 4 – On Practising Creativity and Change
The second half of the Creativity and Change course focused on "application to practice" – on applying the forms and modes of creative engagement we had experienced and worked with in the first half of the course. Over numerous weekends, we practiced creativity across a variety of forms. In small teams, we co-facilitated creative workshops to critically focus on important local and global justice issues with our peers. We created a 60 foot piece of street art – participating in the entire process from beginning to end.  We planned and designed a number of creative street actions to engage the public in Cork city in support of Climate Case Ireland.
A core part of the Creativity and Change course is its focus on connecting learning that occurs through the head, hand, and heart – through reflection and critical thinking, through doing, making and taking action, and through affective learning and creating connections. Each weekend, each activity, actively engaged all three modes of learning. Not only did we practice the application of creativity and creative processes to encourage a critical reflection and action to change on global justice issues, we also built a community, a collective, however temporary, within which these experiences became all the more meaningful.
This head, hand, and heart model is not just something to apply to just certain learning experiences, but something that can inform so many areas of our lives, our learning, our teaching, our living. This too, like creativity, is something to practice each day and to continually build on.
Now, perhaps more than ever, it seems like the time to take action in our world, to resist retreating into apathy. The scale and persistence of the global justice issues that we face can make taking action seem like an impossible task. What the Creativity and Change course encourages is a sense that this continually coming back to these issues need not feel futile, or as evidence that things do not change despite our best efforts. That instead, circling back to social justice issues in new, creative, and diverse ways, is also something to live, and to make part of our lives.
!!!! School Opportunity: Uillinn invites Schools to engage with 'Mapping the Divide'
Uillinn West Cork Arts Centre
Deadline for bookings: Friday 29th March 2019
Uillinn: West Cork Arts Centre is delighted to offer West Cork Primary Schools an opportunity to engage with our Dance Artist in Residence, Mairéad Vaughan in a short summer project – Mapping the Divide.
Mapping the Divide is a creative exploration into the effects of technology on our body, mind and environment.
Uillinn invites three primary school groups to take part in a short series of workshops at school and at Uillinn. Two will take place in the school and one at Uillinn and will creatively investigate the impact that technology, and in particular the use of mobile phones, can have on us.
Students will be invited to journey into the body and out to the landscape, to bring awareness of the direct sensory and kinaesthetic relationship we have with our environment. Using gathered materials chosen from the landscape, they will explore textures, patterns, smells, sights and sounds. Then movements will be choreographed from this investigation to create a site-specific, pop-up performance.
About Mairéad Vaughan
As an artist, I am passionate about the transformational power of dance and creativity. My teaching practice highlights the need to reconnect with body-mind, specifically through cultivating sensory awareness (sight, sound, touch, smell, taste). I teach a practice called 'Attuning' which develops all of these aspects. This practice is the result of my PhD research and highlights the need for inclusive arts education.
Project Details:
Ages:  The workshops are suitable for 5th and 6th class groups, aged 10 to 13 years. Limited to 22 children.
Venue: Your school for two workshops and Performance Space at Uillinn: West Cork Arts Centre,  Skibbereen for one workshop.
Dates / Times:  Workshops will take place on Wednesday afternoons during May / June, duration 60 to 90 minutes. Dates and times to be arranged to suit the schools involved.
Clothing: Children should wear loose clothing like tracksuit bottoms, rather than school uniform when taking part in the workshops.
Booking Details:
Fee for series of three workshops is €2 per person
Closing date for bookings is Friday 29 March 2019
To find out more or to book your class please contact Uillinn: West Cork Arts Centre on 028 22090 or email info@westcorkartscentre.com
!!!! Opportunities for musicians at Music Generation Clare
Music Generation Clare
Closing Date: 12 noon, Wednesday 29th August, 2018
Limerick and Clare Education and Training Board invites applications from suitably qualified persons to be placed on a panel for part-time tutors in the following areas:
Guitar
Harp
Keyboard
Percussion
Uilleann Pipes
Post details and applicant requirements are available to download from www.lcetb.ie. The closing date for receipt of online applications is 12 noon, Wednesday 29 August 2018.
LCETB is an Equal Opportunities Employer
Music Generation Clare is part of Music Generation, Ireland's national music education programme initiated by Music Network, co-funded by U2, The Ireland Funds, the Department of Education and Skills and Local Music Education Partnerships. Locally, Music Generation Clare is managed by Clare Music Education Partnership, led by Limerick and Clare Education and Training Board in partnership with Clare County Council, University of Limerick and Clare Education Centre.
!!!! Explore Prop Building & Design at the Solstice Arts Centre
Solstice Arts Centre
Date: Friday 28th September, 9.30am & 1pm
As part of the Patrick Hough exhibition programme at the Solstice Arts Centre, post-primary schools are invited to take part in a curriculum linked visual arts workshop. Join Creative Arts Facilitator and Prop-Maker Caitriona McGowan for an intriguing tour of the exhibition and create a 3-Dimensional bust using a variety of techniques such as templating and plaster casting. Caitriona will provide students with a unique insight into the model-making industry and her own career as a prop-maker working in film, theatre and street performance.
This workshop comes with an additional resource that covers the Gallery Question of the Leaving Certificate, Art Appreciation course and can be downloaded from the Solstice Arts Centre website.
For further information and booking go to www.solsticeartscentre.ie/schools/exploring-patrick-hough-through-prop-building-design.2703.html
!!!! Arts Council of Ireland Information Clinic for the Young People, Children and Education Bursary Award 
Arts Council of Ireland
Clinic Date: 19th June 2018 from 1.30 – 4pm
Application Closing Date: 17:30 on Thursday 12th July 2018
The Arts Council, in association with Baboro International Arts Festival for Children will host an information session about the Young People, Children and Education (YPCE) Bursary Award on 19th June 2018 from 1.30 – 4pm in the Town Hall Theatre Studio, Courthouse Square, Galway.
The YPCE Bursary Award is open to individual professional artists and practitioners working with, and producing work for, children and young people across a wide range of artforms. The award provides artists with the time and resources to think, research, reflect on and develop their artistic practice. Applications for the 2018 YPCE Bursary Award open on June 12th and will close at 17:30 on Thursday 12th July 2018.
The purpose of this session is to share the objectives and priorities for this award and to offer practical guidance on the application process. There will also be an opportunity to hear from previous recipients about how they have used the award to develop their practice.
Agenda 
Event begins at 1.30pm, with refreshments available
Introduction and the objectives of the bursary award
Experience of previous recipients
Application process
General Q&A Session
Event closes 4pm
Please register to attend the information session by email ypce@artscouncil.ie
!!!! Job Opportunity Barboró: Communications Coordinator
Baboró International Arts Festival for Children
Deadline 4pm, Friday 11th May 2018
Baboró is seeking an innovative and experienced Communications Coordinator to join its small but ambitious, year-round team.  The successful candidate will be responsible for Baboró's internal and external communication including promoting the annual Baboró Festival, its year-round work, communicating Baboró's mission and developing the organisation's profile and brand. The role also incorprates supporting the Baboró's operations by maintaining office systems and managing effective and efficient internal communications. This is a dynamic role which offers excellent opportunities for the successful candidate to develop their own unique skillset and areas of interest..
Essential Requirements
Excellent verbal, written, oral and digital communication skills
Strong visual communication skills with an eye for detail
Dynamic and resourceful self-starter
At least 3 years' relevant work experience at management level
A track record in initiating strong and effective marketing/promotional campaigns
Strong organisation and planning skills with the ability to work under pressure in a challenging environment while managing workload and competing priorities
Proven ability in collecting and analysing data and in producing management reports
Experienced in managing budgets
Excellent interpersonal skills with a proven ability to work effectively in a team and build and maintain effective working relationships
Ability to effectively manage staff
Proven ability to manage processes, develop standards and promote process improvement
Excellent IT skills
Desirable Criteria
3rd level qualification relevant to marketing/communications
Knowledge of Baboró's mission and remit
Knowledge of the arts sector
Understanding of Theatre for Young Audiences (TYA)
Experience of working in a festival environment
For the full job description and details go to www.baboro.ie/news-events/communications-job
!!!! Audi Dublin International Film Festival Fantastic Flix programme for schools
Audi Dublin International Film Festival
21st February – 4th March 2018
Fantastic Flix, ADIFF's strand for young people aged 4-16, returns for its third thrilling year with the support of Cheestrings and featuring an exciting programme of international films for school groups.
Director of Collapsing Horse Theatre, Dan Colley, will give post-screening talks at both At Eye Level (12+), a father and son reunion tale, and Liyana (12+), a beautiful Swazi documentary with animated elements about a girl who goes to great lengths to save her younger brothers from harm. Director Meikeminne Clinckspoor will attend two screenings of Cloudboy (9+), an enchanting film about Niilas, who is sent to visit his mother in the wonderful forests of Lapland and learns about the Sami people.
Nora Twomey, director of the much-anticipated The Breadwinner, will introduce a screening of children's classic My Neighbour Totoro. Brown Bag Films' Vampirina (4+) and the Fantastic Flix Shorts (4+) are sure to delight the youngest budding cinemagoers.  Actress Wilma Lundgren will attend the festival for her film, Room 213, a seriously spooky Swedish mystery. Other highlights include the terrific animations from France, The Big Bad Fox & Other Tales (6+), and Japan, Mary and the Witch's Flower (6+).
The Fantastic Flix Children's Jury, a collaboration with The Ark's Children's Council and the Irish Film Classification Office, returns for a second year, as do a fascinating choice of workshops in collaboration with The Ark.
Schools Programme
Primary Level
My Neighbour Totoro  – Thursday 22nd February – Light House 1 – 11am – Age Recommendation 5+
Cloudboy – Thursday 1st March – Omniplex Rathmines – 10am & Friday 2nd March – Light House 3 – 11.30am – Age Recommendation 9+
At Eye Level – Thursday 1st March – Movies @ Dundrum – 1pm – Age Recommendation 12+
Vampirina – Friday 2nd March – Light House 3 – 10am – Age Recommendation 4+
Room 213 – Friday 2nd March – Omniplex Rathmines – 11am – Age Recommendation 12+
Post – Primary Level
At Eye Level – Thursday 1st March – Movies@Dundrum – 1pm – Age Recommendation 12+
Room 213 – Friday 2nd March – Omniplex Rathmines – 11am – Age Recommendation 12+
Liyana – Friday 2nd March – Movies@Dundrum – 12.30pm – Age Recommendation 13+
Career's Day – Thursday 1st March – IFI – 10am – Tickets €5 – Age Recommendation 14+
This one day event, aimed at Senior Year Secondary Level students will unpack some of the many di erent lm and television departments and skills required for a career in the lm industry. There will be insights from sparks and foley artists, script supervisors and VFX supervisors, and will feature some of the Irish lm industry's most talented artists including Darragh O'Connell (Brown Bag Films), Louise Kiely (Casting Agent), Piers McGrail (Cinematographer), Steven Fanagan (Sound Editor & Composer).
—
The Career's Day is a joint initiative from
Audi Dublin International Film Festival, the Irish Film Institute, Irish Film Board and Broadcasting Authority Ireland.
For more information go to www.diff.ie
!!!! Blog 3 – Tadhg Crowley, Curator of Education
At the time when the Glucksman first began to incorporate projects and events for Primary School Teachers into its programme, there were a number of concepts that we sought to explore and that the teachers we engaged with challenged us to address. These ideas came to form the basis of the programmes that were designed and delivered in the subsequent months and years.
It is widely accepted that the visual arts can play a significant role in creating an innovative learning environment, but a pivotal question for the Glucksman team was, what can be done to improve the quality of arts learning opportunities for children in Ireland today and what is the role of the art museum in any initiative? Art museums provide exceptional art educational mechanisms and opportunities that include access to professional artists, introductions to various art making techniques, and the experience of seeing and understanding significant works of art but how could these resources best be utilized to improve art opportunities for children? At the Glucksman, we consistently see the positive impact that visual art has on young people, the opportunity to view an artwork up close without distraction and to begin to grasp an artist's motivations can have a significant impression on a child's mind. However, when children visit museums with their school or with their family it is not always on a frequent basis and this irregular exposure to art can mean that their appreciation and understanding is less than would be achieved through consistent interaction or through an enduring learning curve as can be achieved in a school environment.
The feedback we were getting from Primary School teachers was that increased pressure to allocate more time to the curriculum and in particular to the National Strategy to Improve Literacy and Numeracy, meant it was becoming increasingly difficult to dedicate time in the classroom to art making activities and art appreciation. Understanding the limited time available for arts in the classroom, we began to look at how the Glucksman could enable teachers to develop projects that combined elements of visual art with other strands of the curriculum such as math, science, language, history or SPHE. By continuing to focus on intrinsic areas of the curriculum, classroom routine and structure would not be negatively affected. Instead students learning could be enhanced through exciting creative processes and exposure to important visual artists and art movements.
This idea for an art integration approach was influenced by the Glucksmans exhibitions model. Exhibitions at the Glucksman draw on the research of University College Cork academic departments and professionals from across the four colleges of Arts, Celtic Studies and Social Science; Business and Law; Medicine and Health; and Science, Engineering and Food Science. One of the primary goals of the exhibitions is to emphasis the unique role of visual media in communicating knowledge and central to this is the creation of discursive relationships between academic disciplines and art practice. The Glucksman finds itself in a favourable position where, right on its doorstep, it can create dialogues and exchanges with researchers who are leaders in diverse and interesting fields. The value of bringing an extensive and authentic knowledge to particular themes and ideas leads to both comprehensive and sensitive visual investigations.
Leading contemporary artists are constantly using aspects of curriculum strands such as history, science and language studies as the subject matter for their creative practices. Many art movements lend themselves to understanding subjects such as math or science while historical artworks can allow children to better understand the world at a specific period in time. We believed that learning from these artists, artworks and art movements, teachers could begin to develop creative projects that would augment a student's experience and understanding.
In 2015, the Glucksman ran its first summer course for Primary School Teachers based on the art integration model to overwhelmingly positive feedback. The course followed the three pedagogical approaches of Art Appreciation; Art Interaction; and Art Making. The morning sessions led by the curatorial team investigated artists, their artworks and how their practices could relate to curriculum strands. These sessions took place in the exhibition spaces and included lectures, talks, tours and discussions. The afternoon sessions invited teachers to work with professional artists on practical projects for the classroom.
This coming August will see the third iteration of the art integration summer course at the Glucksman. For more information on the Glucksman Teachers Programme please contact education@glucksman.org or visit glucksman.org
!!!! Landmark research document reveals a pioneering new model for performance music education
Music Generation
A ground-breaking research document, which was launched on Friday 4 November at the 6th Annual Conference of the Society for Music Education in Ireland, has revealed a new model for the provision of music education that can achieve powerful and positive outcomes for children and young people. 'Possible Selves in Music' challenges traditional thinking about music education, uncovers an entirely new approach and opens up a wealth of knowledge to all who are interested in bringing music into children's and young people's lives.
As Ireland's national music education programme, Music Generation seeks to transform the lives of children and young people through access to high-quality vocal and instrumental tuition (also known as performance music education). Working through local Music Education Partnerships, the programme provides children and young people with a multitude of different ways to engage with music.
National Director of Music Generation, Rosaleen Molloy said that: "'Possible Selves in Music' reveals rich and valuable information about how children and young people flourish when they connect with music. We now know that children and young people engage with music learning to enrich their lives in a range of different ways. 'Possible Selves' is a useful concept to capture the various ways that they imagine music will be part of their lives in the future."
'Possible Selves in Music' is the outcome of a two-year research partnership between Music Generation and St Patrick's College Drumcondra (now DCU). The research, which will be of significant interest to musicians, educators, policy-makers, youth workers, and national and local government agencies at home and overseas, was commissioned by the Board of Music Generation in 2013 and carried out by Postdoctoral Research Fellow Dr Thomas Johnston, who worked with Principal Investigator to the project Dr Patricia Flynn (DCU/St Patrick's College).
The Research Board comprised Dr Patricia Flynn (DCU/St Patrick's College); Rosaleen Molloy (National Director, Music Generation); Prof Stephanie Pitts (University of Sheffield); and Prof Emer Smyth (ESRI).
For further information about the research and to download the document visit www.musicgeneration.ie.
!!!! Poetry Ireland – Writers in School Scheme
!!!! Writers in Schools: Republic of Ireland & Northern Ireland
Writers in Schools Scheme
Poetry Ireland's Writers in Schools scheme part-funds visits by writers and storytellers to primary and post-primary schools in the Republic of Ireland (funded by The Arts Council) and Northern Ireland (funded by Arts Council Northern Ireland).
Over the past 22 years, the scheme has given more than 500,000 children the chance to work closely with writers in the classroom. Poetry Ireland believes that the creative energy sparked by these first-hand encounters with writers can trigger an appreciation of the emotional and intellectual power of language that lasts a lifetime.
Writers in Schools single visits are:
Suitable for primary and post-primary school groups
Available in the Republic of Ireland and Northern Ireland
Available with a range of artists including poets, novelists, storytellers, teen fiction writers, children's writers and screenwriters
2 hours with a selected writer, which can be divided into shorter sessions for different class groups (eg two/ three sessions during one visit).
€100/£85 per visit. This is half the writer's fee, paid by the school. Poetry Ireland funds the balance plus travel expenses.
B type visits (4 hours/ cost €200/ £170) are reserved for special projects, with more information available upon request.
To apply for the Writers in Schools single visit, please visit: Writers in Schools scheme | Poetry Ireland | Poetry Ireland