Galway Arts Centre, Galway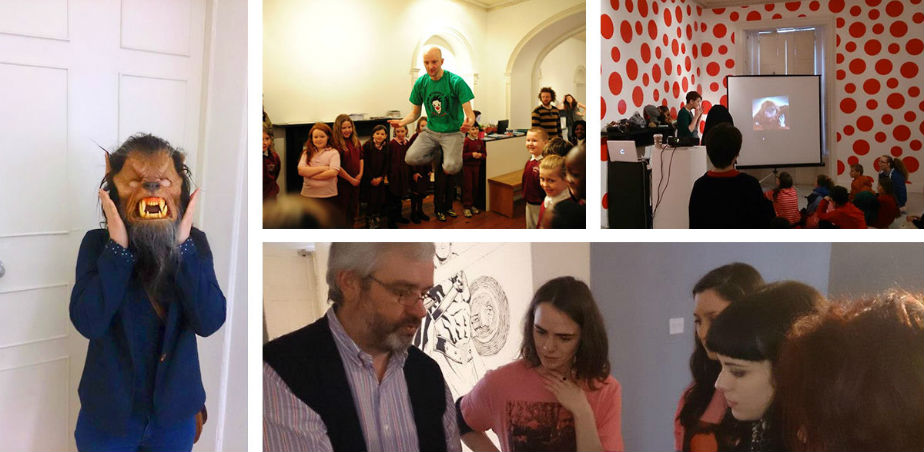 Galway Arts Centre comprises of 3 galleries showing national and international contemporary arts, working with professional artists in ranging art forms for exhibitions, usually supported by auxiliary events involving talks, symposia, music, story-telling and screenings.
It provides a Visual Arts access point for all audiences, encouraging and nurturing all forms of artistic activity, facilitating emerging artists and arts groups, heightening awareness of the arts via its education programme, and providing access to its facilities for all community sectors.
Galway Arts Centre offers exciting visual art programmes, and partnerships with several Galway Festivals including Cúirt International Festival of Literature, TULCA Festival of Visual Art, Baboró International Arts Festival for Children and Galway International Arts Festival.
Education initiatives include Galway Youth Theatre, Cúirt Labs and gallery tours and workshops for primary and post-primary schools.
Galway Youth Theatre
Galway Youth Theatre is a vibrant arts resource for young people in Galway. The Theatre was set up in 1991 with the aim of providing a safe environment where young people could gain access to the arts through a theatre training programme. The training allows the participants to acquire new skills in performance and to develop their confidence and self-esteem. GYT offers its main service provision to young people in Galway city but also facilitates programmes throughout Galway County.
GYT provides a two year performance programme that aims to give participants training in various performance disciplines, from characterisation and voice work to physical movement, stage combat and improvisation. Past participants include Tommy Tiernan and Paul McClusky.
GYT actors have gone on to work in theatre, advertisements and TV programmes such as Game of Thrones and Ros na Rún. GYT also runs an outreach programme in County Galway, where professional directors and actors travel to schools and work on tailor made programmes for post-primary students.
Cúirt Labs
Taking place every April during the Cúirt International Festival of Literature, Cúirt Labs is an innovative programme for primary and post-primary students. Students attend talks, workshops and readings designed specifically for the Labs, in English and Irish, with writers, illustrators, musicians, video game designers, clowns, architects and artists.
The Labs take place in the Galway Arts Centre where three floors of gallery space become custom made spaces for inventiveness and imagination. The first two days of the Labs cater for primary school level and the third day is dedicated to post-primary pupils. Cúirt Labs also run in-school events in County Galway for primary and post-primary schools.
Leaving Cert Art History Study Day
Every year Galway Arts Centre hosts a study day refresher course for Leaving Cert Art History & Appreciation students. The course takes the form of two lectures which cover Art in Ireland and European Art (1000AD – present). These lectures function as intensive revision sessions focusing on key points – they are not intended as introductions to the topics. Hand-outs for each theme, designed in conjunction with the National Gallery of Ireland, are provided. This is followed by a visit to the Galway Arts Centre where students cover question three the 'Visit to an Art Gallery' question in Section III.
Post-Primary Schools
Galway Arts Centre runs gallery visits for secondary school groups. These visits are designed around each individual group, taking into account what stage of the curriculum the students are at and what they are interested in learning more about. The visits can be specifically geared towards specific learning objectives prioritised by the teacher or can simply be a way to encourage students to engage with, discuss and appreciate art.
Primary Schools
Galway Arts Centre welcomes primary school groups to visit the gallery, particularly if an exhibition is especially suited to children. Exhibition visits generally incorporate a guided interactive tour followed by a workshop designed specifically for the group. The visits are planned prior to the event in conjunction with the teacher, in order to give a high quality, tailor-made experience to the group. Specific once-off projects with primary schools, involving all pupils, have also been designed with teachers.
Galway Arts Centre also works in collaboration with Baboró International Arts Festival for Children, Tulca Festival of Visual Art & Galway City & County Libraries on gallery visits and workshops.
Contact Details
---
Contact Name
Megs Morley
Head of Visual Art
---
Address
47 Dominick Street,
Galway City
---
Telephone No.
091 565886
---
Email
---
Website
---
Facebook
---
Twitter
---
Instagram
---
Projects & Partnerships - One result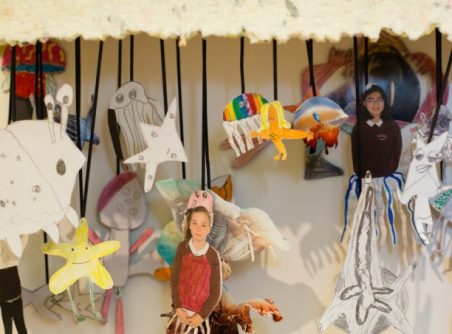 Artist(s): Siobhan McGibbon
Teachers(s): Rachel Scott
School/Group: Scoil Chroí Íosa, Galway
---