Blog 2: Kevin Gaffney Artist & Filmmaker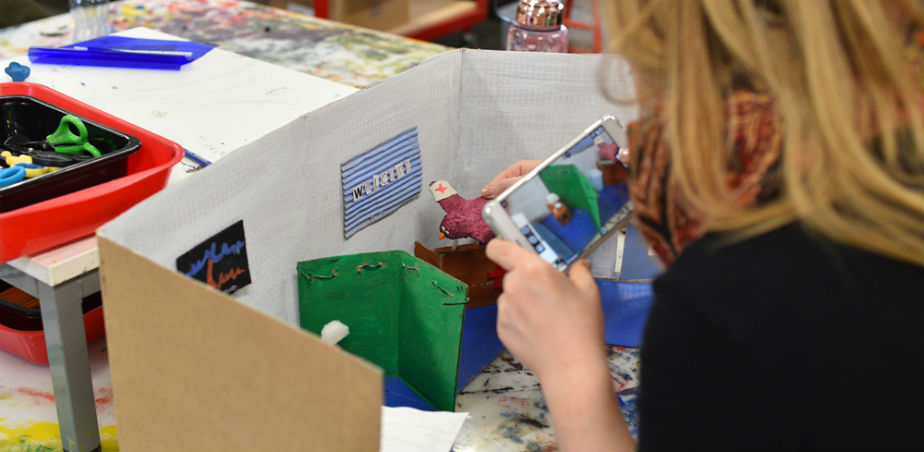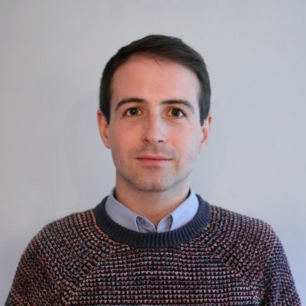 Kevin Gaffney is an artist filmmaker. His work is in the Irish Museum of Modern Art's collection and has been shown internationally in exhibitions and film festivals including: European Media Art Festival (Germany, 2016); Out There, Thataway at CCA Derry~Londonderry (2015); and the 10th Imagine Science Film Festival (New York, 2017). He graduated from the Royal College of Art, London in 2011 with an MA in Photography & Moving, and was awarded the first Sky Academy Arts Scholarship for an Irish artist in 2015. He was an UNESCO-Aschberg laureate artist in residence at the National Museum of Modern and Contemporary Art's Changdong Residency in South Korea (2014) and received the Kooshk Artist Residency Award to create a new film in Iran (2015).
Diorama construction and collaborative filmmaking
In the first semester of my residency at the Marino Institute of Education, I worked with the first years on the Professional Masters in Education programme. I had previously given workshops and lectures at university level at the Dublin Institute of Technology and Kyung Hee University in Seoul, and taught art classes for children at Taipei Artist Village and at primary schools in Roscommon as part of the Art School project run by Jennie Guy. However, this was my first time working with preservice teachers and, so, was the first time I was not just teaching art but also trying to impart how to teach art from the point of view of a contemporary artist.
I devised a workshop that would introduce the class to the process of filmmaking, and that could be replicated in a classroom with few resources. Students worked in groups, collaborating to make a film concept, visualize it, and realise this through constructing a diorama which would show the set/location of their film idea, the characters and any scene changes. I wanted to focusing on the storytelling and visualisation aspects of filmmaking, and my overall aim was that, from doing the workshop, students would have learnt that filmmaking is an enjoyable and achievable process, reliant more on imagination and communication than it is on expensive equipment.
In order to contextualise this project, I showed examples of contemporary animation sets, maquettes for theatre set design, and artists whose work uses collage or photomontage (John Stezaker, Hannah Hoch, David Hockney, Peter Kennard), and contemporary Irish artists working with animation techniques (Aideen Barry, Vera Klute).
To begin the project, each group had to select four random words that designated:  (a) a genre; (b) a location; (c) a main human character; (d) an animal character. Then, together, they had to knit these into a coherent concept. After deciding on how to combine the elements, each group works on making a diorama. In a collaborative effort to realise their visualisation, decisions are made on colour palette, mood, materials and scale.
After their sets were made, students began to make their characters from armature and plasticine. We then began a simple stop-motion animation process using free apps on the students' phones and school ipads. The result was that each group created a short silent animation using readily available materials and technology and each group created a unique project that can be appraised in relation to the concept they created and the parameters they set for themselves.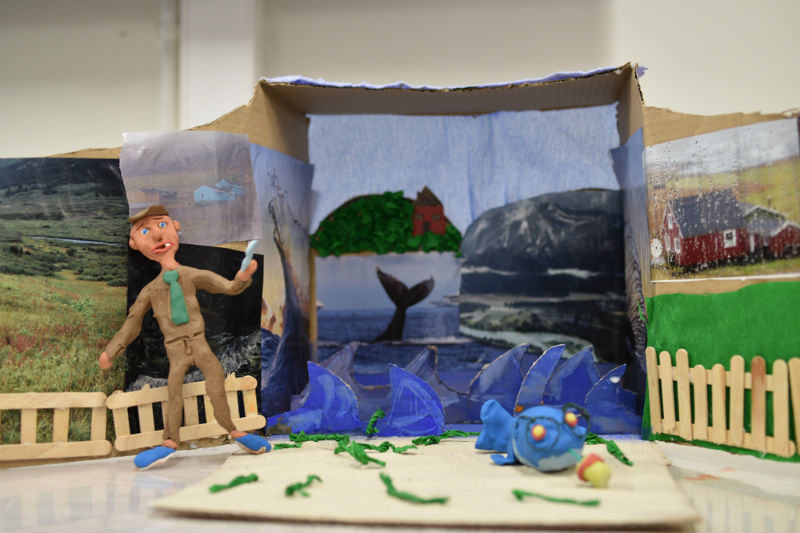 Published
30/4/2018
Artforms
School Level
Region
---