Blog 2 – Marc Mac Lochlainn, Executive Artistic Director of Branar Téatar do Pháistí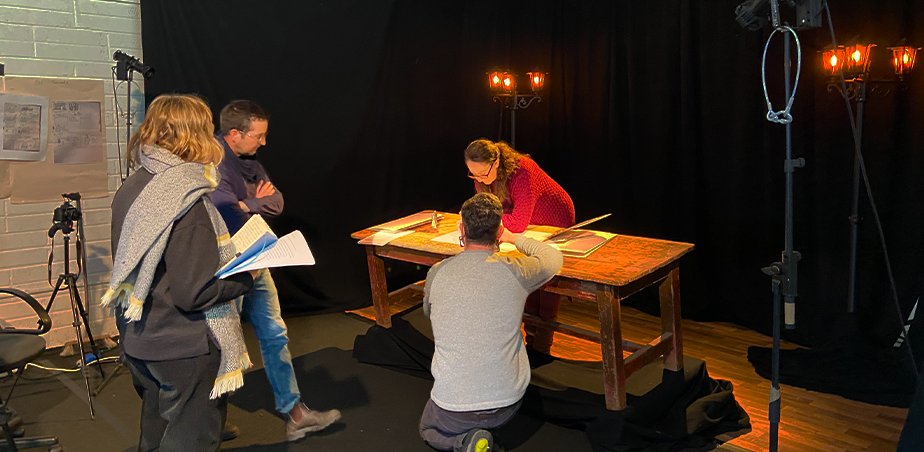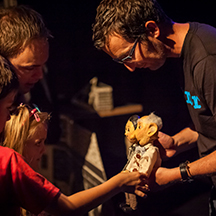 Marc Mac Lochlainn is the executive artistic director of Branar Téatar do Pháistí. Marc founded the company in 2001. Along with Branar's ensemble of actors he has created and directed all of Branar's 21 original shows. He founded and runs Branar's "AG ROINNT" theatre resource sharing scheme and the TINY SHOWS weekends. Branar is one of Ireland's leading theatre companies making work for children. Based in the West of Ireland, Branar are renowned for creating highly imaginative and beautiful work.
Ulysses, Ulysses 2.2
This month in Branar we have been working on adapting Ulysses by James Joyce for children aged 7 to 12. This is a challenging project, but equally rewarding as we get to engage with the amazing text that Joyce wrote 100 years ago. We had to explore ways in which we could adapt that text to make it interesting and suitable for younger audiences.
The MOLI museum, Landmark Productions and ANU Productions created a yearlong celebration of the 100th anniversary of the printing of Ulysses, Ulysses 2.2. They commissioned 18 contemporary artists to respond to various episodes of the book using different art forms.
Obviously, Ulysses wasn't written for young audiences and there is a lot of content, plots and subplots that are not really suitable for children. But there's also a lot of magic in it, in its content, language and in the story, one city in one day, the 16th of June 1904.
We made the decision to follow Stephen Dedalus and Leopold Bloom, (the main characters) on their journey through the city during this summer's day. They are two very different characters; one is sad mostly and thinks in poetry the other happier and thinks in short sharp thoughts. This allows the audience to clearly identify them as we travel through the day switching from character to character.
After reading the book I decided on the images that would best represent the action for each of the episodes, then working alongside my colleague and friend Maeve Clancy, paper artist, we decided on what those images would look like, and Maeve created a pop-up book version of Ulysses. The pop-ups are animated by performer Helen Gregg, who worked with me in the adaptation of the piece.
The pop-up book allows us to create new scenes quickly but also adds an element of magic and an element of surprise that will allow the children to really engage with the story and with the people within that story. There are 39 pop up images and two for each of the of the episodes, none of the pop ups work in the same way so there's loads of visual content for the children to follow.
The text of the story is delivered brilliantly by Helen Gregg.  Michael Chang, our composer, created a score that would complement all these elements. Adrian ferry, sound designer added a sound to the world and together with James Ryan who filmed it and we have created a film version of this pop-up story that will be available to schools nationwide they will be able to watch it and engage with the story and ultimately understand that Ulysses is a story about many many different characters in one city in one day.
The show is an invitation is to children two created their own story of their day on the 16th of June 1922 Bloomsday. All of these stories will be gathered by the MOLI museum and then they will be archived and the children will be able to access their stories online later in this year.
---